Dale Moss Says He and Clare Crawley Are 'In a Good Place' As 'Bachelorette' Couple Reunites
Dale Moss has all but confirmed that he and Clare Crawley are dating again after their public split in January. The Bachelorette couple, who left the series engaged after just two weeks of filming, has been spotted together in April, and Moss claimed in a recent podcast interview that they're "in a good place."
"We've never hid throughout this entire time we've been around each other. We are definitely taking time, and spending time together," Moss said in a conversation on the Hollywood Raw podcast with Dax Holt and Adam Glyn.
He continued: "Clare and I, we're in a good place. When the time is right we will definitely talk about all those things. For right now, we're just focused on one another. We're keeping things private and that's working for us, in time we'll speak about that together."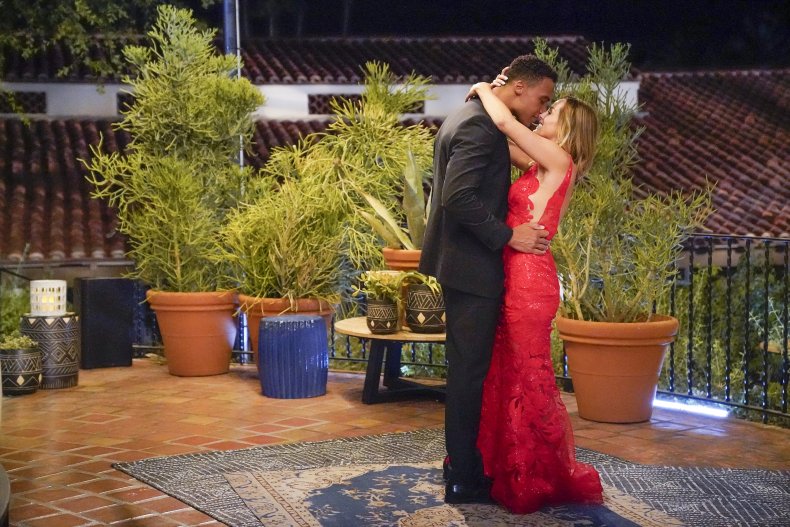 Moss didn't reveal if they still consider themselves an engaged couple. He reiterated the idea that he and Crawley are "in a good place," and expanded: "Focused on one another and leave it at that."
The pair broke their engagement in January, when Moss posted a statement on Instagram announcing the split.
"I wanted [to] share with you all that Clare and I have decided to go our separate ways," Moss shared via his Instagram story in January. "We appreciate the love and support we've received from so many people, but this is the healthiest decision for both of us at this time." Crawley responded negatively, though, apparently unaware that Moss was going to reveal their split online.
But despite the bumpy road, Moss claimed he's happy with both Crawley and his time on The Bachelorette. "It was the best decision of my life," he said on Hollywood Raw. "Without a doubt. I haven't talked a lot about the relationship, neither has Clare. With us, we are really really focused on one another."
Rumors that Moss had cheated on Crawley circled after the couple split, too. The claims were never proven. "That was never a conversation, even when we went through our split," Moss said on the Thursday podcast. "It wasn't even a thing. It was never even a topic of conversation. You really have to look past that and focus on one another."
Crawley has yet to comment on her reunion with Moss, though she hasn't shied away from posting photos and videos of herself and Moss on Instagram. Other photos from fans, of Moss and Crawley together in New York and Florida as far back as February, have also surfaced online. As Moss said, it appears the couple isn't hiding their relationship from the public, even if they still have some things to work through.
A new season of The Bachelorette, with Katie Thurston leading, will debut on ABC on June 7.