Dallas Cowboys Medical Staff Under Fire After Dak Prescott Appears to Use Smelling Salts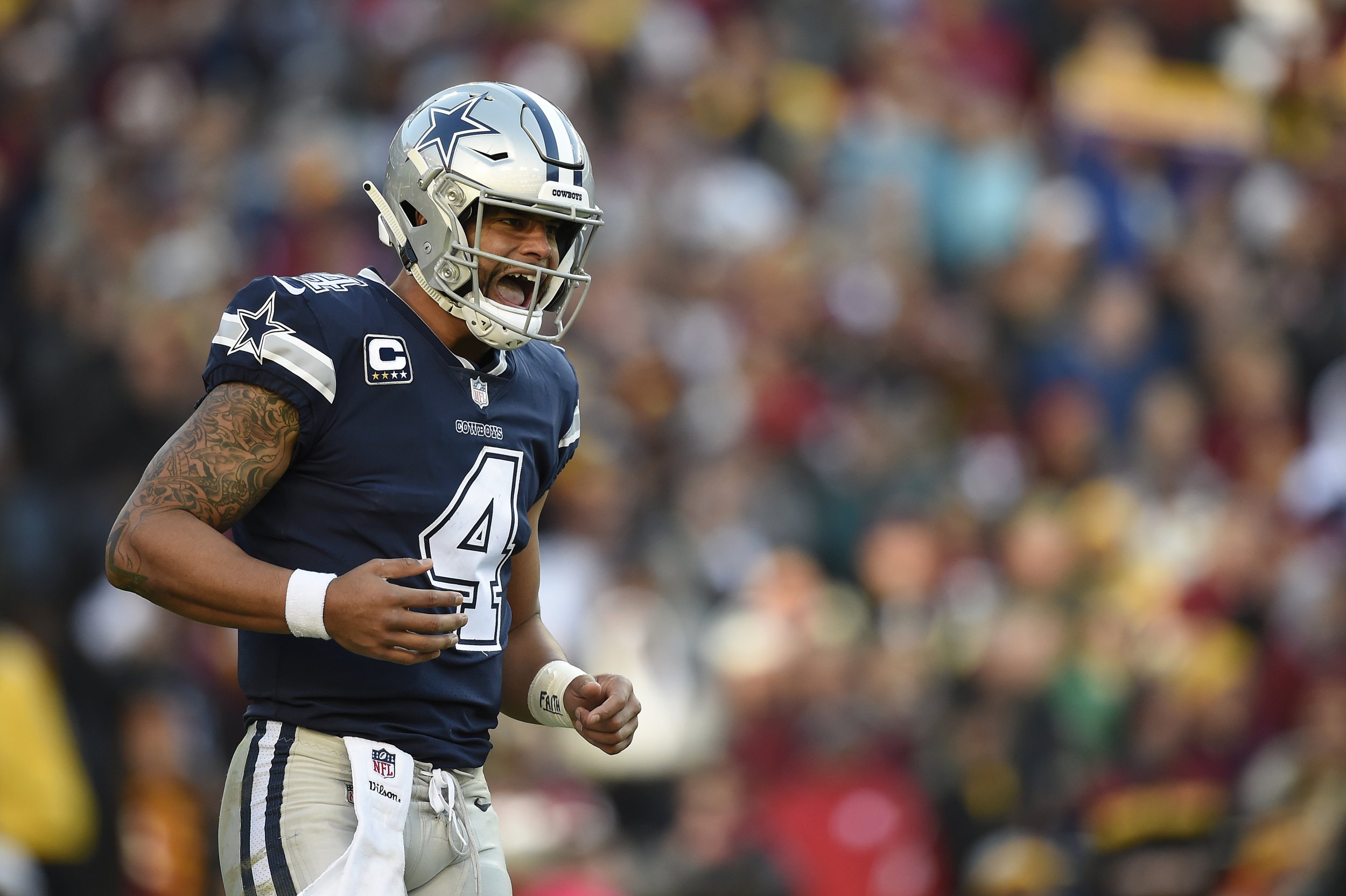 The Dallas Cowboys medical staff have come under intense criticism after a video emerged showing Dak Prescott allegedly using smelling salts after taking a serious hit.
The footage shows the Cowboys quarterback standing on the sideline and taking a whiff of what appears to be smelling salts.
Chris Nowinski, co-founder and CEO of the Concussion Legacy Foundation, described the incident as a "new low for medical abuse of players," suggesting the NFL's response would probably be limited to banning smelling salts.
Prescott suffered a shoulder-to-helmet hit as he was rushing to get to the first down marker during Dallas's 20-17 defeat in Washington on Sunday. The 25-year-old, however, was stopped in his tracks by Redskins cornerback Greg Storman and was slow to get up, before being looked at in the medical tent on the sideline.
Commentating for CBS, former Cowboys quarterback Tony Romo immediately recognized the severity of the impact.
"That's a concussion," he said.
"He's going to be done. He doesn't know where he is."
However, the Cowboys radio broadcast appeared to have a different opinion of the incident, suggesting Prescott was getting his hand checked instead.
He eventually returned to action in the Cowboys' next possession and did not miss a play, even throwing a 49-yard touchdown pass later in the game to Michael Gallup. The incident, however, has thrusted the issue of concussion and the NFL's stance over it firmly back in the spotlight.
One of the most common injuries in fast, high-contact sports such as NFL and rugby, concussion can lead to severe issues, ranging from memory loss to depression, chronic traumatic encephalopathy (CTE) and dementia.
A study published last year in the medical journal JAMA showed a staggering 99 percent of the brains of deceased NFL players that were donated to scientific research showed signs of CTE.
Over the last seven years, a number of players—including former 49ers star Dan Marino—have filed class action lawsuits against the league over concussion-related injuries, and in 2016 the NFL implemented a new policy to enforce concussion protocol. In the same year, NFL commissioner Roger Goodell and the 32 club owners pledged to donate $100 million in support of medical research, on top of a similar sum they had previously committed to neuroscience research.
In July, Seattle Seahawks linebacker Joshua Perry was forced to retire at 24 due to concussion issues, only a week after former University of Michigan linebacker Mike McCray walked out of the game citing similar issues.
McCray, who was added to the Miami Dolphins roster as a priority undrafted free agent in the off-season, explained he felt he needed to leave football because he had sacrificed his wellbeing for too long.