'Puppy Parkour': Dalmatian on Top of Fridge Branded 'Next Level' Pet Online
One dog's unusual way of asserting dominance has made the internet laugh this week in a viral TikTok video.
Shared by Dan (aka, Dannero) on Wednesday, the video features Nero, a 6-year-old Dalmatian. With more than 1 million views and thousands of likes, the video has delighted viewers on the video-sharing app.
In the video, Dannero walks into his apartment in Munich, Germany, with the camera panning around the room before settling on top of the fridge, where Nero is sitting and waiting.
It isn't uncommon for pups to venture to higher ground, often to get a better view of something or to feel a sense of protection. Pet care service website Wag! explains that: "By nature, dogs are curious creatures. They want to know what is going on in the world around us and be part of it all. They like to take advantage of opportunities to artificially increase their height. They do this by climbing on anything that will provide a better view for them."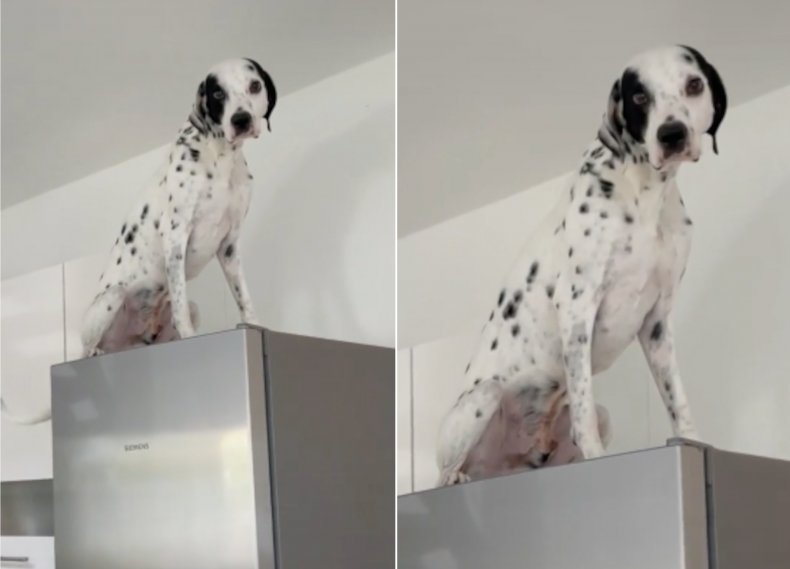 TikTok users shared their thoughts on the pup's unusual vantage point. One user wrote: "Dalmatians do be like that," while another said: "Is it a dog or a cat in disguise?"
Another commenter joked that the dog had been doing "puppy parkour," and one viewer said: "At least he's happy to see you."
Parkour is an athletic training discipline in which practitioners attempt to get from point A to point B in the most fluid and efficient way possible, similar to freerunning.
Dannero told Newsweek: "He is often in very strange spots when I am looking for him, for example in the shower or on the toilet. But the fridge was a premiere."
"Never let them know your next move," joked one commenter, while another TikTok user wrote: "How did the dog get up there? This is next level."
"He is special," said Dannero: "I knew that since the day I got him. So I'm not surprised about anything he does."
​​The Dalmatian was recognized by the American Kennel Club (AKC) in 1888 and is ranked 56 in the list of the most popular dog breed in the U.S. Famed for their spotted coat, Dalmatians have found famed accompanying nobles and firefighters. Originally bred to guard horses and coaches, the AKC notes that they are bright, loyal and loving dogs with strong athletic stamina.
"I am happy that people enjoy situations like that as much as I do," said Dannero: "The great reaction feels good."
Another pup was found where she shouldn't be last week after a Golden Retriever got stuck in a hole in Pasadena, California. The pooch is eventually rescued in the hilarious two-minute TikTok video, with one commenter joking: "She looks very happy with her situation."