Damar Hamlin Shuts Down Claim He Wore a 'Satanic' Jacket to Super Bowl
Damar Hamlin confirmed he was not wearing a "satanic" jacket to the Super Bowl after conspiracy theories sprung up on social media claiming otherwise.
The Buffalo Bills player made a surprise appearance at the Super Bowl LVII on Sunday to participate in a ceremony honoring the staff who kept him alive after he collapsed on the field at the start of the year.
Hamlin suffered a cardiac arrest after a tackle during a game against the Cincinnati Bengals on January 2 and thanked the medical staff of the Bengals and Bills in the ceremony before the Super Bowl between the Kansas City Chiefs and Philadelphia Eagles at State Farm Stadium in Glendale, Arizona.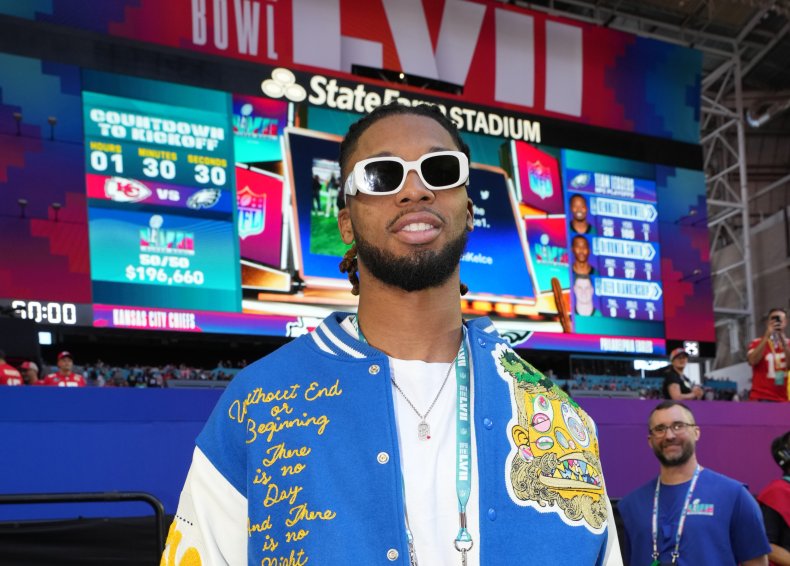 He was spotted field side, hugging Eagles player Miles Sanders and later, posing for photos with LeBron James in the stands.
Some on social media, including far-right pundit and conspiracy theorist, Stew Peters described the jacket Hamlin was wearing on the day as "satanic."
It was not the case at all, as pointed out on Twitter, in a tweet liked by Hamlin himself.
"No Damar Hamlin did not wear a Satanic jacket to the Super Bowl. On the left is what he wore and the right is from the same designer. As you can see the left one is the very opposite of satanic and the company's name is St. Micheal so no he did not wear a satanic jacket," wrote one Twitter user.
In fact, the blue jacket Hamlin wore was a Takashi Murakami "Travis Jesus" stadium-style jacket worth around $3,600. The jacket made in collaboration with designer © SAINT M ×××××× featured crucifixion designs on the back, and Murakami's signature Jesus artwork on the left. On the right side of the jacket, the words read, "Without End or Beginning There is no Day and no Night."
Hamlin received loud cheers and a standing ovation when he walked out onto the field as the NFL honored the Bills and Bengals' training and medical staff, as well as those at the University of Cincinnati Medical Center for their response to his collapse.
Hamlin then walked out as he put his hands in the shape of a heart and hugged some of the first responders.
"First, I would like to just thank God for even being here," Hamlin said to the crowd. "But God's plan was to have a purpose greater than any game in this world."