Damar Hamlin's Super Bowl Appearance Sparks New Conspiracy Theory
A new conspiracy gained traction after Buffalo Bills player Damar Hamlin was spotted at Super Bowl LVII on Sunday.
Hamlin collapsed on the field during a game against the Cincinnati Bengals on January 2, suffering a cardiac arrest after a tackle.
He appeared at the Super Bowl game between the Kansas City Chiefs and Philadelphia Eagles, even popping up during the pregame entertainment at State Farm Stadium in Glendale, Arizona.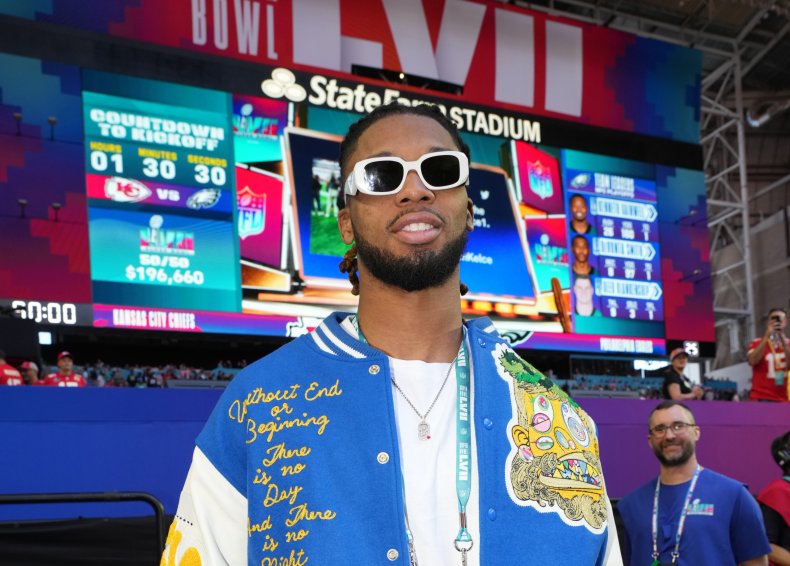 The NFL honored the Bills and Bengals' training and medical staff in a special ceremony, as well as those at the University of Cincinnati Medical Center.
Hamlin then walked out beside them. He put his hands in the shape of a heart and hugged some of the first responders.
"First, I would like to just thank God for even being here," Hamlin told the crowd who had given him a standing ovation. "But God's plan was to have a purpose greater than any game in this world."
He also appeared field side where he was greeted with a warm hug from his friend and Eagles player, Miles Sanders.
It was this embrace that got the attention of far-right pundit and conspiracy theorist, Stew Peters. He described the jacket Hamlin was wearing as "satanic," and suggested the person was not Hamlin at all, but rather a stand-in.
Hamlin wore a Takashi Murakami "Travis Jesus" stadium-style jacket worth around $3,600. It featured crucifixion designs on the back, and Murakami's signature Jesus artwork on the left. On the right side of the jacket, the words read, "Without End or Beginning There is no Day and no Night."
"In an act of overt mockery, the guy pretending to be Damar Hamlin is wearing a jacket that says "eternal" in rainbow colored letters and has a satanic skull-faced Jesus being crucified with what appears to be his loincloth holding a hand gun," Peters wrote on Twitter alongside a photo of Hamlin and Sanders.
Responses to Peters' tweet were divided, with some people agreeing with him and others labeling his take as "disgusting."
"Seek professional help. I imagine the paranoia that partners with these delusions is quite heavy. You are sick," responded one person on Twitter.
Another added: "Same guy who thinks the Turkey earthquake was a 'weapon' and the China balloon was fake (after China admitted it's theirs lol) also thinks Damar Hamlin is a clone and the real Damar died of the vaccine lol. Critical Conspiracy Theory is the new Critical Race Theory."
Conspiracy theories about Hamlin have made the rounds since his on-field collapse. These include COVID-19- and vaccine-related misinformation flooding social media, with some people theorizing that he "collapsed/died suddenly" in anti-vaccine conspiracy narratives.
The chatter only got worse when he made his first public appearance in an emotional return to the Highmark Stadium in Orchard Park, New York on January 22.
Hamlin made another heart-shaped gesture with his hands from the VIP box. However, many people focused on the fact he chose to wear sunglasses, a scarf and a hood. Rumors were rife that the person at the stadium was a body double and that the NFL is covering up some hidden "truth."
"What's going on in Buffalo? First the Bills owner hasn't been seen in public and now we're supposed to believe this is Damar Hamlin?" a conspiracy post on Reddit read.
The football star has remained active on social media since he left hospital, posting many photos of himself in the Murakami jacket at Sunday's Super Bowl.