At least 12 people have died in the U.S. and hundreds of people have suffered lung injuries after using e-cigarettes, in a multi-state outbreak which has led officials to advise against vaping.
Experts are scrambling to find a cause after the deaths were recorded across 10 states, while 805 injuries were reported in 46 states and one U.S. territory, the Centers for Disease Control and Prevention said on Friday. All patients had used e-cigarettes in the past. Some were so ill they needed treatment in intensive care, or were hooked up to ventilators to help them breathe.
The data also revealed that young people, and men in particular, have made up most of the cases. Of the 771 individuals for whom data was available to the CDC, 69 percent were male, and almost two thirds aged between 18 to 35-years-old, with 16 percent under 18.
Adding a further layer of complexity, THC—the psychoactive compound present in cannabis—has been linked to a number of cases. While 16 percent of the 514 patients for whom the CDC received data on used only nicotine, some 77 percent had used THC and another substance, with 36 percent vaping the compound exclusively.
As an investigation into the outbreak continues, the CDC has recommended that the public considers "refraining from using e-cigarette, or vaping, products, particularly those containing THC."
The figures were released after the Trump administration announced plans to ban flavored e-cigarettes in a bid to deter young people from vaping.
But, no specific chemical has been pinned to these injuries, and no single product or substance has been linked to every case, the CDC stressed. At this time, more research needs to be done to uncover the specifics, the agency said.
Dr. Robert R. Redfield, director of the CDC said in a statement in September: "Any tobacco product use, including e-cigarettes, is unsafe, especially for youth.
"Nicotine can harm the developing adolescent brain. We must do everything we can to reduce the use of e-cigarettes among middle and high school students to protect them from immediate lung injury and a lifetime of nicotine addiction."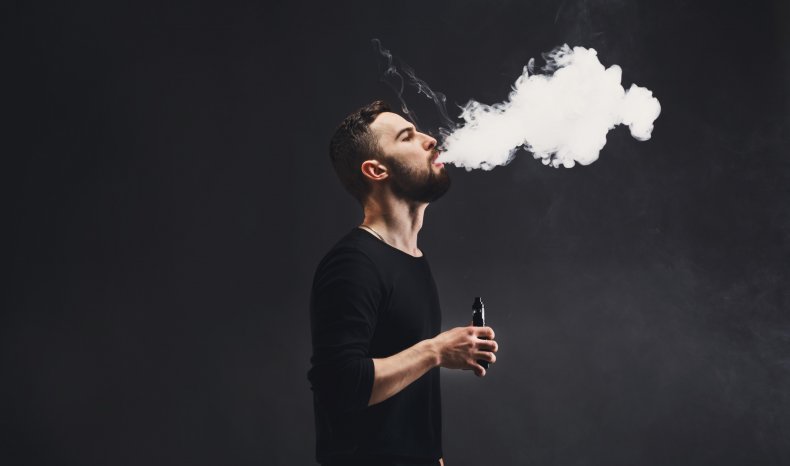 Over the past few months, doctors have noted a rise in non-infectious pneumonia in patients who have vaped, with cases reported in California, North Carolina, Illinois, Wisconsin, and Utah.
Dr. Daniel Fox of WakeMed in North Carolina said his patients developed lipoid pneumonia, when special cells in the lungs fill up with fat.
But the official managing the outbreak said it is not clear lipids are the cause, Stat reported.
Scientists are now attempting to answer whether the use of certain e-cigarettes has caused a new syndrome to emerge, Maciej L. Goniewicz, associate professor of oncology at the Nicotine and Tobacco Product Assessment Resource, told Newsweek.
"Many people have been led to believe that electronic cigarettes are nothing more than water vapor but that is definitely a myth," Dr. J. Taylor Hays, director of the Mayo Clinic Nicotine Dependence Center told Newsweek.
"Electronic cigarettes work by heating a solution that contains various chemicals often including nicotine, flavors and all of them are put into a vehicle of some sort. The most common vehicles are vegetable glycerin and propylene glycol.
"Once this solution is heated the chemical composition of the aerosol that is produced is quite different compared with the original liquid," he explained. "Chemicals such as formaldehyde can be formed and then are inhaled."
Taylor Hays believes the patients may have inhaled a contaminant in poorly manufactured vaping solutions, causing the airways to become inflamed and the alveoli—the microscopic air sacs where oxygen is exchanged—to fill with debris and fluid. This likely stopped their lungs from being able to oxygenate the blood.
Richard Miech, Professor and Principal Investigator of the Monitoring the Future Institute for Social Research, University of Michigan, told Newsweek: "Much remains unknown. Keep in mind that it took decades to build up a substantial body of good research on cigarette smoking. People who vape today are basically volunteering as guinea pigs."
The mechanism behind vaping illness a mystery and therefore a standardized treatment currently out of reach, healthcare providers can only support a patient until they recover on their own, said Taylor Hays.
Most patients have been given antimicrobial drugs and in some cases steroids to try to reduce inflammation, he explained.
The chart below, provided by Statista, shows that teenagers are far more likely to have tried vaping devices in the last month, compared to cigarettes.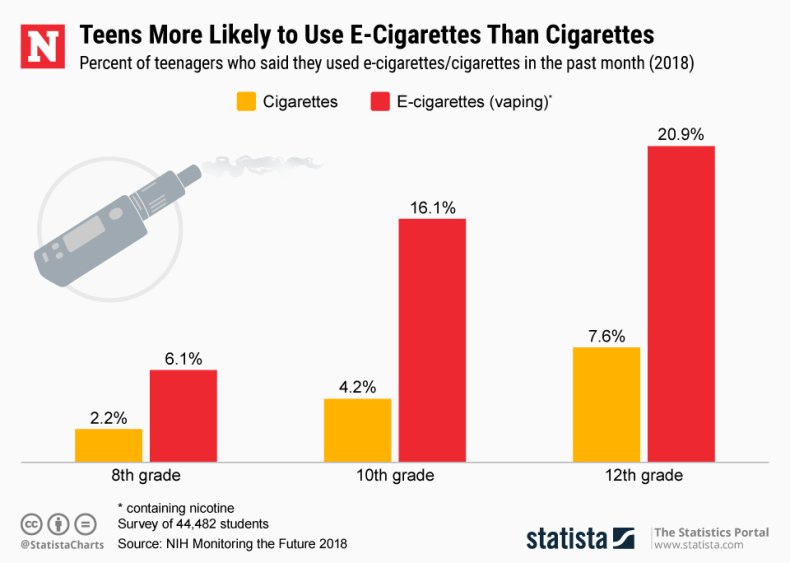 Experts who spoke to Newsweek stressed those who experience symptoms after using e-cigarettes should stop vaping, and visit their healthcare provider or emergency room depending on the severity.
Many patients have first experienced stomach problems which could be pinned to a range of conditions: like nausea, vomiting, diarrhea, as well as fever and tiredness. They have also been hit by respiratory problems, from coughing to a faster heart rate than normal, quick and shallow breathing, as well as a fever.
In the meantime, experts agreed with the CDC that smokers should stop using e-cigarettes, citing a 2018 study suggesting that e-cigarettes may not even be a proven way to prevent the use of traditional combustible cigarettes, and could in fact be a gateway to traditional tobacco use for young people.
"No one should ever use them," Stanton A. Glantz, professor of medicine at the University of California San Francisco told Newsweek. "Everyone should stop using all e-cigs, nicotine or THC, as the CDC has recommended,"
Dr. Paul Ndunda, assistant professor of medicine at the University of Kansas School of Medicine, Wichita, chimed that young people, pregnant women and those who don't already vape shouldn't start.
"Adults who would like to stop smoking, should discuss with their healthcare providers about safer options for smoking cessation," he told Newsweek. "If these other methods have failed or are not acceptable, the role of e-cigarettes in smoking cessation should be discussed with a health care provider."
Young people and teens in particular should avoid picking up the habit, Richard Miech, Professor and Principal Investigator of the Monitoring the Future Institute for Social Research, University of Michigan told Newsweek.
"Among teens, some will have their phones taken away from them by their parents but continue to vape because they cannot stop," he said. "Some teens have also been kicked off their school sports team as a result of vaping they cannot control."
As the months and years pass, it will become clear if the patients will be left with long-term damage, although Taylor Hays said those with serious lung injuries will likely suffer scarring.
Uncommon Knowledge
Newsweek is committed to challenging conventional wisdom and finding connections in the search for common ground.
Newsweek is committed to challenging conventional wisdom and finding connections in the search for common ground.
About the writer
Kashmira Gander is Deputy Science Editor at Newsweek. Her interests include health, gender, LGBTQIA+ issues, human rights, subcultures, music, and lifestyle. Her work has also been published in the The Independent, The Independent on Sunday, The i Newspaper, the London Evening Standard and International Business Times UK.