The 2014 disappearance of 15-year-old Danielle Locklear will be featured on Friday's Dateline. NBC correspondent Dennis Murphy chatted with Danielle's aunt, Chena Papa, for the episode.
"The creek: There are no signs to get there, a virtually undiscovered Garden of Eden for teenagers playing hooky from high school. It was innocent fun, until one day when the secret teenage world collided with tragedy," the narrator says in a sneak peek clip of the episode. "Danielle was an obedient student—straight A's and ROTC class—and about to be officially a missing person."
"I had no idea it even existed," Papa says about the creek. "My concern was to find her."
"Danielle's aunt wasn't waiting on police for answers," the narrator adds. "Then, a light-bulb moment for Chena. The creek. There, carved in the dirt with some care, a single word. Danielle's hours before her disappearance were becoming infinitely more terrifying."
"Someone had scraped, 'Help,' in the ground with a stick," Papa tells Murphy. "It made my hair stand up."
Danielle went missing on March 11, 2014. She lied to her grandfather, saying she had to return a book to a friend, but would be back shortly. Instead, she met up with her estranged boyfriend, Je'Michael Devanair Malloy. Earlier, Danielle told Malloy she was pregnant (even though she wasn't) and Malloy told her not to come over or he would kill her, the Fay Observer wrote in May 2016.
When they met up, Malloy strangled Danielle and then stuffed a sock in her mouth when he heard someone coming, District Attorney Billy West said. She died from asphyxiation, according to the state Medical Examiner's Office.
Danielle's body was found April 2, 2014, in the South River. Cinder blocks were tied around her waist and ankles.
Malloy, who was 17 at the time, confessed to the murder on April 8, 2014.
His friend, Dominic Tayvon Lock, helped him get rid of Danielle's body, but did not participate in the murder. He was charged with accessory after the fact of first-degree murder.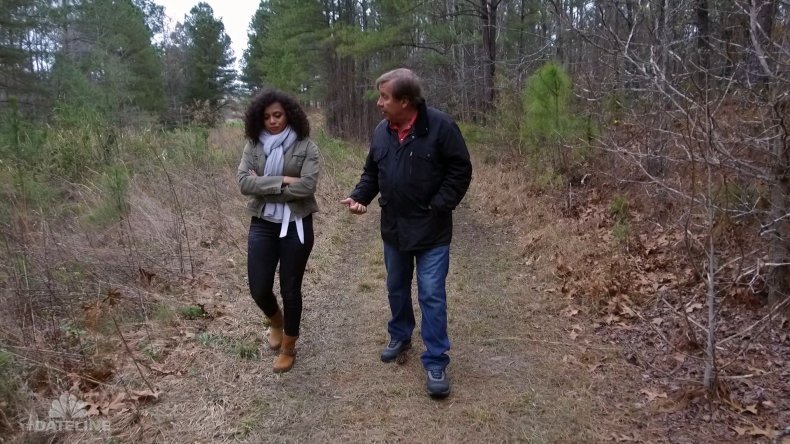 Malloy pleaded guilty to second-degree murder, the Fay Observer reported. He is slated to spend 25 and 31 years in prison. If he didn't accept the plea deal, he could have been sentenced to life in prison.
"I'm sorry, but it's hard for me right now," Locklear's mother, Rowna Fowler, said to her daughter's killer at the sentencing. "That was the only baby I had. I can't have any more children, and you took that away from me. Je'Michael, you ripped out my soul."
Papa called Malloy a sociopath. "You didn't have to kill her. You could have walked away," she said. "At least today we can begin to find some solace and begin to heal."
Dateline airs Friday at 9 p.m. ET on NBC.