Danny Masterson Rape Accuser Says Scientology Would Have 'Destroyed Me' for Calling Police
A woman who has accused Danny Masterson of rape has told a court she did not report the actor to the police because the Church of Scientology would have "destroyed" her for it.
Masterson, a prominent member of the church, has been charged with raping three women and has pleaded not guilty to all the charges.
A preliminary hearing is underway at the Los Angeles Superior Court to determine whether the 45-year-old will have to stand trial.
Masterson's attorney Thomas Mesereau has previously said the actor is "absolutely not guilty and we're going to prove it."
The woman—a former girlfriend of the actor—testified in court on Wednesday, detailing two alleged incidents of rape that she said took place in 2001. She was in a six-year relationship with Masterson, who is best known for his role in the sitcom That '70s Show.
According to ABC 7, the woman testified that in the first incident, she woke up to find him raping her.
She testified that the second incident took place a month later after the couple went out for dinner, where she said she had had one or two glasses of wine and then blacked out. She said she had tried to push Masterson off her and screamed.
The woman said she had reported Masterson to the Church of Scientology's celebrity center, where she was also a member, after the second alleged incident.
She said she had been told by an ethics officer and Scientology chaplain that the incident could not have been rape because she was in a relationship with Masterson at the time.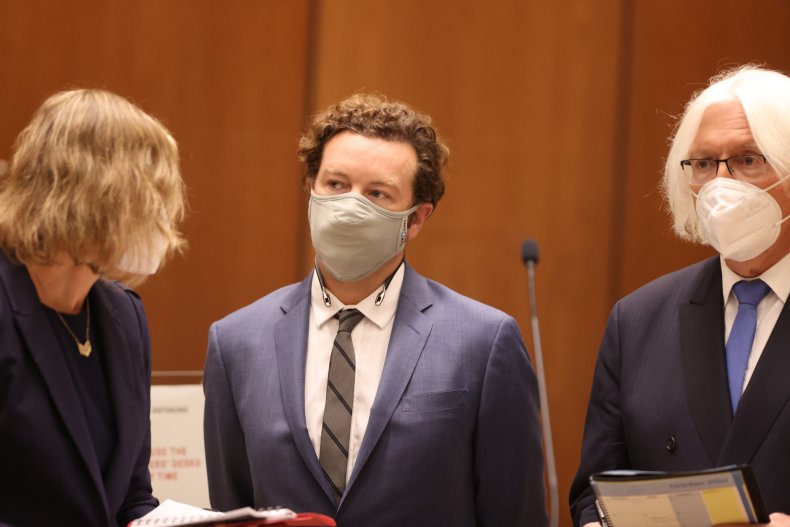 She told the court hearing that she knew reporting Masterson to the police would be seen as a "high crime," adding: "The church would have ultimately destroyed me."
The woman said she was also put on an "ethics program" by the church because she had done something to cause the alleged rape.
Mesereau asked her about her contact with the other two women in the case and whether they had worked together on their accounts.
During his cross-examination, the attorney also asked Masterson's ex-girlfriend about the two times she had admitted to having sex with the actor after the alleged rapes took place.
On Tuesday, before the hearing, Mesereau said references to the Church of Scientology should not be allowed in court because it would constitute "religious bias in the most blatant form."
Testimony is expected to continue on Thursday.