Danny Masterson Rape Allegations: Timeline of Accusations Against 'That 70s Show' Star
A woman has testified that 18 years ago, actor Danny Masterson raped her in his bed while she was partially conscious.
"When I came to, he was on top of me," the woman, who identified herself on the witness stand as "Jen B," said on Tuesday. "The first thing I recall is grabbing his hair to pull him off."
Masterson is accused of the rapes of three women. The former That 70s Show actor is undergoing a preliminary hearing in Los Angeles Superior Court, where a judge is determining whether there is probable cause to order a trial.
Masterson's lawyer, Thomas Mesereau, has said he would prove his client's innocence. The actor has pleaded not guilty.
The criminal rape case against Masterson involves the three women who are former Scientologists. Only one of them has formally identified herself, Chrissie Carnell Bixler.
Newsweek has contacted Mesereau for comment.
Here's a timeline of the rape allegations against Danny Masterson.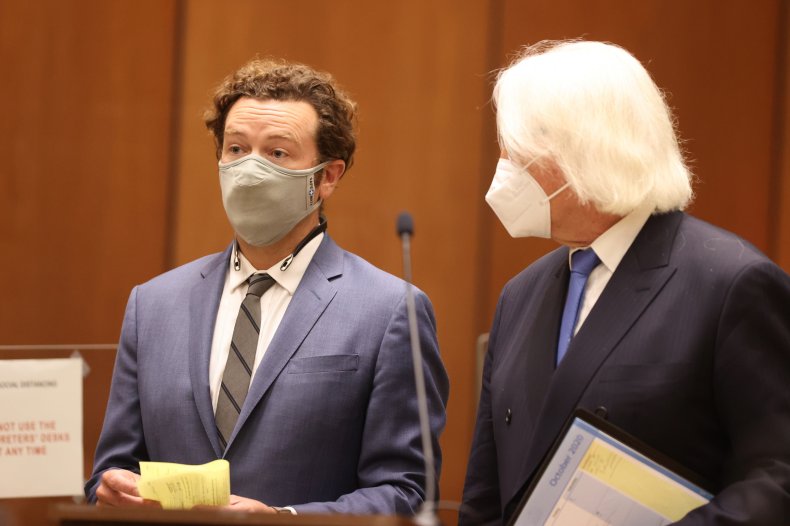 2016
Bixler said Masterson was physically and mentally abusive throughout their six-year relationship. She claimed the Church of Scientology, of which the actor is a member, coerced her into not reporting the allegations to authorities.
She tweeted about Masterson this year with the viral hashtag "#WhyWomenDontReport."
"Because your boyfriend tells you it's not rape if you're in a relationship and then his church covers it up. #WhyWomenDontReport," she said in a post that was later deleted.
March 2017
Four women filed sexual assault allegations against Masterson, prompting a Los Angeles Police Department investigation.
The rapes allegedly occurred in the early 2000s when Masterson was at the height of his fame. Prosecutors allege the rapes took place at Masterson's home.
December 2017
The allegations against Masterson caused his removal as a cast member from Netflix series The Ranch in 2017.
"Yesterday was his last day on the show, and production will resume in early 2018 without him," the streamer said in a statement.
Masterson said that he was "obviously very disappointed in Netflix's decision to write my character off of The Ranch" at the time.
"From day one, I have denied the outrageous allegations against me," he said. "I have never been charged with a crime, let alone convicted of one. In this country, you are presumed innocent until proven guilty. However, in the current political climate, it seems as if you are presumed guilty the moment you are accused. I understand and look forward to clearing my name once and for all."
August 2019
In August 2019, Masterson was sued, along with the Church of Scientology, by four of his accusers—Bixler, Marie Riales and two who remained anonymous claiming harassment by the organization.
"We were subjected to continued harassment, embarrassment and re-victimization by Masterson and the Church of Scientology, which has only worsened since they learned we were cooperating with authorities," the plaintiffs said in a statement.
June 2020
Masterson was charged with the rape of a 23-year-old woman sometime in 2001, a 28-year-old woman in April of 2003, and a 23-year-old woman between October and December of 2003.
The 45-year-old has been free on a $3.3 million bail since being arrested in June 2020.
Masterson's lawyer Mesereau released a statement saying his client "is innocent, and we're confident that he will be exonerated when all the evidence finally comes to light and witnesses have the opportunity to testify."
September 2020
Masterson made his first court appearance after being charged with three counts of rape by force or fear.
October 2020
A hearing in October saw Judge Eleanor Hunter reject the defense's stance that the case against the actor should be tossed out under the statute of limitations.
November 2020
A scheduled arraignment was pushed back to 2021.
December 2020
In December, a judge ruled that this civil lawsuit must be settled in mediation within the Church of Scientology.
Masterson's attorney Andrew Brettler said of this ruling: "This was absolutely the correct result. We look forward to arbitrating the claims, as the Court directed."
The court set a status conference for the arbitration on June 30, 2021.
January 2021
Masterson pleaded not guilty in the criminal case. He faces a maximum sentence of 45 years to life in prison if convicted.
May 2021
Jen B testified at a preliminary hearing in Los Angeles Superior Court that she woke to find actor Masterson raping her. A judge is deciding whether there is probable cause to order a trial.
The woman gave a detailed account of being drugged and raped by Masterson at the hearing and said he threatened her with a gun, per The Associated Press.
During cross-examination, Mesereau questioned her over why the gun made no appearance in a police report she filed the following year.
Jen B said she was discouraged from going to the police by the Church of Scientology, but Mesereau said she "mischaracterized" the church's response.
Masterson was present in court, where it was reported that he occasionally took notes during the woman's testimony.