Darren Bailey's Response to Abortion Question Draws Gasps From Debate Crowd
Illinois gubernatorial candidate Darren Bailey was met with gasps and laughter from the crowd during a debate on Thursday when he answered a question about his views on abortion.
Bailey, 56, a Republican state senator, was asked whether he favored exceptions for rape and incest when it came to bans on abortion but didn't answer the question directly, instead taking aim at Democrat Illinois Governor J.B. Pritzker, 57.
Poll tracker FiveThirtyEight rates Pritzker as "very likely" to win the Illinois governor's race, giving him 99 chances in 100 of being re-elected.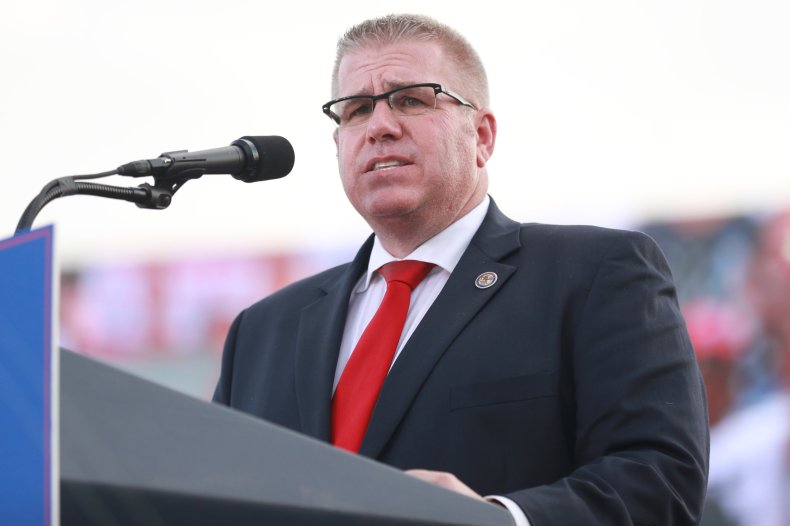 Bailey has been endorsed by former President Donald Trump and has said he would support a total ban on abortion in the state of Illinois and has compared the procedure to the Holocaust.
The debate moderator asked Bailey: "Aside from saving the life of the mother, would you ban all abortions including in cases of rape and incest?"
"Illinois has the most permissive abortion laws in the nation. Nothing's going to change when I'm governor. I couldn't change them if I could," Bailey replied.
"J.B. Pritzker stays up at night trying to dream up new abortion laws," Bailey said, and that comment elicited what appeared to be gasps from some in the crowd.
Video of the moment was posted to Twitter by journalist Aaron Rupar on Thursday and some laughter could be heard from the crowd.
"Republican Darren Bailey elicit gasps from the crowd as he totally dodges a debate question about his support for abortion bans," Rupar wrote.
Bailey went on to say that "those issues are dividing us" and that his focus would be "crime, taxes and education."
"Those are the issues that unite us. Those are the issues that are causing our state to fail, but J.B. Pritzker wants to fearmonger and put all of this nonsense out there that can't be changed anyway and it needs to stop," Bailey said.
Newsweek has asked the Bailey campaign for comment.
Pritzker and Bailey clashed over the abortion issue during the debate.
"Darren Bailey wants to eliminate a woman's right to choose," Pritzker said. "He wants to take away women's reproductive rights."
Bailey cut in to say: "You are so divisive."
"That is precisely what he stands for," Pritzker replied.
In August, Pritzker strongly criticized Bailey for comparing abortion to the Holocaust, but the Republican defended his comments, saying members of the Jewish community had supported the original remarks, made in 2017.
"The Holocaust is a human tragedy without parallel. In no way was I attempting to diminish the atrocities of the Holocaust and its stain on history," Bailey said in August.
"I meant to emphasize the tragedy of millions of babies being lost. I support, and have met with, many people in the Jewish community in Illinois, and look forward to continuing to work with them to make Illinois a safer and more affordable place for everyone," he said.