Post-Roe Report Reveals How Many Clinics Have Stopped Offering Abortions
At least 66 clinics in 15 states have stopped providing abortions in the 100 days since the U.S. Supreme Court overturned Roe v. Wade, according to a new study.
The number of clinics providing abortions in 15 states enforcing total or six-week abortion bans has dropped from 79 to 13 since the June 24 decision that stripped away federal abortion rights, according to the Guttmacher Institute, a research group that supports abortion rights.
All 13 of those clinics are in Georgia, where abortion is banned after six weeks. One abortion provider in the state has closed down, the institute's study found.
This means the other 14 states no longer have any clinics providing abortions as of October 2, which marked 100 days since the court's decision. Those states accounted for 125,780 abortions in 2020, according to Guttmacher.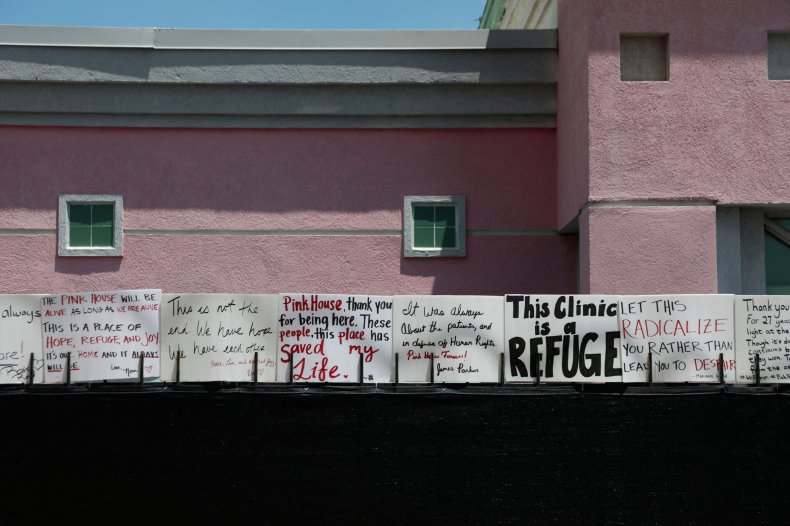 Clinics in Alabama, Arizona, Arkansas, Idaho, Kentucky, Louisiana, Mississippi, Missouri, Oklahoma, South Dakota, Tennessee, Texas and West Virginia, were all forced to stop offering abortions after those states implemented total abortion bans.
Wisconsin's clinics have also stopped providing abortion services amid legal uncertainty over the state's pre-Roe ban that took effect after the overturning of Roe.
Texas and Louisiana had the most closures: 12 of 23 clinics closed in Texas and all three of Louisiana's clinics shut down.
Forty clinics in the 15 states have continued to provide other gynecological services, but 26 clinics have closed their doors for good, including the Jackson Women's Health Organization in Mississippi—the clinic at the center of the case that overturned Roe.
It means that a third of American women of reproductive age now live in 15 states where abortion is either unavailable or severely restricted.
"Even before Roe was overturned, getting an abortion was difficult or outright impossible for many people, especially those who were already facing steep barriers to accessing health care, including people with low incomes, Black and Brown people, immigrants, young people, those with disabilities and rural populations," said Rachel Jones, a principal research scientist at Guttmacher.
"These inequities are likely to worsen as clinic-based abortion care disappears in many states, a number of them clustered in regions like the South."
The closure of the clinics is felt even in states where abortion remains legal, Jones said.
"Abortion clinics in these states are being inundated with people from states with abortion bans seeking care. Such dramatic increases in caseloads mean clinic capacity and staff are stretched to their limits—resulting in longer wait times for appointments even for residents of states where abortion remains legal," she said.
Guttmacher predicts that 26 states in total are certain or likely to ban abortion within a year of Roe's fall.
"Much more research will need to be conducted to grasp the full extent of the chaos, confusion and harm that the U.S. Supreme Court has unleashed on people needing abortions, but the picture that is starting to emerge should alarm anyone who supports reproductive freedom and the right to bodily autonomy," Jones said.
Update 10/6/22, 8:30 a.m. ET: This article has been updated with comments from Rachel Jones.