Darren Bailey's Chances of Winning GOP Primary in Illinois: Polls
Donald Trump endorsed Illinois state Senator Darren Bailey on Saturday in the GOP primary race for the party's gubernatorial candidate, and polls show he is favored to win.
"Darren is just the man to take on and defeat one of the worst governors in America," Trump said at a Mendon, Illinois, rally, referring to Democratic Governor J.B. Pritzker, a consistent critic of the former president and his Make America Great Again movement. The Illinois primary will be held Tuesday.
Recent polls show that Bailey is well ahead of his Republican primary opponents. The current Real Clear Politics average of Illinois polls shows the state senator with a lead of about 16.5 points over his closest GOP rival. Bailey has the support of approximately 35 percent of likely Illinois GOP primary voters, compared with 18.5 percent who back Aurora Mayor Richard Irvin, who is more moderate. Jesse Sullivan, a venture capitalist, was in third place with an average of 11.5 percent.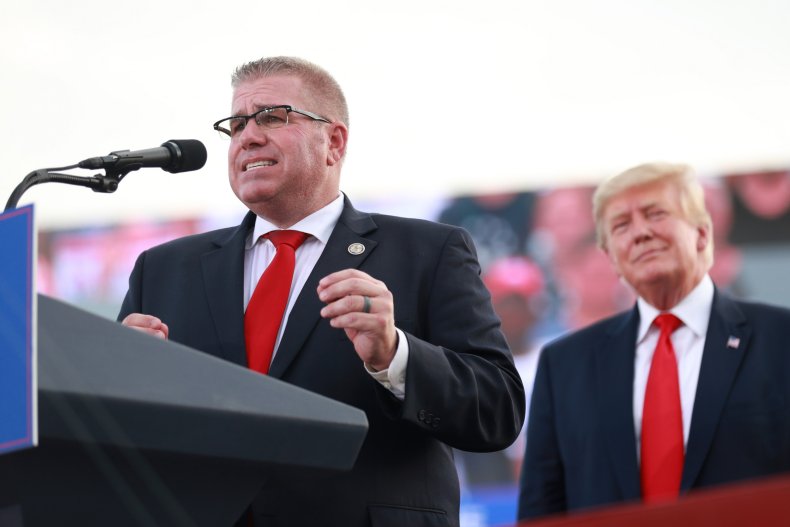 The most recent survey for the governor's race was conducted by the Trafalgar Group from June 10 to 13 and shows Bailey in the lead by 18 points. Thirty-eight percent of likely Republican primary voters backed the state senator. In second place, Irvin had the support of 20 percent, while Sullivan came in third at 12 percent.
The poll surveyed 1,075 likely voters and had a margin of error of plus or minus 2.9 percent.
Before that, the Chicago Sun-Times and WBEZ released results from a survey carried out with Public Policy Polling from June 6 to 7. The poll showed Bailey at 32 percent, followed by Irvin at 17 percent and Sullivan at 11 percent. Again, that was a double-digit lead for the Trump-backed candidate—a margin of 15 points over Irvin.
The survey polled 677 likely voters, with a margin of error of plus or minus 3.8 percent.
While Trump's endorsements have panned out more often than not during this primary season, his support for governor candidates has had somewhat mixed results. Trump's preferred candidates have won their Republican primaries in Texas, Pennsylvania and Nevada. They've lost in Idaho and Georgia. Illinois' race appears to be another likely victory for Trump, according to the polls.
Meanwhile, Pritzker appears to be in a strong position to win reelection against Bailey or any of the Republican contenders. A survey conducted by Victory Research in late January showed the governor well over 20 points ahead of all of the GOP candidates. Pitted against Bailey, Pritzker led by 28 points.
The Democrat had the support of 55 percent of likely voters, compared with only 27 percent who supported Bailey. Furthermore, more than half (about 52 percent) of the respondents said they believed Pritzker had earned another term as governor. The poll surveyed 1,208 likely voters and had a margin of error of plus or minus 2.82 percent.
While Illinois and particularly its largest city, Chicago, are generally viewed as liberal, the governor before Pritzker was a Republican. Bruce Rauner served from 2015 to 2019, but when he ran for reelection he lost by a double-digit margin to Pritzker.
The state has gone for Democratic presidential candidates in every election going back to 1992. Both of Illinois' senators are Democrats.