Donald Trump Arrives for Illinois Rally Under Pressure
Former President Donald Trump will arrive in Illinois for a rally on Saturday as he faces growing legal pressure—with calls for his indictment mounting after a week in which the nation saw multiple Republican officials and key members of his administration testify against him.
Trump will be at the Adams County Fairgrounds in Mendon, Illinois, in support of GOP candidates he's endorsed in the Midwestern state. Parking opened at 8 a.m. CT, with entrance to the venue as well as the entertainment commencing at 2 p.m. The former president is scheduled to deliver his remarks at 7 p.m., while the event will be broadcasted live on the Right Side Broadcasting Network's social media channels.
The "Save America" event, which is expected to draw thousands of supporters, takes place after a week in which the House select committee investigating the January 6, 2021 attack against the U.S. Capitol held its fourth and fifth publicly televised hearings outlining its evidence and showing witness testimony.
Republicans Testify Against Trump
On Tuesday, Arizona state House Speaker Rusty Bowers, a Republican who backed Trump's reelection in 2020, testified about how the former president and his personal attorney Rudy Giuliani pressured him to recall his state's slate of electors, which went for President Joe Biden. Bowers, however, asserted that there was no evidence presented to convince him to take such an unprecedented action. The conservative lawmaker also said that it would have violated his oath of office.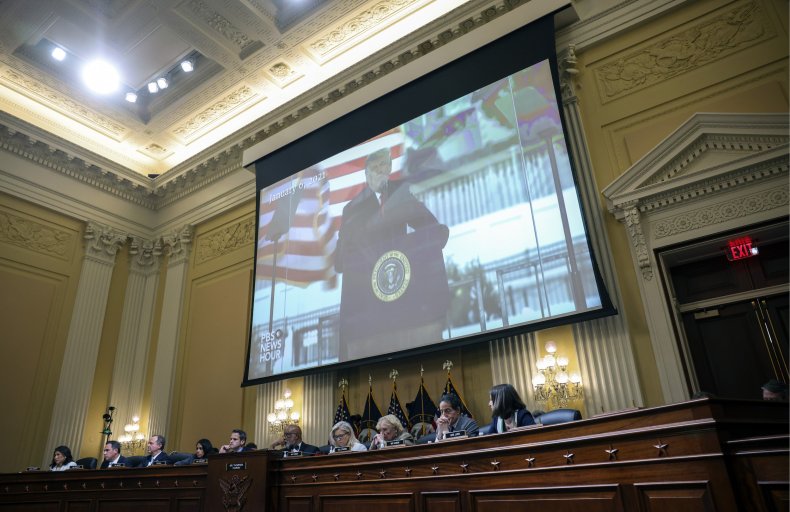 "In my recollection," Bowers said of Giuliani, "he said, 'We have lots of theories we just don't have the evidence.'" The GOP politician then explained: "It is a tenet of my faith that the Constitution is divinely inspired," adding that it prevented him from going along with the unconstitutional plot promoted by Trump and his allies.
Then on Thursday, the committee shared testimony from Trump-era Justice Department and White House legal experts. They outlined how they attempted to push back against Trump's conspiracy theories about the 2020 election and his efforts to overturn Biden's win. Trump reportedly told some of his Justice Department officials to declare the election corrupt despite no evidence to support the claim.
"What I'm just asking you to do is just say it was corrupt and leave the rest to me and the Republican congressmen," the former president said, according to former acting Deputy Attorney General Richard Donoghue.
Former Attorney General Eric Holder, who served under former President Barack Obama, described this alleged comment by Trump as the "smoking gun" in a potential case against the former GOP president.
"This is the smoking gun. Coupled with other testimony demonstrates both Trump's substantive involvement and corrupt intent, requisite state of mind," he wrote in a Thursday Twitter post. Holder also pushed back against legal experts arguing any prosecutor would have difficulty proving Trump's intent to commit a crime.
"Stop the talk that it's hard to prove Trump's intent.The proof is abundant. Among a few things: Georgia call. DOJ interaction.The lie and "just leave it to me". There's more. Ask yourself would that defense be successful in front of a jury?The notion that it would be is laughable [sic]," he tweeted.
Justice Department Closing In?
Meanwhile, federal authorities on Wednesday searched the home of Jeffrey Clark, Trump's former acting assistant attorney general. Clark was reportedly a key figure in the ex-president's effort to pressure top prosecutors to support discredited claims about widespread voter fraud in the presidential election.
Former federal prosecutor Glenn Kirschner assessed that this raid demonstrated that the Justice Department appears to be closing in on Trump. "The investigative circle tightens," he wrote on Twitter Thursday. "This means a federal judge concluded there is probable cause to believe there's evidence of crime in Jeffrey Clark's home. Let the flipping begin."
Laurence Tribe, a Harvard professor of constitutional law, came to a similar conclusion. The "clock is ticking" for Trump, he tweeted. "It's inconceivable that DOJ would get a warrant to search Clark's home if Trump wasn't also in DOJ's sights."
Abortion Could Hurt Reelection
While Trump publicly cheered the controversial Supreme Court decision overturning Roe v. Wade, The New York Times reported that he's privately raised concerns that ending the federal protections for legal abortions could hurt Republicans moving forward. Some GOP strategists have echoed those concerns.
"This is not a conversation we want to have. We want to have a conversation about the economy. We want to have a conversation about Joe Biden, about pretty much anything else besides Roe," Republican strategist John Thomas told Politico in an article published Saturday.
The polarizing ruling from the nation's top Court is largely attributed to Trump, who nominated three of the judicial body's conservative justices. All three—Associate Justices Neil Gorsuch, Brett Kavanaugh and Amy Coney Barrett—sided with the majority opinion to bring an end to a constitutional right that had been in place for nearly 50 years.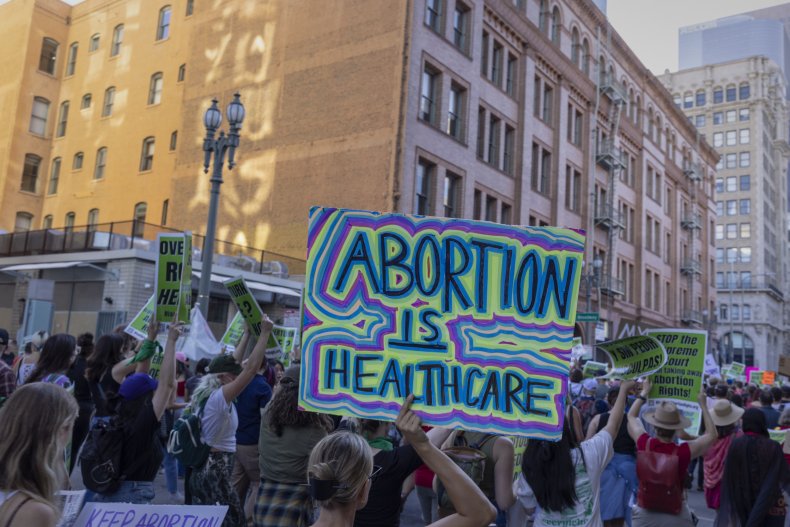 GOP Senators Buck Former President
This week, 15 Republican senators—including Senate Minority Leader Mitch McConnell of Kentucky—wholly disregarded Trump and backed major bipartisan gun legislation. The bill, which passed easily through the Senate and the House, and then was signed into law by Biden on Saturday morning, is the most significant successful congressional effort to address gun violence in nearly three decades.
Trump made his opposition to the bipartisan legislation known through his social media platform Truth Social. The former president described it as a "CAREER ENDING BILL" for Republicans. He specifically attacked McConnell, as well as GOP Senator John Cornyn of Texas, one of the key negotiators for the legislation.
"Mitch McConnell's push for Republican Senators to vote for Gun Control will be the final straw," Trump wrote on Thursday. The day before he described Cornyn as a "RINO," an acronym meaning Republican in name only. Fourteen House GOP lawmakers also ultimately voted in favor of the bill.
Signs Trump's Influence Waning
While Trump clearly remains the dominant force within the GOP, there are some signs that his grip on Republicans may be waning. The willingness of GOP lawmakers to disregard his views on a major issue like guns demonstrates that they feel substantial autonomy from the former president.
Furthermore, some recent Republican-led focus groups have reportedly shown that former Trump voters are not interested in backing him again in 2024. Sarah Longwell, an anti-Trump Republican strategist, told The New York Times on Friday that for the first time—her two most recent focus groups of Trump voters showed that none of the participants wanted him to seek the presidency again.
A recent May poll also showed that fewer Republican voters view Trump's endorsement of a candidate as the most important. The survey, conducted with 1,573 U.S. adults by YouGov/Yahoo News, showed just half of GOP voters said it was the most important, a decline from 56 percent back in January.