Glenn Kirschner Says DOJ Tightening on Trump: 'Let the Flipping Begin'
Former federal prosecutor Glenn Kirschner says Justice Department investigators are closing in on Donald Trump after it was reported that federal authorities on Wednesday searched the home of Jeffrey Clark, his former acting assistant attorney general.
Multiple news outlets—including The New York Times, Fox News and CNN—first reported the news Thursday afternoon. Clark was reportedly a key figure in Trump's effort to pressure top prosecutors to support the former president's discredited claims about widespread voter fraud in the 2020 election.
The reason for the raid on the conservative lawyer's home was unclear. However, it came just one day before the House select committee investigating the January 6 Capitol riot, as well as Trump's efforts to overturn the 2020 election results, was set to hold a hearing about his efforts to pressure the Justice Department to comply with his plot.
Kirschner, who now works as a legal analyst for MSNBC and NBC News, surmised that the raid was connected to Trump and a potential Justice Department criminal investigation of his actions regarding the 2020 election. Clark led the Justice Department's civil division in an acting capacity from September 5, 2020, through January 14, 2021.
"The investigative circle tightens," Kirschner said on Twitter. "This means a federal judge concluded there is probable cause to believe there's evidence of crime in Jeffrey Clark's home. Let the flipping begin."
The attorney also posted a screenshot of CNN's story about the search of the former Justice Department official's home.
Trump reportedly floated the idea of making Clark acting attorney general, apparently hoping that he would be more compliant with his unconstitutional efforts to remain in office. Multiple top Justice Department officials reportedly threatened to resign if Trump made that decision, which he ultimately did not.
Newsweek reached out to spokespeople for Trump and the Justice Department for comment.
Laurence Tribe, a Harvard professor of constitutional law, made a similar assessment regarding the news of the raid on Clark's home. The "clock is ticking" for Trump, he said.
"It's inconceivable that DOJ would get a warrant to search Clark's home if Trump wasn't also in DOJ's sights," Tribe tweeted.
Trump continues to claim that the 2020 election was "rigged" or "stolen" in favor of President Joe Biden. No evidence has emerged corroborating that allegation. To the contrary, dozens of election challenge lawsuits filed by the former president and his supporters failed in state and federal courts.
Even judges appointed by Trump dismissed the cases. Multiple audits and recounts—including in areas where the election was overseen by pro-Trump Republicans—have repeatedly reaffirmed Biden's win.
Former Attorney General William Barr, who was widely viewed as one of Trump's most loyal Cabinet members, repeatedly said there was "no evidence" to support the claims. He also said that he told the former president to his face that they were "bulls**t."
"I thought, Boy, if he really believes this stuff, he has lost contact with—he's become detached from reality if he really believes this stuff," Barr told House select committee investigators in his testimony.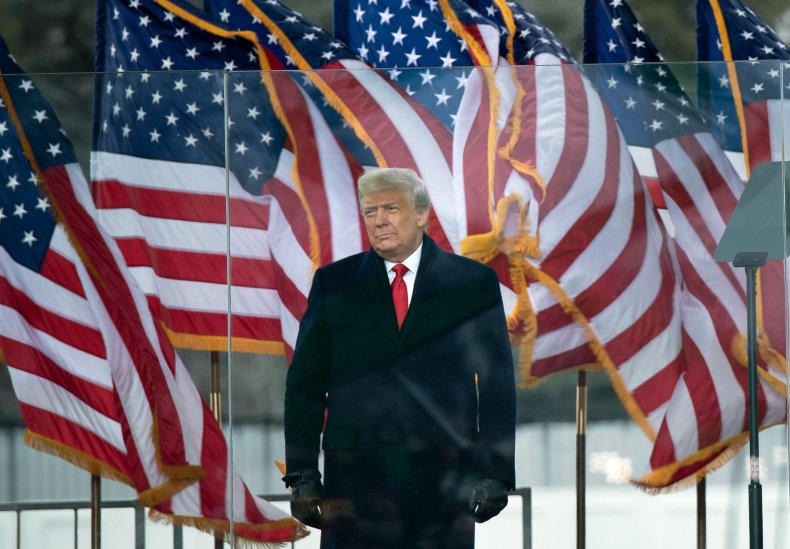 Nonetheless, Trump worked with allies, including prominent government officials, to pressure state and local leaders to help him overturn Biden's win through various means. Clark, according to the testimony of his colleagues, became supportive of some these plans. The attorney reportedly began discussing debunked conspiracy theories, which raised alarms within the Justice Department.
Trump's false claims about the 2020 election animated thousands of his supporters to travel to Washington, D.C., for a "Stop the Steal" protest on January 6, 2021. After the president urged his followers to walk to the Capitol and "fight like hell," hundreds proceeded to do just that—violently storming the federal building.
Many chanted death threats against former Vice President Mike Pence and other elected leaders. Pence had refused to go along with Trump's plot to have him reject electors for Biden who came from multiple swing states.