Pence Didn't Think Calling Trump on Jan. 6 Would Be 'Constructive': Aide
Former Vice President Mike Pence reportedly did not call Donald Trump on January 6, 2021, as the former president's supporters rioted at the U.S. Capitol, believing that speaking with his boss would not be "constructive," according to former top aide Marc Short.
Short served as Pence's chief of staff from 2019 through his departure from office on January 20, 2021. Prior to that, he served as Trump's White House director of legislative affairs from January 2017 to July 2018. A brief clip of Short's testimony before the House select committee investigating January 6 and Trump's efforts to overturn the 2020 election results was broadcast in primetime by the congressional investigators on Thursday night.
Hundreds of Trump supporters stormed the Capitol a little more than 17 months ago in an effort to disrupt the formal certification of President Joe Biden's Electoral College victory. The riot occurred after Trump urged his followers to walk there and "fight like hell." Many who followed those directions believed his claims that the 2020 election was "rigged" in Biden's favor.
Following the televised hearing, Short was interviewed on Fox Business by Fox News anchors Bret Baier and Martha MacCallum. Baier questioned Short over whether Pence attempted to call Trump during the riot.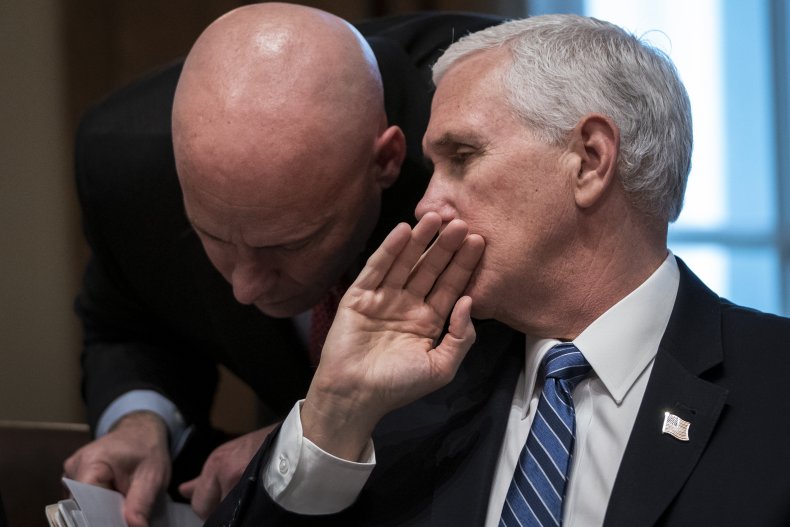 "The vice president's first calls were to [GOP House Minority Leader] Kevin McCarthy, [GOP Senate Minority] Leader [Mitch] McConnell, [House] Speaker [Nancy] Pelosi and [Democratic Senate Majority] Leader [Chuck] Schumer, to make sure they were safe and to make sure their functions were OK," Short said.
Short went on to explain that Pence "reached out to the Pentagon to make sure additional reinforcements were sent." The Senate and House leaders encouraged him to do so, Short said.
"I called [Trump's White House] Chief of Staff Mark Meadows at some point during the afternoon to let him know that we were secure and our intention was to continue with the work of the American people and that the vice president was encouraged we would have the vote that night," he explained.
MacCallum then asked: "They'd already been under a lot of pressure between the two of them [Trump and Pence]. They weren't speaking at that point?"
"I think the president's opinions were pretty clear at that point. I'm not sure the vice president felt that it would be constructive to engage in that conversation. His focus was working with the people in the Capitol to get the work done," Short responded.
Many of Trump's supporters chanted, "Hang Mike Pence," as they rioted at the Capitol. Some brought a large gallows that was set up outside the building. During the assault, Trump tweeted: "Mike Pence didn't have the courage to do what should have been done to protect our Country and our Constitution, giving States a chance to certify a corrected set of facts, not the fraudulent or inaccurate ones which they were asked to previously certify. USA demands the truth!"
Trump and his allies had publicly and privately pressured Pence to reject the Electoral College votes cast for Biden in several key swing states as Pence oversaw the formal certification of the 2020 election results. Pence refused to do so, asserting that he did not have the authority to overturn an election.
Pence has since reiterated that view in public remarks, asserting that "the Constitution provides the vice president with no such authority before the joint session of Congress," during remarks at the Ronald Reagan Presidential Library in June of 2021.
"And the truth is," Pence continued, "there's almost no idea more un-American than the notion that any one person could choose the American president. The presidency belongs to the American people and the American people alone."
In January, Pence said that he had not spoken with Trump in several months. He told Fox News in an interview that the last time he'd talked with Trump was "last summer." Pence is rumored to be considering a 2024 presidential run, as is Trump.
Short, according to The New York Times, reportedly warned a Secret Service agent that he feared there could be a threat against Pence's life on January 6 because of Trump's public pressure campaign against him. During the opening hearing of the House select committee, a clip of Short's remarks was played by the investigators. Short was addressing why Pence did not go along with Trump's plot.
"I think the vice president was proud of his four years of service and he felt like much had been accomplished during those four years. And I think he was proud to have stood beside the president for all that had been done," Short told investigators in his testimony. "But I think he ultimately knew that his fidelity to the Constitution was his first and foremost oath, and that's—that's what he articulated publicly and I think that's what he felt."
In his interview with Fox Business, Short also pushed back against conspiracy theories about what happened on January 6, such as the claim that it was a "false flag" operation carried out by the deep state to hurt Trump. Notably, Fox News host Tucker Carlson has been a prominent promoter of the theory, creating a documentary called Patriot Purge, which highlights the claims, for the network's online streaming service Fox Nation.
Short said evidence presented by the select committee in the Thursday hearing "shows for those who say this was a peaceful protest, some of these videos put that to a lie. The notion that this was a false flag operation is frankly propaganda and I think it is important the American people see that..."
Trump continues to deny any wrongdoing related to the riot and efforts to overturn the election. He insists that Biden's win was fraudulent, despite no evidence corroborating the allegation. To the contrary, more than 60 legal challenges to the election brought by Trump and his allies have failed in state and federal courts. Even judges appointed by the former president have ruled against the lawsuits.
Trump's former attorney general, William Barr, who was widely viewed as one of his most loyal Cabinet members, has said repeatedly that there is "no evidence" to support the fraud claims. He wrote in his memoir that he told Trump directly that the allegations were "bullsh*t" and that his legal team after the 2020 election was a "clown show."
Newsweek reached out to Pence's press representatives for comment.