Trump Criminal Case Evidence Growing, Experts Say Amid New Jan. 6 Reports
Some legal experts believe the evidence to support a potential criminal case against Donald Trump is mounting as new revelations about January 6, 2021, and the former president's efforts to overturn the 2020 election results continue to drop.
Hundreds of Trump's supporters attacked the U.S. Capitol early last year after the then-president urged them to walk to the federal legislative building and "fight like hell." The riot took place after Trump spent months claiming that the 2020 election was fraudulent, as he and some of his top administration officials attempted to overturn President Joe Biden's win.
New York Times' journalist Maggie Haberman reported Friday that Marc Short, former Vice President Mike Pence's chief of staff, warned the Secret Service that he feared that Trump would turn against his No. 2 administration official and there could be a security risk on January 6. Many of Trump's supporters later chanted "Hang Mike Pence" and threatened his life as they attacked the Capitol. Trump continued to tweet criticism of Pence even as the rioters breached the federal legislative building.
On Thursday, CNN reported January 6 text messages from a number of prominent Republican lawmakers and officials urging Trump's chief of staff Mark Meadows to convince the then-president to call for the rioters to stop the violence. More than a dozen of those people told CNN that they still believe Trump could have stopped the assault immediately.
Legal analysts weighed in on the new details about January 6 and Trump's behavior surrounding the events of that day.
Ryan Goodman, a professor at New York University School of Law and a former special counsel to the general counsel of the Department of Defense, said the reporting about Short's concerns for Pence's safety "adds to the criminal case in at least two ways."
"1. Trump's turning on Pence on Jan. 6 had the – foreseeable and likely – result of threatening Pence's safety," Goodman wrote on Twitter. "2. Pence's team felt the pressure. Withstood it. But felt it."
Harry Litman, a former U.S. attorney for the Western District of Pennsylvania, said the reporting regarding's Pence's chief of staff's concerns pointed to Trump's "state of mind."
"The revelations that Pence's folks feared a physical threat of him as of 1/5 are impt evidence of TRUMP's state of mind. The worst texts from Meadows show Trump as unconcerned about Pence on 1/6; this shows Trump must at least have known about the threat and in advance," Hitman posted to Twitter.
Glenn Kirschner, a former federal prosecutor and legal analyst for MSNBC and NBC News, argued that the Republicans' text to Meadows and their continued belief that the former president could have stopped the riot shows that "Trump equals treason."
"That is the federal code. Treason is defined as somebody who takes an oath of allegiance to the United States and then levies war against the United States," Kirschner told The Stephanie Miller Show on Friday. "That's what Donald Trump did at a minimum." The legal expert contended that Trump did not "call off" the attack because he "launched" the riot.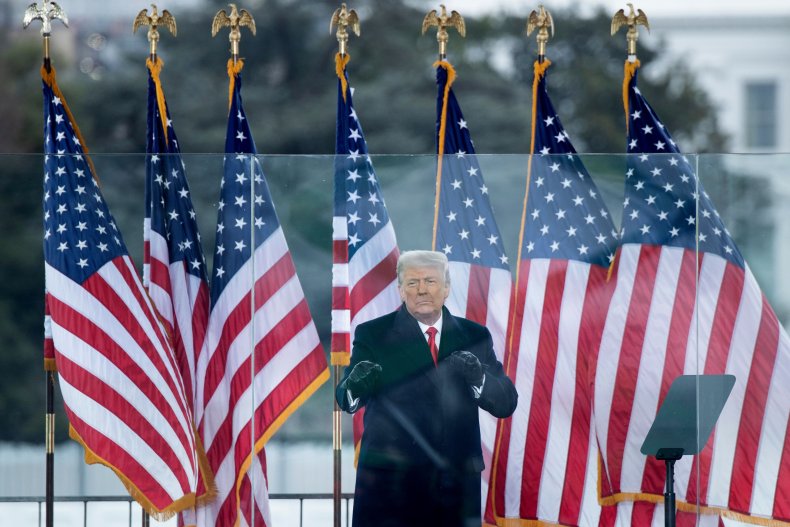 Meanwhile, former Attorney General Eric Holder, who served under former President Barack Obama, told HBO's Real Time with Bill Maher on Friday that he believes Trump and other top administration officials will face indictments.
"Because of what we know from what great journalists have done, the leaks that have come from the January 6th committee, if you show me that Donald Trump was involved in the efforts to, in essence, to foment a coup, and you can show the requisite intent, he has to be indicted," Holder said.
Newsweek reached out to a Trump spokesperson for comment.
The former president continues to deny any wrongdoing related to the Capitol riot and efforts to overturn the 2020 election results. He insists that Biden's win was fraudulent, despite no evidence corroborating the allegation. To the contrary, dozens of legal challenges to the election have failed in state and federal courts. Even judges appointed by Trump have ruled against the lawsuits.
Trump's former Attorney General William Barr, who was widely viewed as a loyal Cabinet member, has said repeatedly that there is "no evidence" to support the former president's claims. He wrote in his memoir that he told Trump directly that the allegations were "bullish*t" and that his legal team after the 2020 election was a "clown show."