Republican Adam Kinzinger Rips Fox News Over New Tucker Carlson Special: 'Disgusting'
Representative Adam Kinzinger, an Illinois Republican, slammed Fox News over controversial host Tucker Carlson's new special, Patriot Purge, which purports to tell the "true story behind" the pro-Trump January 6 attack against the U.S. Capitol.
Carlson, who routinely faces backlash for his controversial Fox News opinion show, posted the trailer for the new special on Wednesday evening, saying that it would be broadcast on November 1. Many on social media quickly raised concerns and criticism, as the trailer suggests the special will give credence to the conspiracy theory that the January 6 attack was a "false flag" operation.
"Anyone working for @FoxNews must speak out. This is disgusting. It appears @foxnews isn't even pretending anymore," Kinzinger tweeted on Thursday morning, sharing Carlson's post.
The GOP congressman has become one of former President Donald Trump's most vocal critics in the wake of the 2020 election and the assault by Trump's supporters against the legislative branch. Kinzinger, along with fellow Republican Representative Liz Cheney of Wyoming, serves on the House select committee investigating the January 6 attack.
Carlson's trailer shows scenes from the January 6 violence and claims there is now "a plot against the people." A commentator claims there is now a "domestic war on terror," while another suggests January 6 could have been a "false flag" operation. As of the time of writing, the video posted by Carlson had been viewed more than 1 million times.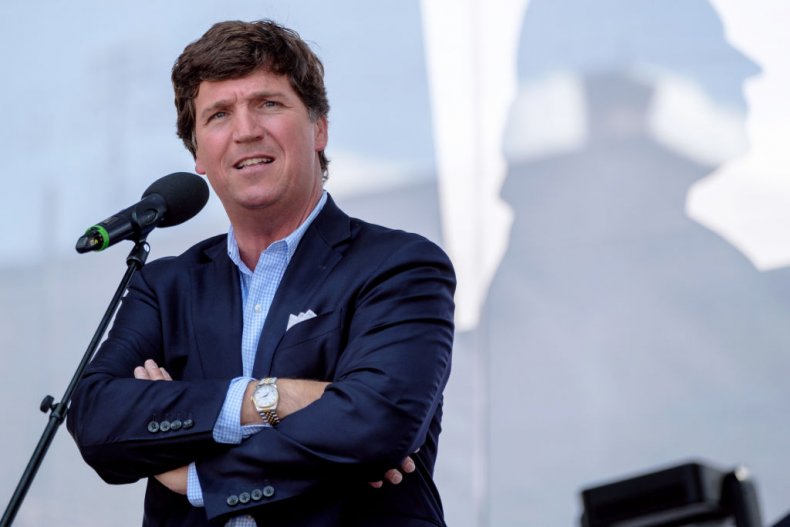 Many Trump supporters and believers in the QAnon conspiracy theory have repeatedly suggested that January 6 was a "false flag" operation planned by the so-called "deep state." The QAnon conspiracy baselessly claims that Trump is fighting against a Satanic group of Democrats and societal elites who attempt to control the world while molesting children and carrying out ritual sacrifices.
Cheney also called out Fox News for allowing the Carlson special to broadcast.
"It appears that @FoxNews is giving @TuckerCarlson a platform to spread the same type of lies that provoked violence on January 6. As @FoxNews knows, the election wasn't stolen and January 6 was not a 'false flag' operation," Cheney tweeted on Thursday.
Kinzinger and Cheney were among the 10 House Republicans who voted to impeach Trump in the aftermath of the January 6 attack. "There has never been a greater betrayal by a President of the United States of his office and his oath to the Constitution," Cheney said at the time.
Just ahead of the violence of January 6, Trump spoke at a nearby "Stop the Steal" rally urging his supporters to "fight like hell" and instructing them to "march" to the Capitol. Hundreds proceeded to do just that, animated by the then president's groundless claims that President Joe Biden won the 2020 election due to widespread voter fraud. Many of the rioters openly expressed a desire to harm or kill top lawmakers—including House Speaker Nancy Pelosi and then Vice President Mike Pence.
Despite routinely facing controversy, Carlson remains one of the most popular personalities on television. Carlson's show was the highest-rated show on cable news during the third quarter of 2021. It averaged more than 3.2 million viewers.
Newsweek reached out to Fox News for comment but did not immediately receive a response.