Adam Kinzinger Knocks McCarthy for Opposing Cheney but Not QAnon Supporters
GOP Representative Adam Kinzinger on Friday knocked House Minority Leader Kevin McCarthy for opposing Representative Liz Cheney while largely allowing QAnon and conspiracy theory promoters to go unchecked.
Kinzinger's comments came after The New York Times reported on Thursday that a McCarthy associate was giving Republican consultants an ultimatum: choose between the GOP House leader and Cheney. The Wyoming Republican has received significant backlash from her Republican colleagues because of her staunch opposition to former President Donald Trump and his allies in the wake of the January 6 attack on the U.S. Capitol.
"Curious if same ultimatum was put out for those who embrace white nationalism, q-anon, or other conspiracies? Or just truth tellers?" Kinzinger, an Illinois Republican, tweeted on Friday afternoon, retweeting the Times article.
The article reported that a confidant and lobbyist close to McCarthy has conveyed the anti-Cheney message to GOP consultants and strategists. At least one Republican organization that Cheney had hired reportedly dropped her as a client after the pressure from McCarthy's associate.
"It's sad but not surprising that Kevin McCarthy is continuing down the morally bankrupt path of embracing House Republicans who are white supremacists and conspiracy theorists, but attacking Liz Cheney for telling the truth and standing for the Constitution," Cheney's spokesperson, Jeremy Adler, told the Times in response to the report, voicing criticism similar to Kinzinger's.
Newsweek reached out to McCarthy's spokesperson for comment but did not immediately receive a response.
Cheney previously served as the No. 3 House GOP leader in her role as chair of the House Republican Conference. She was ousted from that position by her GOP colleagues in May because of their anger at her repeated criticism of Trump and Republican lawmakers who continue to support the former president.
Along with nine other House Republicans, Cheney voted to impeach Trump for inciting his supporters to assault the Capitol on January 6. "There has never been a greater betrayal by a president of the United States of his office and his oath to the Constitution," the congresswoman said ahead of that mid-January vote.
Kinzinger also voted in favor of impeaching Trump. Like Cheney, he has repeatedly blasted Trump, as well as McCarthy and other GOP officials who continue to align themselves with the former president. Both Cheney and Kinzinger were appointed by House Speaker Nancy Pelosi to serve on the House select committee investigating the January 6 attack.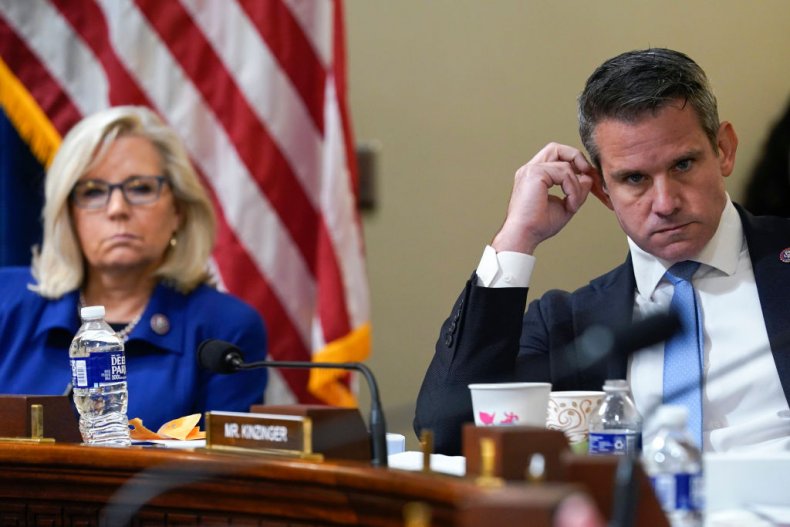 McCarthy and other House Republicans have publicly criticized Cheney and Kinzinger for their opposition to Trump and their willingness to be part of the investigation into the pro-Trump invasion of the Capitol. The House minority leader dubbed them "Pelosi Republicans" back in July, while members of the House Freedom Caucus have said they are "spies for the Democrats."
Meanwhile, McCarthy and other GOP leaders have done little to push back against QAnon and other conspiracy theories promoted by Republican members of Congress. To the contrary, they have given credence to Trump's baseless claims that the 2020 election was "rigged" or "stolen" in favor of President Joe Biden.
Although Trump and his allies continue to promote this allegation, they have not provided any evidence to support it. More than 60 election challenge lawsuits have failed in state and federal courts. Even judges appointed by Trump and other Republicans have dismissed the cases. Multiple audits and recounts in key battleground states have reaffirmed Biden's victory as well.