Nearly Half of Voters Would Back 2022 Candidates Who Want to Investigate 2020 Election
As former President Donald Trump and many of his Republican allies continue to promote the conspiracy theory that the last presidential election was "stolen," nearly half of voters say they would vote for political candidates in the 2022 midterms who want to investigate the 2020 election results.
Trump and his supporters claim that President Joe Biden won in 2020 due to widespread voter fraud. Despite dozens of legal challenges and numerous audits and recounts, no evidence has emerged corroborating this extraordinary allegation. Nonetheless, a large percentage of voters appear not to trust the nation's election system and are supportive of candidates who want to investigate the last election further.
New polling from Morning Consult and Politico published on Wednesday showed that 48 percent of registered voters said they would cast ballots for a candidate in 2022 who believes the results of the 2020 presidential election should be investigated. That included a substantial majority (73 percent) of Republicans as well as 42 percent of independents and nearly a third (29 percent) of Democrats.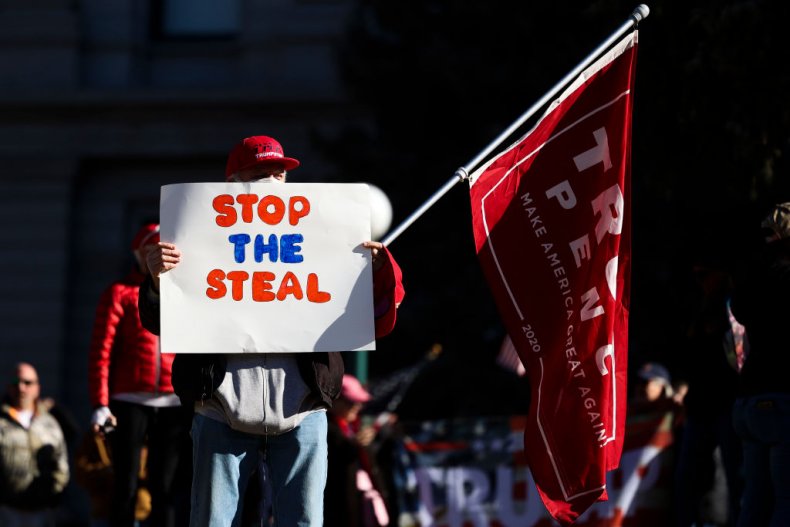 Furthermore, only just over half of voters said they "trust" the nation's election system. The poll showed that 52 percent of registered voters said they trust the U.S. election system "a lot" or "some." Just 27 percent said they trust the system "a lot," while only 25 percent said they trust it "some." Meanwhile, 43 percent said they "distrust" the system.
The poll's margin of error is plus or minus 2 percentage points. It was conducted from October 22 to 24.
More than 60 election challenge lawsuits filed by Trump and his supporters in state and federal courts have failed. Even judges appointed by the former president and other Republicans have rejected the allegations. Audits and recounts in key battleground states—including in areas where the election was overseen by pro-Trump Republicans—have consistently reaffirmed Biden's victory.
Former U.S. Attorney General William Barr, who was widely seen as one of Trump's most loyal Cabinet members, said in December that there was "no evidence" of voter fraud that would change the 2020 election results. Likewise, the Cybersecurity and Infrastructure Security Agency at the Department of Homeland Security asserted last year that there was "no evidence that any voting system deleted or lost votes, changed votes, or was in any way compromised." The federal agency was led by a Trump appointee when it released that statement.
Regardless, many pro-Trump GOP lawmakers continue to spread misinformation about the election and the ballots that also got them reelected or elected for the first time. Prominent Trump supporters—such as MyPillow CEO Mike Lindell, retired Lt. General Michael Flynn, and Trump's former adviser Steve Bannon—continue to travel the country and spread conspiracy theories about the 2020 election at large events.
Previous polling has shown that the majority of Republicans appear to believe the conspiracy theory. Survey data released by CNN in September showed that 59 percent of GOP voters think it is "important" to their Republican identity to support the claim that Trump won in 2020. Another recent poll by Suffolk University and USA Today found that nearly 70 percent of Republicans do not view Biden as the legitimately elected president.