Mike Lindell's Alabama Election Hack Claim Countered by GOP Official: 'Didn't Have Any Issues'
Alabama Secretary of State John Merrill, a Republican, pushed back against MyPillow CEO Mike Lindell's claim that the southern state's election was "hacked"—despite former President Donald Trump besting President Joe Biden there by nearly 600,000 votes.
Lindell, a staunchly pro-Trump conservative, has traveled around the country over the past several months attending and hosting events to promote the conspiracy theory that the 2020 election was "hacked" and "stolen" in favor of Biden. The businessman, Trump, and the former president's other allies have not provided evidence substantiating this extraordinary allegation.
The MyPillow exec has claimed that the election was "hacked" in every state, even urging those that Trump won by wide margins—such as Alabama—to conduct full forensic audits.
"The thing we have maintained is that we didn't have any issues, any irregularities, any inconsistencies, any probing, any concerns that was introduced at any level to us," Merrill told AL.com on Friday, countering Lindell's claim about his state.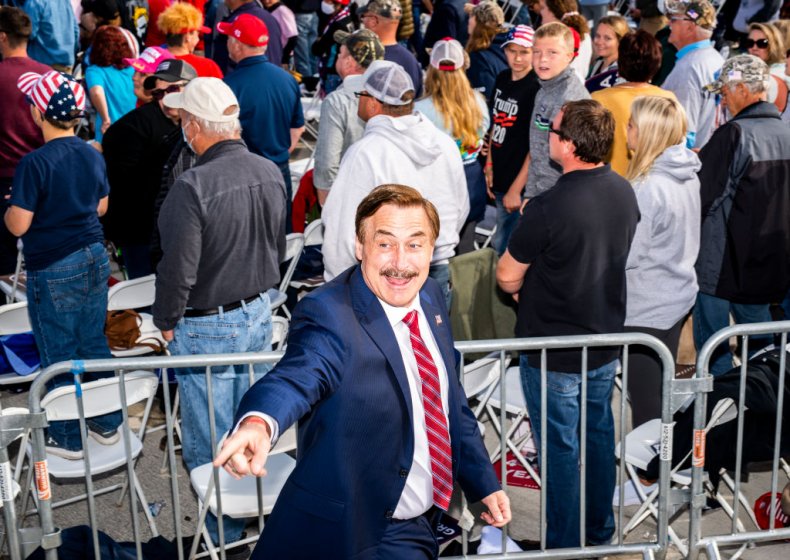 The GOP secretary of state's comment came after Lindell told The Jeff Poor Show that there were "five different ways" hackers could access Alabama's voting machines. The pro-Trump businessman said he wanted to audit the machines, but Alabama officials said he couldn't without a judge's order.
Prior to his remarks on the show, Lindell met directly with Merrill earlier in the week. The Republican official said that the Trump ally had not explained the "five different ways" in that meeting.
"He wasn't specific what those ways would have been," Merrill told AL.com
"I'm sure one of them is through a data breach that would involve manipulation of data related to a modem component, which would be a cellphone or a landline, but that's not available with ours. Our tabulators are not computers. They are simply tabulators that record the votes as they are submitted through Scantron access that would simply show who you voted for and it would record that," he explained.
In a statement emailed to Newsweek on Saturday, Merrill's spokesperson, Cameron Mixon, said that the secretary of state's office works for voters to have the "utmost confidence" in elections.
"Our office strives to ensure that every Alabamian has the utmost confidence in the integrity of our elections, and we have engaged with Mr. Lindell in order to directly address questions and concerns he has raised about the administration of elections in our state. Moving forward we will continue our efforts to ensure that every Alabamian has trust in our election processes," Mixon wrote.
In September, Lindell posted a video in which he claimed Alabama's election had been "hacked" in 2020. He claimed that 100,000 votes had been flipped in favor of Biden in Alabama, but did not provide evidence to support the allegation.
"We didn't have any vote changes. Zero. It's not possible to have any vote changed," Merrill told AL.com last month in response to Lindell's claim.
Trump beat Biden in Alabama by close to 600,000 votes. The former president garnered just over 62 percent of the state's votes compared to the just under 37 percent that went for Biden.
Despite Lindell's and Trump's claims about Biden's win, more than 60 election challenge lawsuits filed by the former president and his supporters have failed in state and federal courts. Even judges appointed by Trump and other Republicans have rejected the allegations. Meanwhile, audits and recounts—including in areas where the election was overseen by pro-Trump Republicans—have consistently reaffirmed the official 2020 results.
Former U.S. Attorney General William Barr, who was widely viewed as one of Trump's most loyal Cabinet members, explained last December that there was "no evidence" of voter fraud that would change the election's outcome.
The Cybersecurity and Infrastructure Security Agency at the Department of Homeland Security described the 2020 election as the "most secure in American history."
Update 12:04 PM ET: an additional statement from Merrill's office has been added.