GOP Gov. Hutchinson Says Republicans Should Embrace Future, Move on From Trump Loss
Arkansas Governor Asa Hutchinson, a Republican, urged fellow members of the GOP to "embrace" the future and not focus on former President Donald Trump and his claims about the 2020 election.
Hutchinson previously warned that focusing on Trump's 2020 election claims would be a "recipe for disaster" going into future elections. During a Sunday interview with CNN, he discussed that concern and said the GOP should focus on the future. The Arkansas governor touted GOP gubernatorial candidate Glenn Youngkin in Virginia as an example.
"Glenn Youngkin in Virginia is doing a great job. He has a great potential to win that race this year," Hutchinson said. Youngkin has appeared to distance himself from Trump during his run, although the former president has endorsed his candidacy.
"That's an example of what we need to do and looking at the future, providing solutions for America versus the past and 2020. Let's move on," Hutchinson said.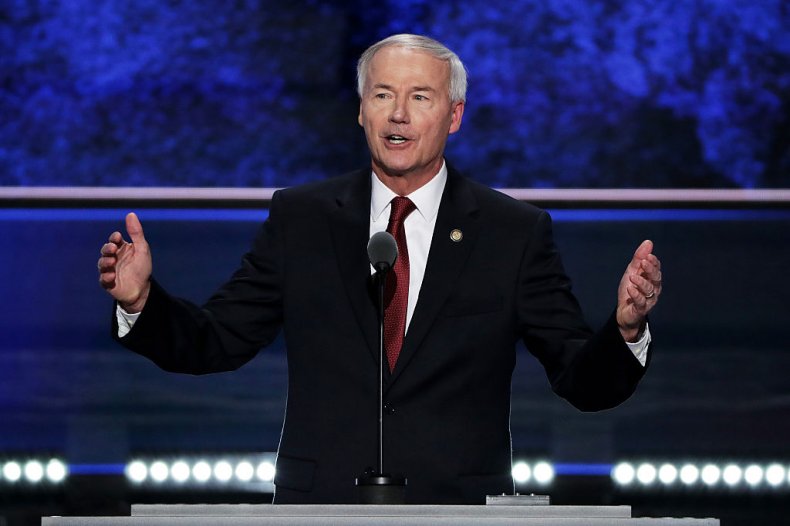 Polling out of Virginia shows that Democratic candidate (and former Governor) Terry McAuliffe only narrowly leads his GOP opponent. Youngkin, a businessman, is backed by an average of 45.9 percent of Virginia's voters compared to 48.3 percent that support the Democratic contender, according to FiveThirtyEight's average of national polls.
Hutchinson praised Youngkin for how he has "balanced" and "handled" his race in Virginia. The GOP candidate has attempted to distance himself from Trump while also not alienating the former president's loyal supporters. Hutchinson said Youngkin is "talking about the future."
"You know, he has depended—his race has not depended upon Donald Trump, nor should it," the Republican governor said.
Trump, along with supporters and many Republican lawmakers, continues to claim that the 2020 election was "rigged" or "stolen" in favor of President Joe Biden. Neither he nor his allies have provided evidence substantiating the extraordinary allegation.
Dozens of election challenge lawsuits filed by Trump and his supporters have failed in state and federal courts. Even judges appointed by Trump and other Republicans have dismissed the cases. Recounts and audits in states across the country have also consistently reaffirmed Biden's victory.
Last week during an interview with NBC News' Meet the Press, Hutchinson warned that the pro-Trump movement's focus on 2020 is a problem.
"Relitigating 2020 is a recipe for disaster in 2022," Hutchinson said.
"Let's talk about the future. The election has passed, it's been certified, the states made decisions on the integrity of each of their elections and made improvements where need be," he said.
Senator Roy Blunt, a Missouri Republican, shared a similar view to Hutchinson's during an interview Sunday with Meet the Press.
"I'm of the view that the best thing that President Trump could do to help us win majorities in 2022 is talk about the future," the GOP lawmaker said.
Notably, Hutchinson is barred by term limits from running for governor of Arkansas again in 2022. In a surprise announcement, Blunt announced in May that he would not seek re-election for a third term in the election next year. Former Republicans lawmakers and those set to leave office have often shown a greater willingness to criticize Trump than fellow GOP officials who remain concerned about their electoral prospects.
Newsweek reached out to Trump's press office for comment but did not immediately receive a response.