Virginia Governor's Race Ad Says Trump 'Scared' to Campaign There, Mocks His 'Loser Stench'
A new ad about the Virginia governor's race mocks former President Donald Trump for not traveling to the state to campaign on behalf of Republican contender Glenn Youngkin.
Polls currently show a close race between Youngkin, a businessman, and Democratic ex-Governor Terry McAuliffe ahead of the November 2 election there. While top Democratic leaders plan to travel to Virginia to campaign for McAuliffe (or already have), Trump has not announced similar plans, though he has voiced support for Youngkin.
The new ad released Saturday by anti-Trump political action committee MeidasTouch accused the former president of being too "scared" and "weak" to visit the state. Youngkin has appeared to distance himself from Trump throughout his gubernatorial campaign.
"Donald, why are you so scared to go to Virginia?" a female voice-over asks in the clip. "Is it because you know Glenn Youngkin wants nothing to do with you?"
"Or is it because your loser stench rubs off on everyone you touch?" the ad continues, showing clips of Trump photographed with failed Republican political candidates.
"President [Barack] Obama is showing up. President [Joe] Biden is showing up. Dr. [Jill] Biden is showing up. Stacey Abrams is showing up," the voice-over says. "If you weren't too weak or scared or washed up, you would get to Virginia fast. But you won't," it predicts.
"Instead, you're just phoning it in like a coward," the ad concludes. It shows a photo of Trump calling into a Virginia rally attended by former adviser Steve Bannon this past week. Trump expressed support for Youngkin during that call as he and Bannon promoted false claims of widespread voter fraud in the 2020 election.
"We won in 2016. We won in 2020—the most corrupt election in the history of our country, probably one of the most corrupt anywhere," Trump said during his phone call into the event Wednesday. "But we're going to win it again."
Obama plans to campaign with McAuliffe in Virginia next week. Meanwhile, first lady Jill Biden campaigned with the Democratic gubernatorial hopeful on Friday, and Abrams is attending events with him this weekend. President Biden already campaigned with McAuliffe in July.
While Youngkin has worked to distance himself from Trump's faction of the GOP, McAuliffe has criticized Democratic leaders in Washington—particularly as Biden's poll numbers have slipped in recent weeks.
He expressed frustration with the current stalemate in Washington, D.C. over Biden's Build Back Better agenda.
"I guess this is the difference as a governor," McAuliffe said during a Thursday press call. "I'm very proud I got 70 plus percent of my bills passed from a Republican legislature. The inaction on Capitol Hill today is so damaging. Do your job. Quit talking. Quit preening around the press. Get in a room, figure out what has to get done and get it done."
McAuliffe served as Virginia's governor from 2014 to 2018. Under Virginia's state constitution, governors are not allowed to serve two consecutive terms but are allowed to run for an additional term in a subsequent election.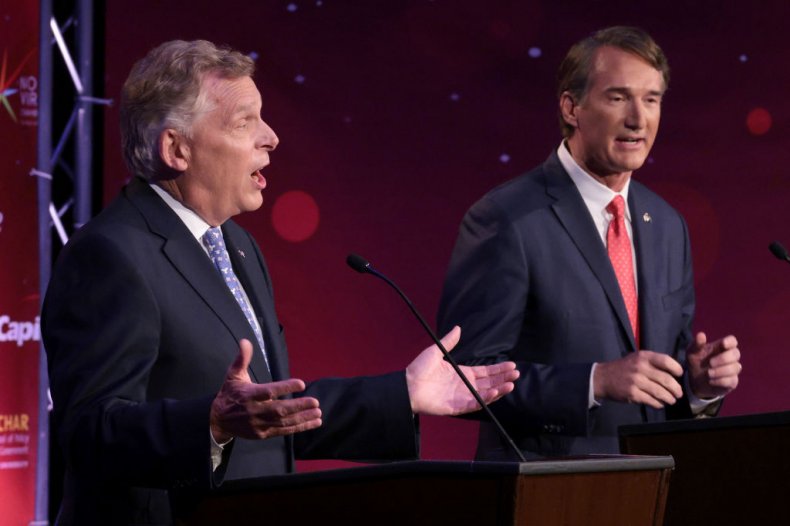 Polling out of Virginia shows a close race. The average of recent polls compiled by FiveThirtyEight shows the Democratic contender ahead of Youngkin. McAuliffe is backed by about 48.5 percent of Virginia voters while Youngkin is supported by 45.6 percent.
A recent poll conducted by Fox News showed McAuliffe better positioned to beat Youngkin, however. That survey showed 51 percent of likely voters supporting the Democratic nominee compared to just 46 percent backing the GOP contender.
Youngkin hopes to flip the governor's mansion to Republican control, which would also make him the first GOP contender to win a statewide race in Virginia since 2009. McAuliffe is angling to keep the state's governorship under Democratic control, as Democrats and Republicans closely watch the race ahead of the 2022 midterms. Amid Biden's declining popularity and Trump's continued strong Republican backing, political analysts are eyeing the race for insights into how the two parties will perform in upcoming elections under their leadership.
Newsweek reached out to Trump's press office for comment but did not immediately receive a response.