Glenn Youngkin Rally Attendees Pledge Allegiance to January 6 Flag in Video
Democrats have condemned an event in support of Glenn Youngkin, the Republican nominee for governor of Virginia, after the Pledge of Allegiance was performed to a flag apparently flown during the January 6 Capitol attack.
Youngkin wasn't present at the rally held in his honor, but the event did feature a phone call of support from Donald Trump. The former president called Youngkin a "great gentleman."
During the "Take Back Virginia Rally" in Henrico County, Martha Boneta, the Republican host of the event, called someone to the stage who was carrying an American flag that was reportedly present at what was referred to as the "peaceful rally with Donald J. Trump" on January 6.
The Republican referred to the January 6 insurrection as "peaceful," despite it resulting in the deaths of five people and a number of suspects being charged with violent offenses including assaulting police officers.
Boneta then asked the crowd to stand up, while those on stage turned and faced the flag to recite the Pledge of Allegiance.
The incident involving the flag was condemned by the Democratic candidate for governor in Virginia, Terry McAuliffe.
"Glenn Youngkin was endorsed again tonight by Donald Trump at a rally where attendees pledged allegiance to a flag flown at the deadly January 6th insurrection," McAuliffe tweeted. "Beyond disturbing, this is sick. And Glenn is honored to have Trump's endorsement.
"This is not who we are as Virginians," he added while sharing a clip of the incident.
"Tonight's Donald Trump rally for Glenn Youngkin celebrating the insurrection against our country was unconscionable."
Youngkin later condemned the incident involving the flag at the rally.
"While I had no role in last night's event, I have heard about it from many people in the media today. It is weird and wrong to pledge allegiance to a flag connected to January 6," Youngkin said in a statement to Newsweek.
"As I have said many times before, the violence that occurred on January 6 was sickening and wrong.
"My campaign isn't about the past, it is about the future and bringing everyone – Republicans, Independents, and Democrats – together around my vision for a Virginia that is safer, stronger, and less divisive, with the best schools and the best law enforcement and the best economy."
Elsewhere during the rally, a number of speakers, including Trump, continued to push false claims and conspiracy theories about the 2020 election and voter fraud.
Those who appeared at the "Take Back Virginia Rally" include Trump's former advisor Steve Bannon and Arizona Rep. Mark Finchem, who previously appeared on stage during MyPillow CEO's Mike Lindell's three-day "Cyber Symposium" conspiracy theory event that falsely claimed would reveal how the 2020 Election was rigged.
Another speaker at the rally was Virginia State Sen. Amanda Chase, who in December 2020 urged Trump to invoke martial law in the U.S. so the military can oversee a "new free and fair" election.
"We won in 2016. We won in 2020—the most corrupt election in the history of our country, probably one of the most corrupt anywhere. But we're gonna win it again," Trump told the crowd during his phone call, reported The Washington Post.
Claims of Voter Fraud
Chase, who was censured by the Senate in January for calling those who rioted at the Capitol "patriots," called for a recount of the 2020 election results in Virginia, as well as demanding that drop boxes and the 45-day early voting process be scrapped while continuing to push unsubstantiated claims of voter fraud.
"It shouldn't be a season, because that just increases the possibility of fraud," Chase said, via the Richmond Times-Dispatch.
"We are going to do something about election integrity," Chase said. "I know what's going on. The Youngkin campaign knows what's going on. We are watching like we never watched before."
In a statement about the rally, Manuel Bonder, spokesman for the Democratic Party of Virginia, said: "Glenn Youngkin has made it clear: his top priority is bringing Donald Trump's dangerous agenda to Virginia.
"As Youngkin focuses his campaign on peddling right-wing conspiracies and advancing an extreme policy agenda, he is making it clearer than ever that he is too extreme for Virginia. Both he and Donald Trump belong nowhere near the governorship."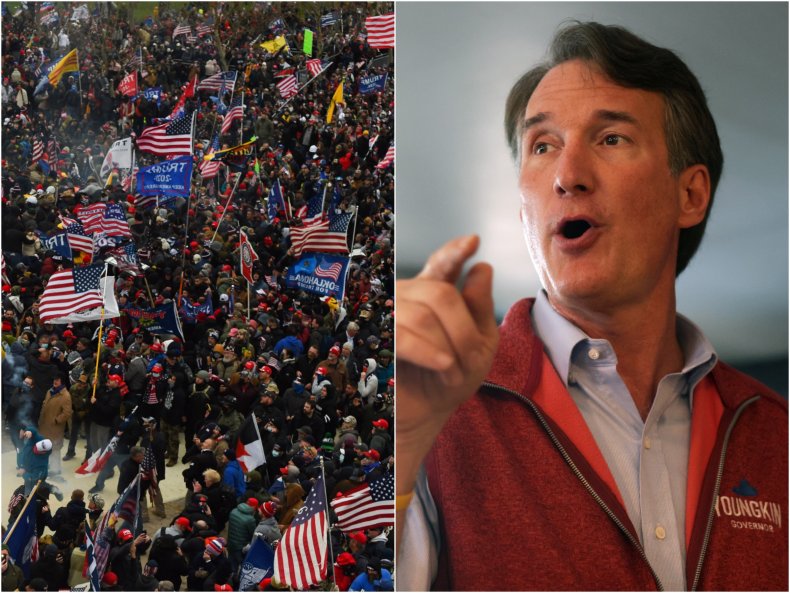 Update 10/15/21 at 3:24 a.m. ET: This article was updated with a statement from Glenn Youngkin.