'This Is a Mistake': Steve Bannon Slams Mike Lindell's Symposium for Not Proving Voter Fraud
Right-wing media figure Steve Bannon has slammed MyPillow CEO Mike Lindell's cyber symposium for failing to present evidence that actually proves Lindell's long-touted claims of voter fraud in the 2020 presidential elections.
Bannon, who served as White House Chief Strategist under former President Donald Trump, has been at the symposium broadcasting War Room, his show on the right-leaning media network Real America's Voice.
"I think this is a mistake," Bannon in his Wednesday broadcast, speaking about the symposium's re-playing of a 15-minute film that had already been shown earlier in the event. "I want to be brutally frank. I think there's so much work to get through the day...It's now time to really get to the details."
"You've laid a theory of the case that is very powerful," Bannon continued, "but in laying that case out, you've got to bring the receipts." The phrase "bring the receipts" is slang for "show the proof."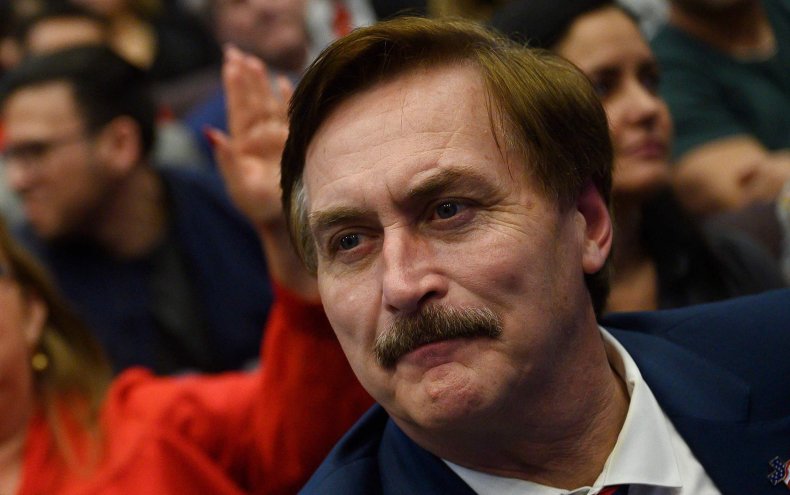 Lindell has claimed that his symposium in Sioux Falls, South Dakota will reveal that voting machine fraud, orchestrated by China, stole the 2020 election from Trump. This supposed evidence, Lindell said, will convince the Supreme Court to vote unanimously to reinstate Trump into office by autumn.
Lindell said the "cyber guys"—technological experts who are Certified Information Systems Security Professionals—will apparently show "packet captures" that prove that votes were flipped from Trump to the election's winner, now-President Joe Biden.
"Packet captures" are computer data files taken from a specific moment of network activity. These packets can then be analyzed to understand network behavior at a later time. Lindell claimed that the "cyber guys" will use the packet captures to show how many votes were flipped in different parts of the country.
"It's going to be a worldwide event," Lindell said in late June. "Millions are going to see it. And those Supreme Court justices are going to look at it then, and they're going to go 9-0 that this country was attacked. The election is going to come down. Donald Trump will be in office by this fall, for sure."
There's neither legal nor historic precedent to support Lindell's theory about Trump's reinstatement by the Supreme Court.
Lindell's claims that voting machines helped rig the election compelled Dominion Voting Systems to sue him in a $1.3 billion defamation lawsuit. Lindell countersued the company for $1.6 billion, claiming it violated his Constitutional rights to free speech.
Trump lost the 2020 election by over seven million popular votes and 74 electoral votes. Trump's own attorney general and federal head of election security both said there is no evidence that fraud affected the election's outcome.
Newsweek contacted Lindell's office for comment but did not hear back in time for publication.