Mike Lindell Says Donald Trump Will Be Back in Office 'By This Fall, For Sure'
MyPillow CEO Mike Lindell has said that Republican former President Donald Trump will be reinstated to the presidency "by fall, for sure."
Lindell made his comments during a Friday speech at the Health and Freedom Conference in Tampa, Florida. During his speech, Lindell said that his upcoming "cyber symposium" in July will reveal new evidence that voting machine fraud—orchestrated by China, he claims—stole the 2020 election from Trump.
This evidence, Lindell said, will convince the Supreme Court to vote unanimously to reinstate Trump into office by autumn.
"We're bringing in all the cyber guys. They're going to be there, then we're bringing all the media. Maybe even Fox will show up, what a concept," Lindell said of his symposium. "And then we're going to bring in all senators, governors—even the corrupt ones, [like Republican Georgia Governor] Brian Kemp—and legislatures, secretary of states and every single government official that wants to be there."
Lindell said the "cyber guys"—technological experts who are Certified Information Systems Security Professionals—will show "packet captures" that prove that votes were flipped from Trump to the election's winner, Democratic President Joe Biden.
"Packet captures" are computer data files taken from a specific moment of network activity. These packets can then be analyzed to understand network behavior at a later time. Lindell claimed that the "cyber guys" will use the packet captures to show how many votes were flipped in different parts of the country.
"It's going to be a worldwide event," Lindell continued. "Millions are going to see it. And those Supreme Court justices are going to look at it then, and they're going to go 9-0 that this country was attacked. The election is going to come down. Donald Trump will be in office by this fall, for sure."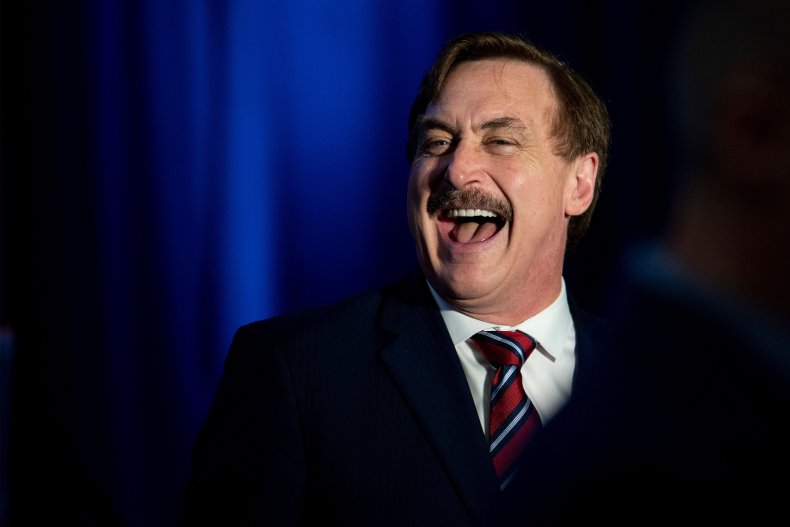 Lindell has made similarly baseless claims many times in the past. In early June, he said that Trump will reassume his role as president in August (a month that falls in the summer).
At the time, Lindell said Trump's return to the White House would occur either through Supreme Court rulings or "two other bonus pathways" involving vote audits in states that Trump lost in 2020. One such audit is currently underway in Maricopa County, Arizona.
However, constitutional law doesn't support Lindell's prediction, according to Business Insider. The August deadline also falls during the court's three-month recess, the publication noted, calling Lindell's claim a "demonstrably false conspiracy theory."
Lindell claims that voting machines helped rig the election have compelled Dominion Voting Systems to sue him in a $1.3 billion defamation lawsuit. Lindell countersued the company for $1.6 billion, claiming it violated his Constitutional rights to free speech.
Trump lost the election by over seven million popular votes and 74 electoral votes. Trump's own attorney general and federal head of election security both said there is no evidence that fraud affected the election's outcome.
Trump has also claimed that election fraud only occurred in the states that he lost. As such, Trump's claim contradicts another claim in Lindell's speech. Lindell said that voter fraud occurred in Tampa, even though Trump won Florida in the 2020 election.
Newsweek contacted Lindell's office for comment.