Two-Thirds of Independent Voters in Arizona Oppose Ballot Audit: Poll
The Arizona State Senate is currently embroiled in a controversial audit of the Maricopa County ballots from the November 2020 election, though recently released polling figures show that 55 percent of independent voters in Arizona oppose the audit.
Figures released on Thursday from the HighGround Public Consulting Firm show that out of Arizona's Republican likely voters, about 77 percent support the ballot audit, while 20 percent oppose it. On the other side, Democrats are even more overwhelmingly in sync with their party's line in their opposition to the audit. However, more than two-thirds of Independent voters oppose the audit.
"Dwelling on the past is a dangerous proposition for the GOP's electoral future," said Charles Coughlin, CEO of HighGround in a statement Thursday. "Continued focus on this audit or the fraud narrative will only serve to undermine their electoral success in 2022."
The Maricopa County audit was called for by the Republican-controlled state Senate and is being run by Cyber Ninjas, a Florida firm that had no previous experience with auditing election results. This current audit comes after two previous audits had found no evidence of fraud.
There have also been claims that the Florida firm is using taxpayer time and money to investigate conspiracy theories, such as searching for bamboo fibers in ballots because of unfounded claims that some ballots were sent over from Asia.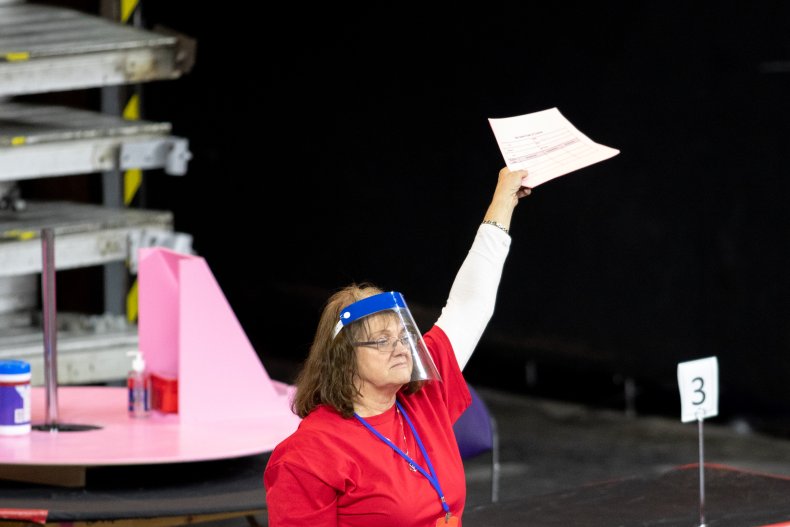 Cyber Ninjas' process is controversial and has been criticized by state officials and observers. Arizona Secretary of State Katie Hobbs, a Democrat, told AP reporters last week that Maricopa County will need to get funding to replace all of its election machines because their security was permanently compromised by the auditors.
She has also voiced frustration that the state has already completed two audits and that these new auditors seem to be operating secretively and have little relevant experience. Cyber Ninjas does not seem to be following standard recounting procedures such as not including members of each major political party observing the counting at each table, unlike with other election audits in Arizona.
The Maricopa County Board of Supervisors, led by Republicans, has mainly agreed with these concerns.
"We know that this audit is just a half-baked attempt to discredit the result of the 2020 election," Edder Diaz Martinez, Director of Communications for the Maricopa County Democratic Party told Zenger News. "That election has been over for six months and this is just an attempt to pander to the extreme right."
Some Republicans have concerns that the audits if allowed to continue, could continue to have disastrous effects for the party further down the road. Members of Arizona State University's College Republicans recently spoke out against continued audits, calling the spectacle "unproductive" and "unacceptable."
"The solution to [this] is a bipartisan issue, and I think there's a lot of opportunity going forward with both parties to work on it," Kieffer, a member of the club said in an editorial published by the college newspaper, The Arizona State Press. "I'm really looking forward to 2022 for the Republican Party, and I hope we can use this year as a reflection of how we can better the party itself going forward."