The head of a company hired to audit the results of the 2020 presidential election in Arizona's Maricopa County is a supporter of former President Donald Trump who reportedly promoted election fraud conspiracy theories on social media after Trump lost.
Doug Logan, the founder of Florida-based firm Cyber Ninjas, repeatedly shared pro-Trump election fraud conspiracy theories on a now-deleted Twitter account, according to The Arizona Republic. Logan's firm has been hired by Arizona's GOP-controlled Senate to conduct a new post-election audit of results in the state's most populous county. Multiple recounts and audits have confirmed that Trump lost the county to President Joe Biden by roughly 45,000 votes.
"I'm tired of hearing people say there was no fraud. It happened, it's real, and people better get wise fast," read a tweet by @Lord_Barrister that Logan retweeted in December.
"With all due respect, if you can't see the blatant cheating, malfeasence and outright voter fraud, then you are ignorant or lying," another retweeted post, this one by @cain_nate, claimed. "77% of Republicans rightfully believe they had their votes stolen."
An archived version of the account that allegedly belonged to Logan remains online, although the it only includes tweets going back to late December. Over the course of a week, the account shared multiple tweets from prominent figures associated with pro-Trump conspiracy theories like former Trump national security adviser Michael Flynn and Sidney Powell, the lawyer who promised to unleash "Kraken" lawsuits that would overturn the election results and keep the former president in office.
The Republic reports that Logan was also involved in an effort to audit results in Antrim County, Michigan, where human error by a Republican county clerk temporarily showed Biden winning the heavily Republican county in the reporting of unofficial results. Logan claimed to have found errors indicating fraud, although state and local county officials reportedly found multiple problems with his analysis, which they described as biased.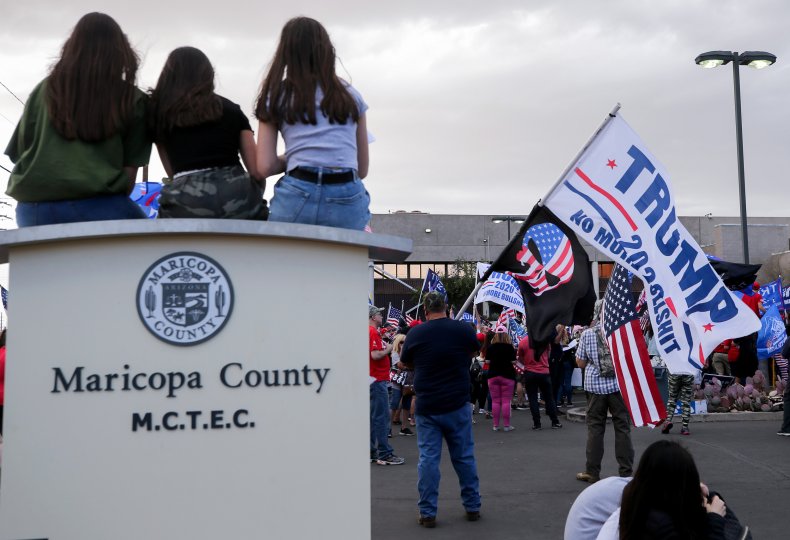 Neither the Cyber Ninjas website, which promotes the slogan "Do you have a Cyber Ninja on your side?", nor the company's LinkedIn page indicate that it has any experience auditing voting machines, software or anything else related to elections. Despite that, Cyber Ninjas was hired as the top company in the audit effort, tasked with overseeing the work of three other companies.
The firms CyFIR LLC, Digital Discovery and Wake Technology Services Inc. are also said to be part of the audit team. Technology from Jovan Hutton Pulitzer, who Gizmodo called "the inventor behind one of the worst inventions of all time" referring to the CueCat home barcode reader, will also reportedly be used in the audit. Pulitzer has claimed that his technology will detect the fraudulent ballots that he believes were cast in the election.
The results of the election in Maricopa County have already been confirmed multiple times. Most recently, the Arizona Senate hired two independent firms to conduct election audits that were released in February and found that the certified results showing that Biden had won were correct. The audits, like many other examinations of the election results, found no credible evidence of any massive fraud.
Trump lost the national popular vote Biden by more than 7 million votes, while he was defeated in the Electoral College by a count of 306 to 232. Regardless of what seemed to be an unambiguous defeat, Trump and many of his allies immediately protested the results and launched dozens of failed lawsuits attempting to overturn the outcome. Biden's victory was officially certified by Congress hours after a mob of angry Trump supporters, fueled by false claims that the election had been "stolen," violently stormed the U.S. Capitol on January 6.
Newsweek reached out to Cyber Ninjas for comment.