Trump Wants Virginia Governor's Race to Be 'Launching Pad' for 2024, Terry McAuliffe Says
Democrat Terry McAuliffe said Tuesday a loss for him in Virginia's upcoming gubernatorial election would enable "the comeback of Donald Trump," who many believe will run for another term as president in 2024.
McAuliffe, who served as Virginia's governor between 2014 and 2018, has maintained a slight lead in recent polls ahead of Republican Glenn Youngkin with three weeks remaining until the November 2 election. McAuliffe has drawn comparisons between Youngkin and Trump before and reiterated those comparisons during a Tuesday appearance on MSNBC's Morning Joe, when he said he is running for governor against a "Trump wannabe."
When asked by Reverend Al Sharpton if votes cast against McAuliffe are the equivalent of votes cast for the former president, McAuliffe said he "couldn't have said it any better."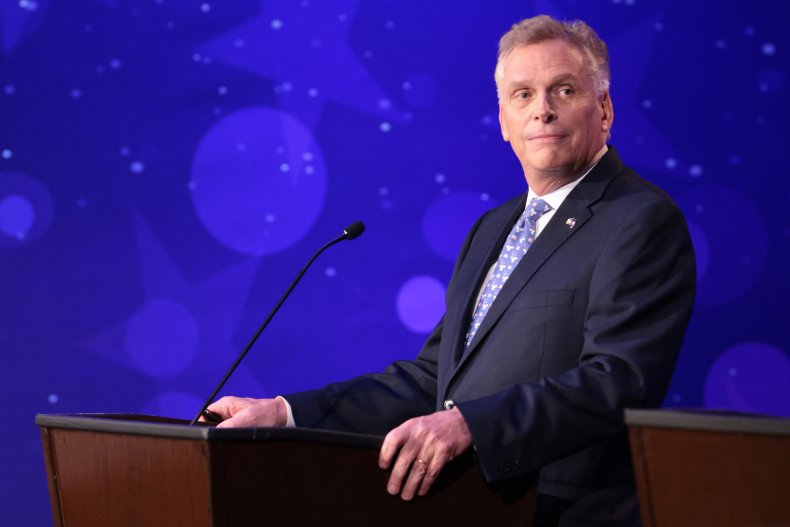 "If I were not to win this, this would be, as I say, the comeback of Donald Trump," McAuliffe said. "This would lift him off the mat. He would use this as the launchpad to campaign in 2022 and then set him up for 2024."
McAuliffe pointed to Trump's support for Youngkin's campaign. Trump first endorsed Youngkin in the gubernatorial race in May. At the time, Trump said Youngkin "is pro-Business, pro-Second Amendment, pro-Veterans, pro-America, he knows how to make Virginia's economy rip-roaring, and he has my Complete and Total Endorsement!"
In the months since, Trump has reiterated his support for Youngkin, with an email last week from his Save America PAC highlighting Youngkin's recent calls for regular audits of Virginia's voting machines.
"If we don't win this thing, this is Donald Trump's comeback, and people need to wake up," McAuliffe said.
In the wake of the 2020 presidential election, Trump has continued to question the integrity of the election's results and made allegations of widespread voter fraud without evidence. Discussions about Trump's hypothetical run for president in 2024 have been ongoing since President Joe Biden's inauguration, and Trump himself hinted shortly after leaving office at the Conservative Political Action Conference in February that he may run for office again.
Though three years remain until Americans choose their next president, recent polls have indicated Trump would be the top pick among Republicans to run during the next presidential election cycle.
Meanwhile, political strategists have identified Virginia's gubernatorial race as a likely indicator of how the 2022 midterm elections will shape up, with former Republican House Speaker Newt Gingrich describing the race as a "national bellwether" in an opinion article published by Newsweek earlier this month. Recent voter surveys have suggested the race is close, with McAuliffe holding a 2.5-point lead over Youngkin in polling averages updated last week by FiveThirtyEight.
Newsweek reached out to Trump's office for comment but did not receive a response in time for publication.