Former President Donald Trump has tipped himself as the GOP frontrunner should he choose to run in 2024—which he has refused to either confirm or write off—and spoken confidently of polling surrounding such a bid.
Florida Governor Ron DeSantis has been mentioned in speculation about 2024 candidates, but in an interview with Yahoo! Finance, Trump said he was unperturbed at the prospect of a challenge down the line—from DeSantis nor anyone else.
"I don't think I will face him. Because I don't see that, if I did it, I think most people would drop out, I think he would drop out. And if I faced him, I'd beat him like I would beat everyone else, frankly," Trump said.
He again refused to state that he will run for certain again, but said: "No, I haven't said that. I said that if I do run, I think that I'll do extremely well and I'm looking not only at polls, I'm look at the enthusiasm that we did a great job."
DeSantis has avoided discussing running in 2024, instead insisting he is focused on his role as governor in Florida and detailing his plan to run for this position again in 2022.
A spokesperson for DeSantis told Newsweek that he is "is focused on Florida and doing his job as the governor of our state."
They shared comments he made on September 7, in which he said: "All the speculation about me is purely manufactured."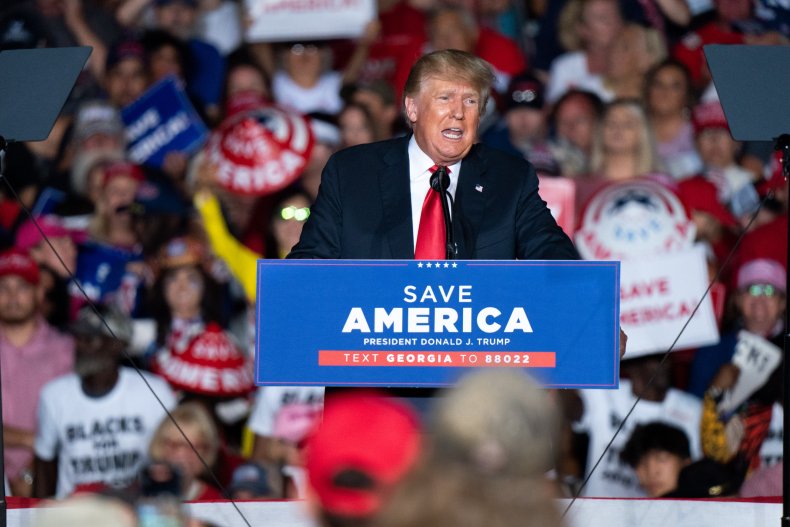 In a poll conducted by Carter Wrenn on behalf of John Bolton Super PAC released last week, Trump's support was shown to have dipped—leaving him practically tied with DeSantis in terms of backing among a list of potential candidates, which also included Chris Christie and Ted Cruz.
Trump still came top, with 26.2 percent opting for him. But DeSantis was close, with 25.2 percent. Each were far ahead of the others listed, with Christie in third at 7.2 percent.
The results have a margin of error of 3.1 percent. The polling was conducted nationally among 1,000 likely voters between September 16 and September 18.
However, while such results might show some weakening of Trump's position, for the most part, polling gives him a right to be confident.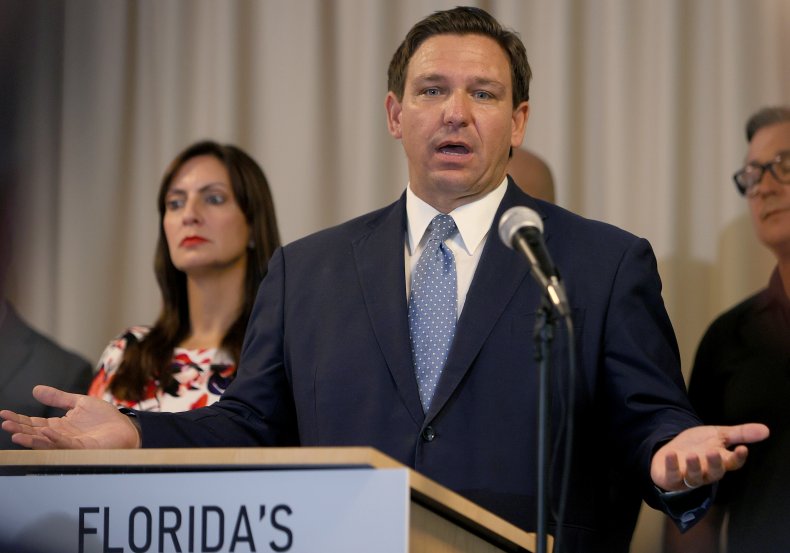 A Harvard CAPS-Harris Poll released to The Hill on September 20 showed Trump as the strong favorite to win the GOP's 2024 presidential nomination.
A majority, 58 percent, of those Republican voters asked opted for Trump as the party's 2024 pick. This far exceeded other potential candidates listed, with former VP Mike Pence in second with 13 percent and DeSantis third with 9 percent if the field included Trump.
The Harvard CAPS/Harris Poll was conducted September 15 to 16, among 578 registered voters, including 490 Republicans. For the Republican sample, the margin of error on results was plus or minus 4 percentage points.
In an Echelon Insights poll, those who identified as Republican or voted for Republicans more often than Democrats were asked: "If the 2024 Republican presidential primaries were being held today and you had to make a choice, for whom would you vote?"
Of those, 40 percent said they would definitely vote for Trump and 19 percent said probably. The polling was conducted September 17 to 23 among 1,005 national registered voters. All respondents were asked about the prospect of Trump running against President Biden again in 2024, with 38 percent saying they would definitely vote for Biden and 12 percent probably, and 27 percent saying they would definitely vote for Trump and 12 percent probably.
A CNN/SSRS poll conducted August 3 to 7, among 2,119 respondents, showed that 63 percent of Republicans and Republican-leaning independents asked think Trump should be the leader of the GOP.
A slim majority also said they felt having Trump on the ticket in 2024 gives the Republican Party a better chance at reclaiming the White House. However, this was a tight split—with 51 percent stating they think it would give the party a better shot and 49 percent saying it might be better off with another nominee.
A straw poll at the Mackinac Republican Leadership Conference in September, conducted for The Detroit News, showed Trump had higher support among those asked than his rivals—though it hinted at his influence on Republicans waning.
A poll from Emerson College released in September also suggested Trump might be more widely popular than other potential candidates in 2024, with it tipping him to beat President Biden if there were a rerun of 2020, though other polling has contrasted with this.
Newsweek has contacted the office of the former president for comment on polling and the prospect of a 2024 run.