DeSantis Says He's Running for Reelection in 2022, Deflects Questions on Presidential Run
Florida Governor Ron DeSantis will seek another term in 2022 but is deflecting questions for now on a possible presidential run.
DeSantis told Fox News host Sean Hannity that he will be running for reelection next year. DeSantis narrowly defeated Democrat Andrew Gillum in 2018, winning by less than half of a percentage point.
The Republican has been generally praised by conservatives for his handling of the coronavirus pandemic, and former President Donald Trump previously said he'd consider the Florida governor as a running mate if he were to launch another White House bid.
But while appearing on Hannity Wednesday, DeSantis brushed aside questions about seeking the presidency in 2024. "I'm not considering anything beyond doing my job," he said. "We've got a lot of stuff going on in Florida."
DeSantis said that in addition to the gubernatorial race, he will be focusing on school board elections. Florida has banned critical race theory from being taught in classrooms and is blocking money from going to districts that implement mask mandates.
"I want to make sure people are not supporting critical race theory, making sure that parents have the ability to send their kid to school the way they want to," the governor said.
Pivoting back to the question about 2024, DeSantis added, "There's a lot of huge issues. That is way down the road. It's not anything that I'm planning for."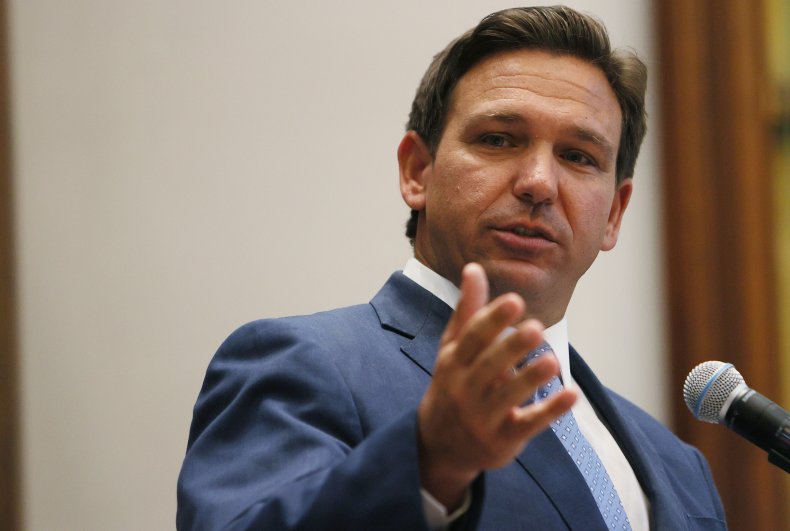 A new poll of potential Republican presidential candidates found DeSantis in a virtual tie with Trump. Trump's support in the survey has plummeted 20 points since July, while DeSantis had a 13-point increase.
The survey, conducted by GOP pollster Carter Wrenn for former national security adviser John Bolton's political action committee, found 26.2 percent of Republican voters supported Trump. DeSantis was in second place, with 25.2 percent.
But a poll of just Florida voters found that most don't want DeSantis to launch a campaign for president.
The Quinnipiac University survey, released last month, found 59 percent of respondents don't want to see DeSantis run for the White House, compared with 35 percent who would like to see him to do so.
More voters—48 percent to 45 percent—said DeSantis does deserve another term as governor.
Florida Agriculture Commissioner Nikki Fried has officially entered the race for governor in 2022. Fried joins Democratic Representative Charlie Crist in challenging DeSantis for the state's top position.
So far, neither Democrat has raised more money than DeSantis, the Tallahassee Democrat reported. The governor raised $5.5 million in August, bringing his total to $96 million. Crist had raised more than $700,000 as of the end of August, compared with Fried's $418,000.