Republican support for former President Donald Trump has quickly declined, leaving him in a virtual tie with Florida Governor Ron DeSantis, according to a new poll of 2024 GOP presidential candidates.
The poll was released Wednesday and conducted by GOP pollster Carter Wrenn on behalf of the super PAC of Trump's former national security adviser John Bolton. It found that while Trump still had the support of 26.2 percent of Republican voters, DeSantis was close behind at 25.2 percent. Support for Trump plummeted since a survey in July when he was the top choice for 46 percent of Republicans. Meanwhile, support for DeSantis nearly doubled from 13 percent in July.
"These numbers will probably come as a shock to Donald Trump," Bolton said in a statement. "After 20 years in Afghanistan, it's clear that Americans are unhappy with leaving as we did. Voters were smart enough to see that President Trump started the withdrawal and legitimized the Taliban through negotiations. They recognize that withdrawal carries more risks for the homeland than keeping a U.S. and NATO military presence in Afghanistan."
"Biden bears the responsibly for the final embarrassing moments and his corresponding drop in support reflects that, but it's not lost on anyone that Trump, like Biden, wanted to withdraw and shares the blame for the failure," Bolton added. "National security matters to voters, especially when failure leads to greater risks, so you rightly see conservatives quickly considering options other than Donald Trump."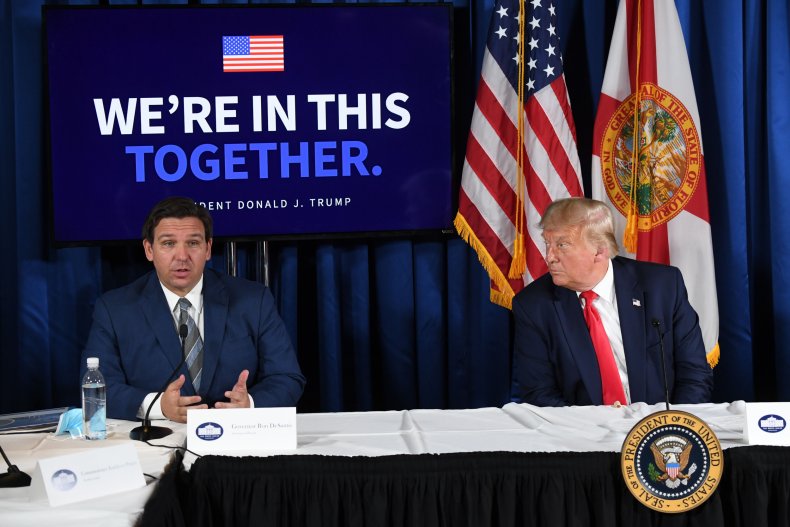 The poll also found that support for President Joe Biden dropped 10 percent overall since July, while Biden's support among independents nosedived by 30 percent. A slight majority of respondents said that "major mistakes" were made by both Biden and Trump regarding the Afghanistan withdrawal, while 55 percent agreed that "it was a mistake for Trump to negotiate with the Taliban."
Nearly 20 percent of respondents were undecided when asked to choose between a field of 10 potential 2024 GOP presidential nominees including Trump and DeSantis. All of the other potential candidates polled in the single digits, with former New Jersey Governor Chris Christie and former United Nations Ambassador Nikki Haley faring best at 7.2 percent and 6 percent, respectively. A 57 percent majority said that "to move forward we need new leaders and fresh faces."
The poll was conducted nationally among 1,000 likely voters between September 16 and September 18. It has a margin of error of 3.1 percent.
The results of the poll are at odds with some other recent surveys on the 2024 GOP presidential race. A Harvard CAPS-Harris poll released last week found that 58 percent of Republicans supported Trump for the nomination, while DeSantis had only 9 percent support, behind both Trump and former Vice President Mike Pence, who had 13 percent support. None of the potential candidates have confirmed that they are running in 2024.
Newsweek reached out to Trump's office for comment but did not hear back in time for publication.