Trump Says He'd Beat Ron DeSantis in 2024 Race, Florida Governor 'Would Drop Out'
Former President Donald Trump predicted that he would defeat Florida Governor Ron DeSantis in a potential 2024 Republican presidential nomination.
"If I faced him, I'd beat him like I would beat everyone else," Trump said in an interview with Yahoo Finance.
Trump insisted that he has good chances against anyone else including DeSantis, a potential GOP nominee, who is greatly favored by the Republican party, according to recent polls. The former president also said that he is confident that everyone else, including DeSantis, will drop out of the 2024 race if he decided to run.
"I don't think I will face him," Trump said. "I think most people would drop out, I think he [DeSantis] would drop out."
Though he didn't confirm in this interview that he'll run in 2024, Trump said that he is still weighing his options. Meanwhile, DeSantis announced on Wednesday that he is currently seeking a 2022 reelection and dodged questions about a 2024 presidency.
"I'm not considering anything beyond doing my job. We've got a lot of stuff going on in Florida," he told Fox News.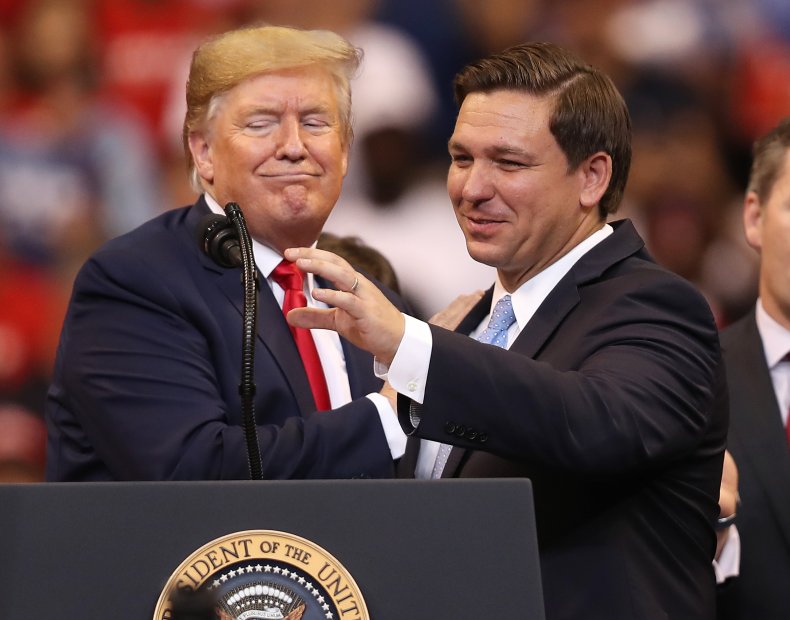 Despite his confidence in defeating DeSantis and any other Republican candidate, Trump has been having less of an influence in his own party and among conservatives.
In a poll released on Wednesday conducted by GOP pollster Carter Wrenn, the former president was in a tie with DeSantis for 2024 support.
According to the poll, Republican voters' support for Trump dipped to 26.2 percent in September, dropping from 46 percent in July. Though support for DeSantis is currently close to Trump's at 25.2 percent, it nearly doubled from 13 percent in July.
"These numbers will probably come as a shock to Donald Trump," his former national security adviser, John Bolton, said in a statement. "After 20 years in Afghanistan, it's clear that Americans are unhappy with leaving as we did. Voters were smart enough to see that President Trump started the withdrawal and legitimized the Taliban through negotiations."
Meanwhile, Trump has repeatedly referred to his economic achievements which might be voiced in his election campaign should he decide to run, according to Yahoo Finance.
"We did a job that nobody's done and had COVID not come and interrupted: we had the greatest economy," he told the outlet.
Trump has been recently claiming that his achievements and service to different communities in the U.S. In a Thursday phone interview on Flashpoint, he said that nobody has done more "for religion itself" than him.
"Nobody has done more for Christianity or for evangelicals—or for religion itself—than I have, [doing] so many different things."
He also noted that he has been credited for serving U.S. evangelicals than what he did for the Jewish community, adding that "Israel's a very important element so nobody's done what I've done and I'm very happy to do it."