Trump's Influence Waning, Suggests Straw Poll at Mackinac GOP Conference in Michigan
A new straw poll has found that the influence of former President Donald Trump has declined among Michigan Republicans.
The straw poll, which is an unofficial ballot that was sponsored by The Detroit News, surveyed around 740 Republicans who attended the Mackinac Republican Leadership Conference on Mackinac Island, Michigan, on Friday and Saturday.
Around 1,300 people attended the conference and were provided a secure link to vote for in the straw poll. When asked if they would support the former president, more respondents said they voted for other potential candidates than they did for Trump.
According to the survey, Trump's endorsements became less meaningful among Michigan Republicans as 44 percent of those surveyed said that it will not be a factor in whether they support a candidate. Additionally, 11 percent said they are less likely to vote for a candidate endorsed by Trump.
Meanwhile, 60 percent of survey respondents said they would still vote for a Republican even if the candidate didn't agree with Trump's claim that the 2020 presidential election was fraudulent.
According to The Detroit News, some Republicans, who are more conservative and likely to support Trump, didn't attend the weekend conference.
The former president received 47.5 percent of the support, garnering more support than Florida Governor Ron DeSantis, who came in second place with 25 percent of the vote, according to the paper.
Event speakers called for voters to unite ahead of the 2022 election. Former Education Secretary Betsy DeVos encouraged Republicans to focus on principles.
"I worry that principles have been overtaken by personalities today," DeVos said. "Politics now are so often about the people, not the policies that impact people's lives directly."
Trump's popularity among Republicans and Republican leaning voters has been sliding over the past period, according to recent surveys. According to a Echelon Insights September poll, only 30 percent of Republicans said they want Trump to run unopposed in the 2024 GOP presidential primary in case he does run, which he previously hinted at.
Meanwhile, 39 percent of Republicans prefer that Trump runs along other candidates and 22 percent said they prefer if he didn't run again at all.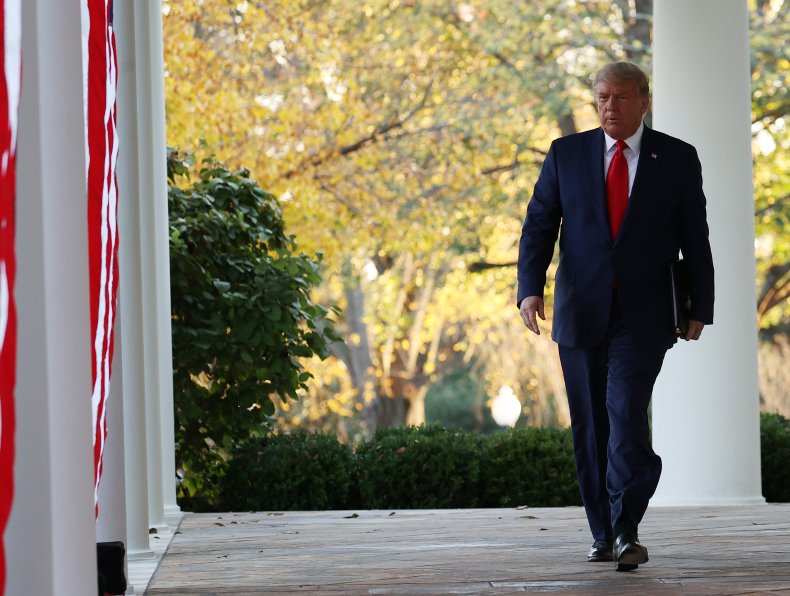 A Harvard CAPS-Harris poll released Monday found that over half of Republican voters would select Trump for 2024.
"While defeated candidates rarely come back, Trump has a strong lead in the Republican primary especially among the most dedicated Republicans," said Mark Penn, co-director of the Harvard CAPS-Harris Poll survey.
The Harvard CAPS-Harris Poll survey also showed that DeSantis was the third choice with support of only 9 percent, despite his popularity among the Republican party due in part to his fight against COVID mask and vaccine mandates.