Trump Endorses Glenn Youngkin, Says Virginia Doesn't Need 'Communist Chinese' Running State
Former President Donald Trump has endorsed Glenn Youngkin, the Republican nominee for Virginia governor, as a leader who would be beneficial for the state's economy, veterans and the Second Amendment.
After the days-long counting of votes from Saturday's convention, Youngkin was declared the GOP nominee on Tuesday morning. Democrats have yet to choose their candidate, but the likely choice is former Governor Terry McAuliffe, whom Trump has accused of having "suspicious" deals with communist China.
"He was responsible for many of the problems Virginia currently has," Trump said in a statement released Tuesday. "Virginia doesn't need the Clintons or the Communist Chinese running the state, so say no to Terry McAuliffe, and yes to Patriot Glenn Youngkin!"
In a statement to Newsweek, McAuliffe said Youngkin spent his campaign "fawning" over Trump and the former president returned the favor with his endorsement.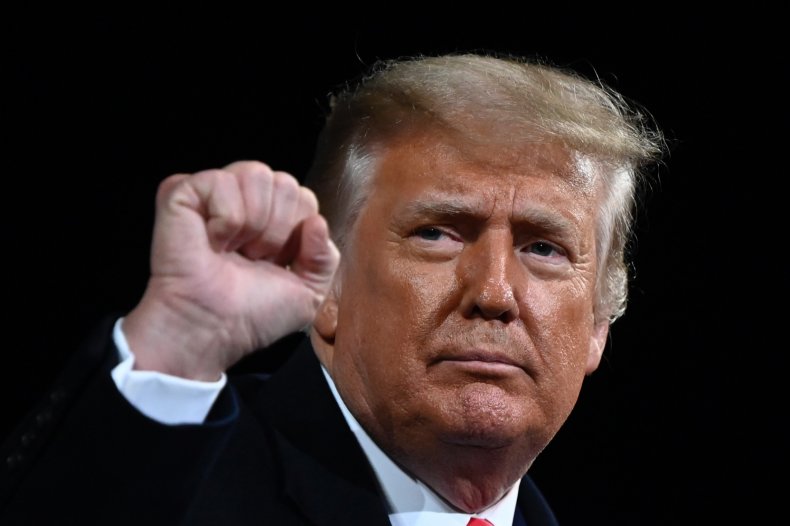 McAuliffe served as Virginia's governor from 2014 until 2018 but didn't seek reelection because the state bars governors from serving consecutive terms. He's considered a favorite in the Democratic field and enjoys high polling numbers among voters.
After Trump's endorsement of Youngkin, McAuliffe pointed out on Twitter that Virginia "rejected" the former president, his "hate" and his "conspiracy theories." Trump lost Virginia to Hillary Clinton in 2016 by about 5 percentage points and to President Joe Biden last November by even more, about 10 points.
Just as Virginia rejected Trump, McAuliffe said, he "can't wait" for Virginia to reject the former president's "handpicked guy" in November. In his statement, McAuliffe criticized Youngkin for wanting to be governor to "roll back" the progress that was made during his and Governor Ralph Northam's terms.
"I've defeated extremists like Glenn before, and I've got the big bold policies and broad, diverse coalition to do it again," McAuliffe said.
Youngkin, who was endorsed by Texas Senator Ted Cruz and has aligned himself with Trump, launched an election integrity task force to "restore" Americans' faith in the country's elections. The move is believed to have helped Youngkin with supporters of Trump, who continues to push the baseless narrative that the election was stolen from him.
Youngkin acknowledged in March that Biden was president. However, he told CBS News that the "reality" of the situation is that some people don't "trust the process" and that it's critical that trust be reestablished.
McAuliffe criticized Youngkin for believing the "big lie," Trump's term for the presidential election's result, and called him a "Trump loyalist who will stop at nothing to advance the GOP's extreme agenda."
Before serving as Virginia's governor, McAuliffe served as co-chair of President Bill Clinton's reelection campaign and chair of Hillary Clinton's 2008 bid for the presidency. Trump called McAuliffe a "longtime enabler" of President Clinton who was their "bagman in more ways than one."
It's been 10 years since Virginia elected a Republican governor, and both parties are expected to make a significant investment in winning the election. Since the gubernatorial election occurs one year after a presidential election, it's seen as indicative of the national mood, so it could be a positive sign for the 2022 midterms for whichever party wins.
This article has been updated to include a response from former Governor Terry McAuliffe.