Glenn Youngkin Says Campaign 'Isn't About the Past' After Controversial GOP Rally
Virginia gubernatorial candidate Glenn Youngkin on Thursday afternoon issued a statement about a controversial GOP rally held Wednesday evening that his Democratic rival and Virginia's sitting governor both condemned.
Youngkin, a Republican, was not in attendance at the rally, but former President Donald Trump called in virtually to voice his support for Youngkin's campaign. The event has drawn criticism for the comments Trump made to attendees about widely debunked claims of voter fraud in the 2020 presidential election, as well as for the circumstances surrounding the Pledge of Allegiance as it was recited near the beginning of the event.
Before the pledge began, the event's hosts brought onstage an American flag that they said was present at Trump's January 6 rally in Washington, D.C. Youngkin said in his statement he "had no role in last night's event" but heard about what occurred "from many people in the media."
"It is weird and wrong to pledge allegiance to a flag connected to January 6," Youngkin said. "As I have said many times before, the violence that occurred on January 6 was sickening and wrong."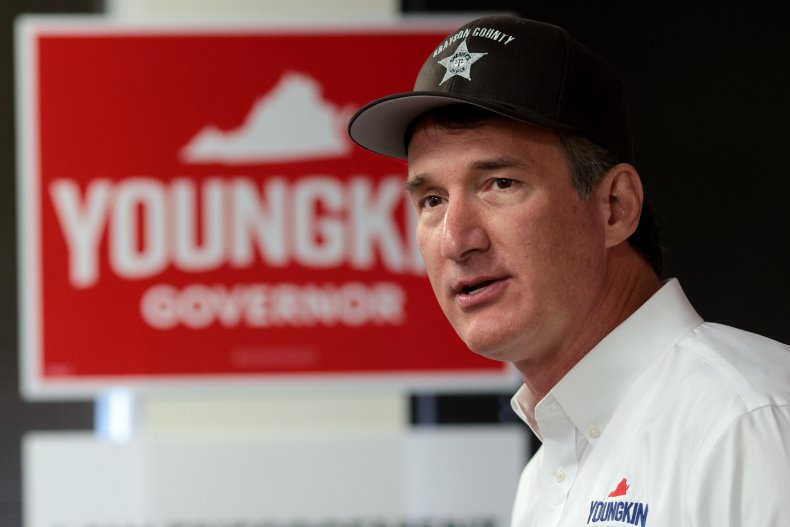 Youngkin's statement shifted to criticize Terry McAuliffe, the Democrat running against him in Virginia's gubernatorial race, for accepting the endorsement of the abortion-rights group NARAL over the summer. Youngkin, who has been endorsed by the anti-abortion group Susan B. Anthony List, referred to NARAL as a "radical group," citing its past statements in support of defunding the police. He said McAuliffe "needs to come out and say NARAL is wrong" before his statement shifted back to focus on Wednesday's rally.
"My campaign isn't about the past, it is about the future and bringing everyone – Republicans, Independents, and Democrats – together around my vision for a Virginia that is safer, stronger, and less divisive, with the best schools and the best law enforcement and the best economy," Youngkin said. "McAuliffe wants to talk about the past because he sees this race is slipping away from him and he will say anything to try to get elected. That's all he can do because he doesn't have a positive vision for Virginia."
Youngkin's campaign pointed to past comments Youngkin has made about the riot at the U.S. Capitol Building on January 6, in which he said "there is no room for violence in America" and "we must condemn it every day of the week."
McAuliffe and his campaign were quick to respond to Youngkin's statement.
"'Weird'?? Glenn - people died during the January 6th riot Donald Trump and others celebrated in your honor last night," McAuliffe tweeted. "If you can't condemn last night's rally and Trump's deadly conspiracies, you don't have the courage or character to serve as governor."
Earlier Thursday, McAuliffe called upon Youngkin to denounce both the rally and Trump's "dangerous lies" about the 2020 election. Later in the day, Virginia Governor Ralph Northam held a press conference to address what he described as a "truly disturbing political rally."
"As a Virginian, as a veteran and as an American, I am truly stunned to see Glenn Youngkin and the statewide Republican ticket embrace these dangerous falsehoods," the governor said. "Last night's rally featured the same old lies about the 2020 election and that truly offensive celebration of an attempted coup."
After Youngkin released his statement, McAuliffe's campaign released one of its own to address what it said was Youngkin's "continued refusal to disavow Donald Trump's deadly conspiracy theories and the insurrection rally held in Glenn's honor on October 13."
"Since launching his campaign, Glenn Youngkin has made clear he is running for governor for one person and one person only: Donald J. Trump," McAuliffe campaign spokesperson Christina Freundlich said in a statement shared with Newsweek. "Now, with less than three weeks to Election Day, he is closing his campaign the same way he started it -- by celebrating Donald Trump's most dangerous, divisive conspiracy theories about the 2020 election. The only thing 'weird and wrong' is Glenn Youngkin's continued refusal to disavow Donald Trump's deadly conspiracy theories."
Less than three weeks remain until Virginia voters decide who will become their next governor during the statewide election on November 2. Recent polling indicates the race between McAuliffe and Youngkin is close, with polling averages compiled by FiveThirtyEight suggesting McAuliffe had a 2.5-point lead as of October 12.