AOC, Progressives Blast Possible Change in Biden Climate Agenda After Manchin Opposition
Representative Alexandria Ocasio-Cortez and fellow progressives have pushed back after the White House is reportedly working to rewrite Democrats' large reconciliation package without a key climate change provision due to Senator Joe Manchin's opposition.
Manchin, a moderate West Virginia Democrat, has reportedly told the White House that he will not support a program to quickly replace coal and gas power plants with solar, wind and nuclear energy, according to The New York Times. White House staffers are reportedly working to find other ways to cut emissions while they remove that key climate change provision from the legislation.
Ocasio-Cortez, a New York Democrat who has long pushed for serious reforms to address climate change, slammed the reported decision in a Friday evening tweet: "We cannot advance legislation that makes the climate crisis worse."
She then criticized the Senate's bipartisan $1.2 infrastructure bill that lawmakers in the House have yet to pass, suggesting it would make emissions worse.
"The Exxon-designed 'bipartisan' infrastructure plan worsens emissions, but pairing it w/clean energy in Build Back Better neutralizes BIF's harm and lets us tackle the climate crisis," Ocasio-Cortez tweeted. "We cannot afford to gut it."
Representative Rashida Tlaib, a progressive Democrat from Michigan, suggested that there was enough support to maintain the climate change provision over Manchin's opposition.
"He is just one person. There are more of us who say hell no will we allow the planet to burn," Tlaib wrote on Twitter.
Representative Ritchie Torres, a New York Democrat, blasted the "tyranny" of Manchin.
"Senator Joe Manchin has veto power over the country's transition to a clean energy economy. The tyranny of Joe Manchin is a tragedy for the rest of us," the progressive lawmaker tweeted.
The Congressional Progressive Caucus doubled down on its backing of climate change proposals included as part of Biden's Build Back Better agenda in a Saturday tweet.
"We have a moral obligation and a governing mandate to pass policy that addresses climate change," the caucus tweeted from its official Twitter account. "Inaction is not an option. Progressives in Congress are fighting for policies that address the scope of the crisis."
Some progressive political commentators highlighted Manchin's personal ties to the coal industry and oil and gas corporation ExxonMobil.
"If you're reporting on Joe Manchin's opposition to the climate change provisions in the Build Back Better bill, you should probably make a point of mentioning his family coal business and the Exxon lobbyist caught on tape bragging about weekly meetings with Manchin's office," MSNBC host Mehdi Hasan tweeted.
Zephyr Teachout, an associate law professor at Fordham Law School, shared The New York Times article and reframed the news that was reported.
"Man who made half a million dollars off of fossil fuels last year via his son's company stands in the way of protecting kids from asthma and communities from devastating hurricane damage," Teachout wrote.
Sam Runyon, a spokesperson for Manchin, told Newsweek that the moderate senator supports efforts to address climate change in other ways.
"Senator Manchin has clearly expressed his concerns about using taxpayer dollars to pay private companies to do things they're already doing. He continues to support efforts to combat climate change while protecting American energy independence and ensuring our energy reliability," Runyon said.
Vedant Patel, a White House spokesperson, told the newspaper that the administration "is laser focused on advancing the president's climate goals and positioning the United States to meet its emission targets in a way that grows domestic industries and good jobs."
Manchin and fellow moderate Democratic Senator Kyrsten Sinema of Arizona have both expressed opposition to Biden's Build Back Better reconciliation package. The initial proposal would have cost upwards of $3.5 trillion, but Sinema and Manchin have said they will not support such a high level of spending.
While most Democratic lawmakers support passing Biden's agenda, it's unclear what the final reconciliation package will include as the moderate Democrats remain far apart from progressives when it comes to the priorities they'll support.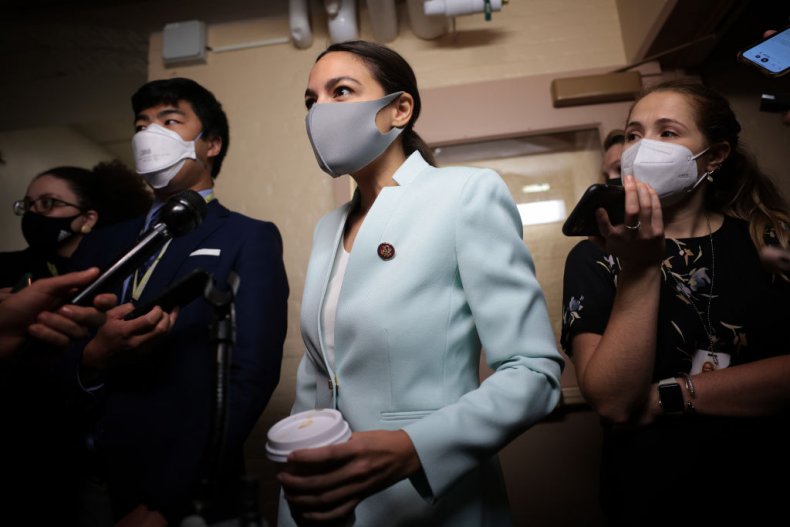 Updated 12:54 PM ET, with a tweet from the Congressional Progressive Caucus.
Updated 10/17/21, 9:07 AM ET, with a comment from a Manchin spokesperson.