50 Percent of Republicans Back Tax Hikes on Wealthiest Americans to Fund Biden's Agenda
While Republican lawmakers in Congress remain largely opposed to much of President Joe Biden's Build Back Better plan, as well as the tax increases proposed to pay for it, half of GOP voters appear to be supportive, according to a new poll.
Democrats are attempting to pass the bulk of Biden's agenda through a large reconciliation package, which would not require any Republican lawmakers' votes to pass. The initial proposal was for $3.5 trillion in spending to fund universal pre-kindergarten, two years of free community college, expanded health care, lower prescription drug costs, extended child tax credits and initiatives to address climate change.
While some moderate Democrats have opposed the high price tag, progressives have insisted that the entire package will be paid for through tax increases on the wealthy. New polling from Vox and Data for Progress suggests that the majority of Democrats and independents—and half of Republicans—approve of a tax hike on the wealthiest Americans to fund the plan.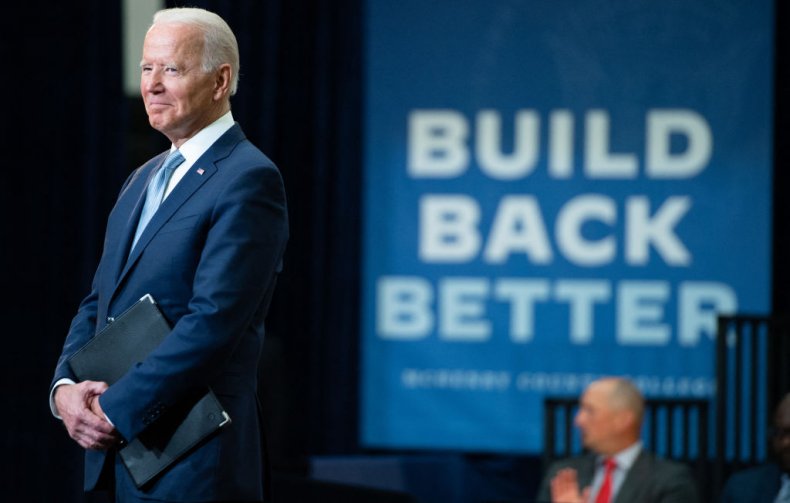 Among Republicans surveyed, 50 percent said that they support raising taxes on the wealthiest 2 percent of Americans to fund the plan that could cost up to $3.5 trillion. Meanwhile, 86 percent of Democrats polled and three-quarters (75 percent) of independents approved of the idea. Overall, 71 percent of respondents backed a tax hike targeting the top 2 percent.
An even bigger chunk of Republicans approved of raising taxes on Americans earning more than $1 million annually from selling stocks and bonds. Well over half (55 percent) of GOP voters supported that proposal. Meanwhile, 85 percent of Democrats and 72 percent of independents did as well. That tax increase idea was supported by 72 percent of all voters surveyed.
Raising taxes on large corporations was also popular with the majority of Democrats and independents, as well as a sizable minority of Republicans. Again, 86 percent of Democrats approved of increasing taxes on large corporations from a rate of 21 percent to 28 percent. Among independents, 61 percent backed the proposal as did 44 percent of Republicans. But a higher percentage (48 percent) of GOP voters opposed the idea.
Representative Pramila Jayapal, a Washington Democrat and chair of the Congressional Progressive Caucus, pushed back against concerns over the reconciliation package's high price tag by pointing to the proposed tax increases.
"Reminder: The Build Back Better Act is FULLY paid for," Jayapal tweeted Friday. "We're going to deliver for working people by taxing the ultra-rich AND by tackling Big Pharma's greed."
How the reconciliation legislation moves forward remains to be seen. Moderate Democratic Senators Joe Manchin and Kyrsten Sinema have said they are unwilling to go as high as $3.5 trillion. President Joe Biden and Democratic leaders have suggested they could still pass a package of about $2 trillion, but what priorities will be removed are under discussion.