Kyrsten Sinema Trails Potential Primary Challengers Amid Opposition to Biden's Social Bill
Senator Kyrsten Sinema, an Arizona Democrat, appears to be losing substantial support among Democratic voters in her state as she continues to oppose key elements of President Joe Biden's social spending bill.
New polling from Data for Progress showed that Sinema's popularity among Democratic voters in her state appeared to be down. In the poll of 467 likely Democratic primary voters in Arizona, Sinema trailed potential primary challengers by large margins in hypothetical matchups.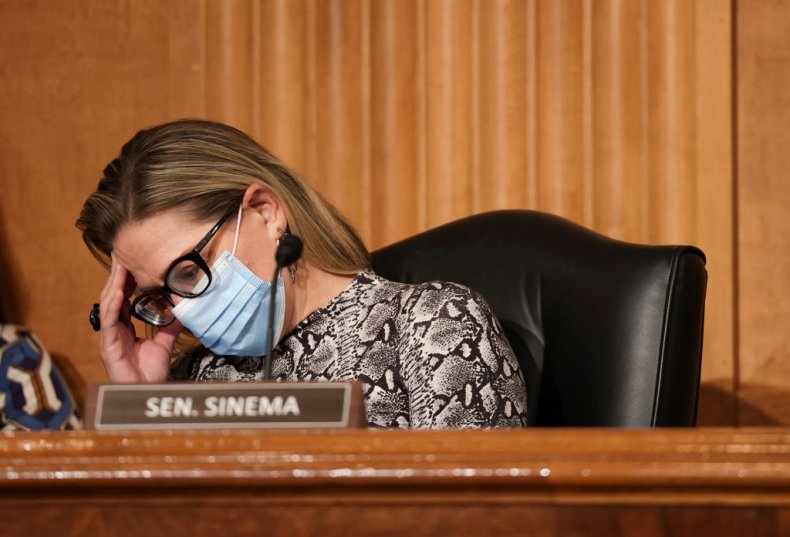 The poll numbers indicated that if Sinema were to face a primary challenge from Arizona's Democratic Representative Ruben Gallego, she would lose by nearly 40 points. Sinema was backed by just 23 percent of Democratic and independent voters who were polled while Gallego was supported by 62 percent.
Sinema also trailed Democratic Phoenix Mayor Kate Gallego by well over 30 points in the poll. The Democratic senator received support from just 25 percent of Democratic and independent voters polled, and the mayor was backed by 60 percent.
Arizona's Democratic Representative Greg Stanton outpolled Sinema by the same margin. Sinema was supported by 24 percent of Democrats and independents polled, and Stanton was supported by 59 percent of the respondents.
Tucson's Democratic Mayor Regina Romero also lead Sinema by nearly 30 points in the Data For Progress poll. Romero was backed in the polling by 55 percent of Democrats and independents compared to just 26 percent that expressed continued support for the Arizona senator.
Three-quarters (75 percent) of the poll respondents said they disapproved of the job Sinema is currently doing in Congress. That number included a sizable majority (57 percent) who said they "strongly disapprove" of their Democratic senator.
Sinema along with Senator Joe Manchin, a West Virginia Democrat, declined to support the $3.5 trillion reconciliation package backed by the vast majority of their Democratic colleagues in Congress. Although they have suggested they will support a bill with a smaller price tag, the negotiations are ongoing and it's unclear which parts of Biden's agenda will be removed—if the bill passes at all.
The original $3.5 trillion reconciliation package—which Sinema and Manchin have opposed—would fund universal pre-kindergarten, extend Biden's child tax credits, make two years of community college free for Americans, provide money to address climate change, significantly expand health care coverage, reduce prescription drug costs and range of other Democratic priorities. But Sinema and Manchin have raised concerns about the high price tag, asserting that they would not support such a high level of government spending.
It remains unclear whether Democrats would be able to negotiate a smaller package to satisfy the two moderates. Progressives have insisted that none of the priorities should be cut from the package, emphasizing that they are attempting to pass the majority of Biden's promised agenda. Sinema reportedly continues to engage in the negotiations.
"So far this week, Senator Sinema has held several calls—including with President Biden, the White House team, Senator Schumer's team, and other Senate and House colleagues—to continue discussions on the proposed budget reconciliation package," John LaBombard, a spokesperson for the senator, told The New York Times this week.