Kyrsten Sinema Is 'Laughing at Her Constituents' Over Democrat Bill Says MSNBC Host
MSNBC anchor Lawrence O'Donnell was angered by Democratic Arizona Senator Kyrsten Sinema's reluctance to explain what was needed to get her support for her party's infrastructure package.
Sinema, along with Senator Joe Manchin (WV-D) are the two holdouts from the party for the $3.5 trillion bill which has no GOP support and so can only pass via the reconciliation process if all 50 Democrats in the upper house back it.
O'Donnell echoed the concerns of Democrats who want to know what the lawmakers want to change in the package and publicly detail those demands in what he described as "a bit of a mutiny" over the legislation.
In his monologue on Wednesday, he compared the approaches of the "experienced senator" Manchin, who may be intransigent, but at least was willing to speak to the media.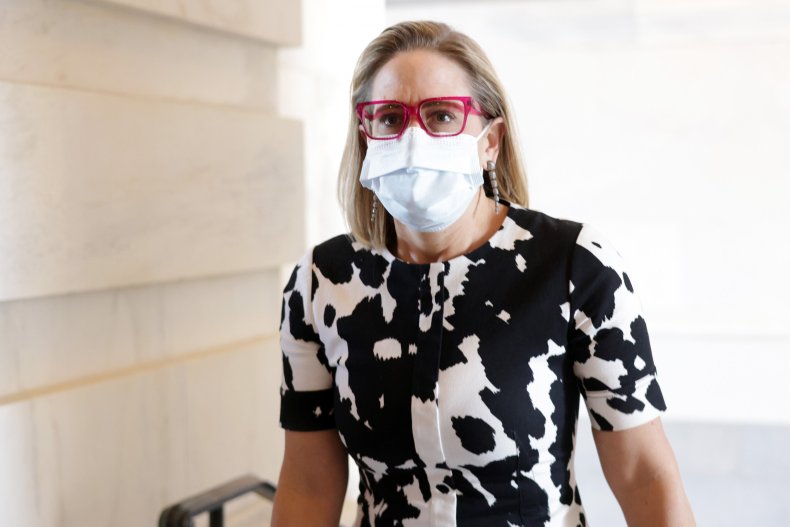 "You might not like what he has to say, but he does seem to have some sense of public accountability," O'Donnell said. "This is not true of the first-term senator from Arizona," he added, referring to Sinema.
Describing her as "not an experienced legislator" who did not have an experienced staff, O'Donnell said "the most peculiar thing about the way Senator Sinema works, is that she does not seem to believe in any form of public accountability at all."
The anchor introduced two clips which contrasted Manchin's response to a reporter about what he wanted in the bill with Sinema's reply to a question about what her explanation should be to progressives frustrated by her stance.
"I'm in the Senate," she said in the clip. When a reporter countered how progressives in the Senate were also "frustrated they don't know where you are either," she replied, "I'm clearly in right in front of the elevator."
In O'Donnell's opinion, these replies were "so much worse" than "not saying anything" because she was "mocking the very concept of public accountability" and appeared to be "laughing at her constituents and people all over this country who support that legislation.
"I have never seen a Democratic senator behave anything like that," O'Donnell said, "not once. Not ever.
"There is no playbook about how to negotiate with a senator who talks like that," he added.
Newsweek has contacted Sinema's office for comment.
Patience with the two lawmakers is wearing thin among Democrats, including with House liberals, top leaders and key committee chairmen, with fears growing that the party's agenda could collapse, according to CNN.
President Joe Biden held meetings on Tuesday with Manchin and Sinema who have said the $3.5 trillion bill is too large and must be trimmed, CBS reported.
Although they have divulged little more about their reservations, Manchin has expressed concerns about some of the bill's climate provisions and the expansion of Medicare.