Michigan County GOP Calls Biden Election Win 'Culmination of 4-Year Coup' Against Trump
Michigan's Macomb County Republicans have gone all-in on backing former President Donald Trump's conspiracy theory that the 2020 election was "stolen," describing President Joe Biden's victory as the "culmination of a four-year coup."
Trump and many of his GOP supporters continue to baselessly claim that Biden won the presidential election last November due to widespread voter fraud. Despite filing dozens of unsuccessful election lawsuits, Trump and his allies have not provided evidence substantiating the extraordinary allegation.
The Macomb County GOP made its assessment of the 2020 election as it endorsed two Trump-backed Michigan candidates. Via its Facebook page Saturday, the county Republican Party threw its weight behind Matthew DePerno to be Michigan's next attorney general and Kristina Karamo to be secretary of state.
In the endorsement, the Macomb Republicans falsely claimed that Trump "won the November 2020 general election by a wide margin." They argued that "the American people watched on election night and witnessed the culmination of a four-year coup" against Trump.
"We are endorsing the candidates that our legally elected President endorsed," the county GOP asserted.
Although Biden won Michigan by north of 150,000 votes, Trump carried Macomb County. The former president garnered the support of 53.4 percent of the county's voters compared to 45.3 percent that cast ballots for Biden.
While Trump and many Republicans continue to insist that Biden only won through fraud, no evidence has emerged corroborating their claims. To the contrary, more than 60 election challenge lawsuits filed by the former president and his supporters have failed in state and federal courts. Judges appointed by Trump and other Republicans have rejected the often bizarre allegations.
Meanwhile, audits and recounts have consistently reaffirmed Biden's victory. Former U.S. Attorney General William Barr, who was widely seen as one of Trump's most loyal Cabinet members, said last December that there was "no evidence" of voter fraud that would change the election's outcome.
Additionally, the Cybersecurity and Infrastructure Security Agency at the Department of Homeland Security—under the leadership of a Trump appointee—described the 2020 election as the "most secure in American history."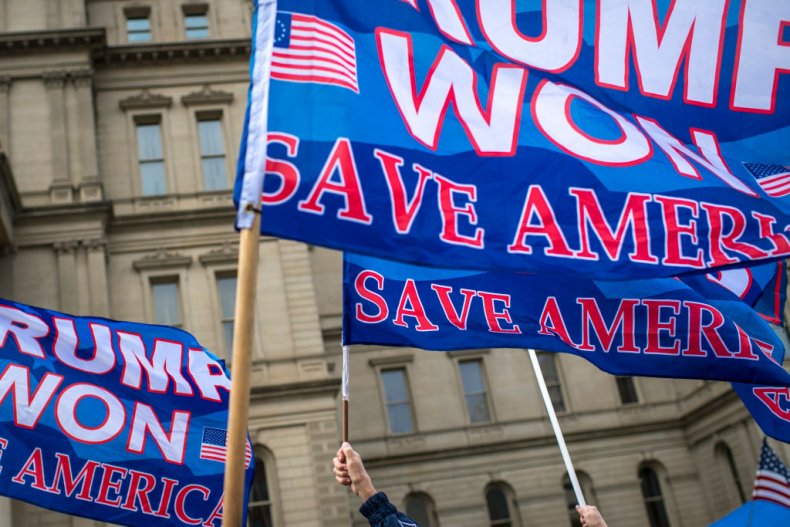 Nonetheless, a majority of Republican voters appear to believe that Biden did not actually win the 2020 election, according to recent polls. Survey data released by CNN in September showed that 59 percent of GOP voters believe it is "important" as part of their Republican identity to support the claim that Trump won in 2020. Recent polling by Suffolk University and USA Today found that nearly 70 percent of Republicans do not view Biden as the legitimately elected president.
Newsweek reached out to the Michigan Democratic Party for comment but did not immediately receive a response.