Trump 'Ultimate Target' as DOJ Goes Up 'Criminal Food Chain': Kirschner
Former federal prosecutor Glenn Kirschner assessed Friday that former President Donald Trump is the "ultimate target" of the Justice Department's probe of the January 6, 2021, attack against the U.S. Capitol, saying that investigators are currently working their way up the "criminal food chain."
Hundreds of Trump's supporters stormed Capitol nearly 17 month ago in an apparent effort to disrupt the formal certification of President Joe Biden's electoral college victory. The violent riot occurred after Trump urged his followers to walk to the federal legislative building and "fight like hell." Many, who proceeded to follow those directions, believed the then-president's debunked claims that the 2020 election was "rigged" in Biden's favor.
Kirschner, a lecturer at Georgetown University and a legal analyst for MSNBC and NBC News, has repeatedly accused Trump of "treason" while also calling for the former president's indictment. The legal expert told The Dean Obeidallah Show on Friday that he believes the Justice Department is inevitably working its way toward a prosecution of Trump.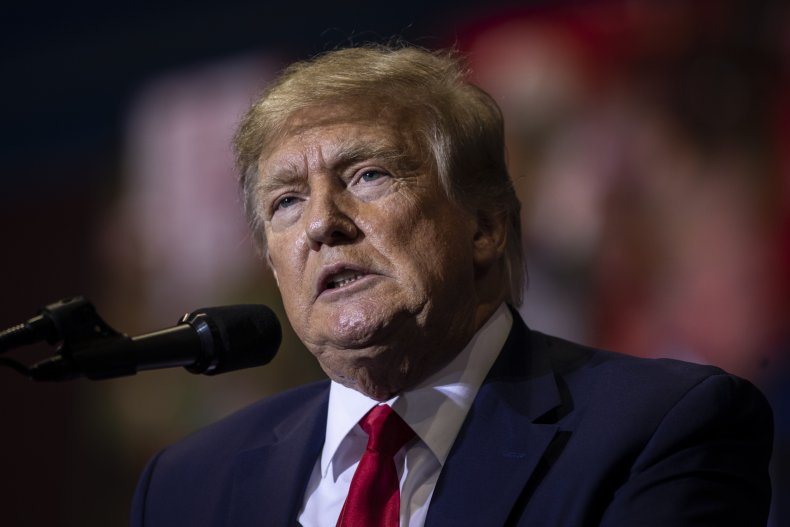 "So clearly I think Donald Trump is the ultimate target. And it seems to me that there are a couple of things going on. It seems to me that what DOJ is now doing is working its way up the criminal food chain," Kirschner said. "They continue to go after, prosecute and convict Donald Trump's footsoldiers of the insurrection that he told to go attack the Capitol and stop the steal. And they obeyed those commands from their commander in chief."
The Justice Department has arrested and charged hundreds of the Trump supporters who participated in the riot. A number of these individuals have argued in their defense that they believed they were acting on the orders of the former president.
The legal analyst assessed that recent efforts by the Justice Department represent a "full sprint" as public hearings of the findings of the House select committee investigating January 6 are set to begin on June 9. The hearings will be televised and will "present previously unseen material documenting January 6th, receive witness testimony, preview additional hearings, and provide the American people a summary of its findings about the coordinated, multi-step effort to overturn the results of the 2020 presidential election and prevent the transfer of power."
In March, Attorney General Merrick Garland gave Trump critics hope by saying in an interview with NPR that "everyone" who committed crimes related to January 6 would be held "accountable."
"We begin with the cases that are right in front of us with the overt actions and then we build from there," he said. "And that is a process that we will continue to build until we hold everyone accountable who committed criminal acts with respect to January 6."
A number of other prominent legal experts have called for Trump's indictment as well. Former Attorney General Eric Holder, who led the Justice Department under former President Barack Obama, has publicly backed federal charges against Trump.
"Because of what we know from what great journalists have done, the leaks that have come from the January 6th committee, if you show me that Donald Trump was involved in the efforts to, in essence, to foment a coup, and you can show the requisite intent, he has to be indicted," Holder told HBO's Real Time with Bill Maher on Friday.
Newsweek reached out to a Trump spokesperson for comment.
The former president continues to deny any wrongdoing related to the riot and efforts to overturn the 2020 election results. He insists that Biden's win was fraudulent, despite no evidence corroborating the allegation. To the contrary, dozens of legal challenges to the election have failed in state and federal courts. Even judges appointed by Trump have ruled against the lawsuits.
Trump's former Attorney General William Barr, who was widely viewed as a loyal Cabinet member, has said repeatedly that there is "no evidence" to support the former president's claims. He wrote in his memoir that he told Trump directly that the allegations were "bullish*t" and that his legal team after the 2020 election was a "clown show."