Donald Trump lashed out at Arizona House Speaker Rusty Bowers, a Republican who is set to testify before the congressional committee investigating the January 6 attack, threatening him with an audio tape of a conversation between the two.
Bowers testified on Tuesday about how the former president and his legal team called him to discuss a plot to overturn the state's elections after President Joe Biden eked out a narrow victory in the key swing state. Their plan allegedly included an effort to appoint pro-Trump election officials who would falsely declare a Trump victory.
Bowers revealed the "breathtaking" plan in a press release in December 2020 but said he would not work to overturn an election that has already been certified, even if he was unhappy with the results.
Trump, in a statement released by his spokesperson Liz Harrington less than an hour before the committee hearing began, blasted Bowers for his planned testimony on Tuesday.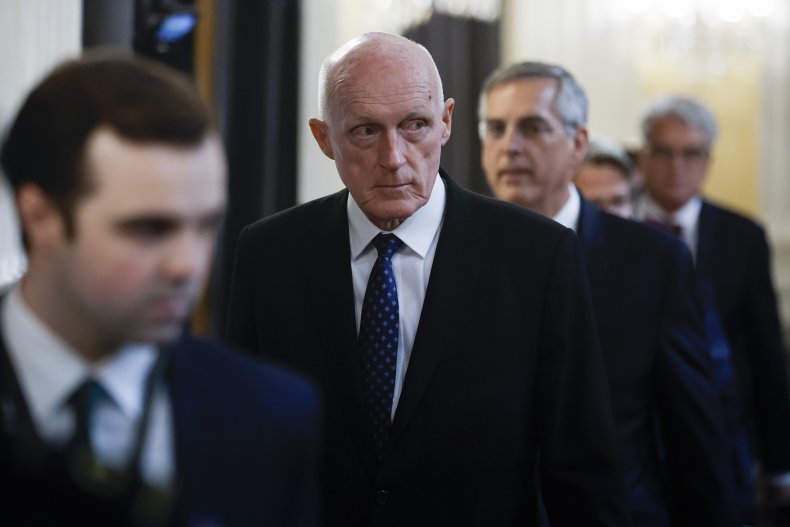 Trump accused Bowers of conceding to him that "the election was rigged and that I won Arizona." He also boasted about helping Bowers win a close reelection contest in 2020, saying that without his support, Bowers "would have been out of office."
Trump said that in November 2020, Bowers thanked the former president for help getting him reelected by drumming up support from conservative voters at his rallies.
He also implied an audio recording of conversations between the two may exist that could contradict Bowers' testimony. "Bowers should hope there's not a tape of the conversation," he wrote.
Bowers addressed the statement in his planned testimony. He said that while he had conversations with the former president, and that parts of the statement were true, he said he never claimed the election was rigged or that Trump won Arizona.
"Anywhere, anyone, anytime has said that I said the election was rigged, that would not be true," Bowers said.
In the December 2020 news release, Bowers wrote: "I voted for President Trump and worked hard to reelect him. But I cannot and will not entertain a suggestion that we violate current law to change the outcome of a certified election."
He also criticized efforts to overturn election results as "juvenile" while speaking to the Associated Press on Monday.
"I just think it is horrendous. It's terrible," Bowers said. "The result of throwing the pebble in the pond, the reverberations across the pond, have, I think, been very destructive."
Tuesday's testimonies were planned to show how Trump and his allies asked or pressured officials in swing states to overturn election results before the January 6 riot. Representative Adam Schiff, a California Democrat, also said the hearings will present evidence that links Trump to efforts to install "alternative" electors in states he narrowly lost.
Others providing testimony on Tuesday included Georgia Secretary of State Brad Raffensperger and Wandrea ArShaye Moss, a former Georgia election worker who received death threats after some on the right spread misinformation about her in the wake of the election.
Newsweek reached out to Bowers' office for comment.