Who are the Jan. 6 Hearing Witnesses for Tuesday, June 21?
The House Select Committee investigating the events leading up to the January 6 attack will present its fourth day of evidence on Tuesday.
The panel's latest hearing will once again be broadcast live across news networks on June 21, at 1 p.m. Eastern Time.
The proceedings are set to outline how Donald Trump and his inner circle asked or pressured officials to overturn the election results prior to the riot at the Capitol.
Panel member Rep. Adam Schiff also said Tuesday's hearings will also present evidence that directly links Trump to the plot to install "alternative" electors in states the former president lost in 2020 to falsely declare that he had beaten Joe Biden.
At least four witnesses are scheduled to deliver live testimony on Tuesday.
Brad Raffensperger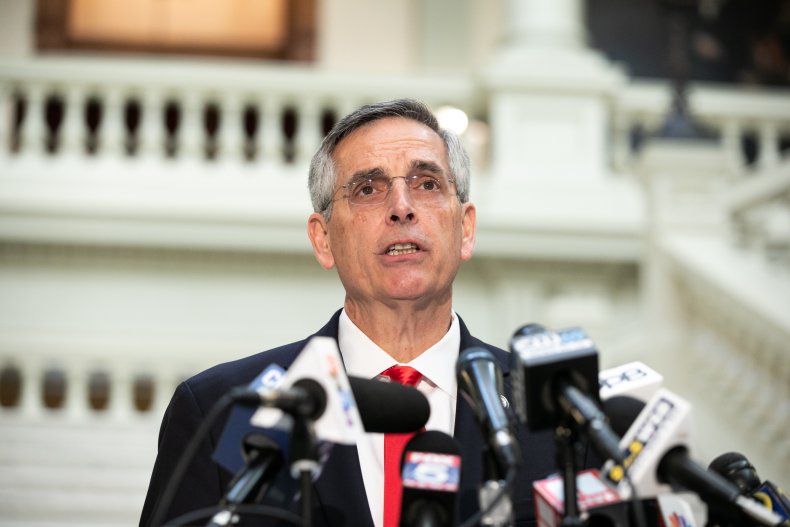 Georgia's secretary of state has become one of the leading figures regarding investigations around Trump and his attempts to overturn the 2020 Election results.
Raffensperger is best known for being on the other side of a phone call in which the former president asked him to "find" 11,780 votes in order to overturn Biden's win in the state.
"All I want to do is this. I just want to find 11,780 votes, which is one more than we have because we won the state," Trump said, according to a transcript of the call.
"So what are we going to do here, folks? I only need 11,000 votes. Fellas, I need 11,000 votes. Give me a break."
In his book, Integrity Counts, Raffensperger described the remarks from Trump to "find" the votes as a "threat."
"I felt then—and still believe today—that this was a threat," Raffensperger wrote.
"Others obviously thought so, too, because some of Trump's more radical followers have responded as if it was their duty to carry out this threat."
The phone call from Trump sparked a criminal investigation, led by Fulton County District Attorney Fani Willis, into alleged 2020 election interference from the former president.
Gabriel Sterling
The voting implementation manager for the Georgia secretary of state's office is another top election official who pushed back on Trump's false voter fraud claims.
Sterling gained national attention in December 2020 for an emotional press conference in which he detailed incidents of violence, death threats and harassment from Georgia election officials, which he blamed Trump and other GOP figures for.
"Mr. President, you have not condemned these actions or this language. Senators, you've not condemned this language or these actions. This has to stop," Sterling said.
"Stop inspiring people to commit potential acts of violence. Someone's gonna get hurt. Someone's gonna get shot. Someone's gonna get killed."
Both Sterling and Raffensperger have testified in front of a special grand jury as part of the criminal investigation in Georgia into whether Trump committed solicitation of election fraud with the phone call attempting to "find" the necessary amount of votes so he could win the state.
Georgia was one of the states in which Trump's significant early lead was overtaken by Biden when mail-in ballots were counted during the 2020 election, prompting the continuous cries of voter fraud from the former president.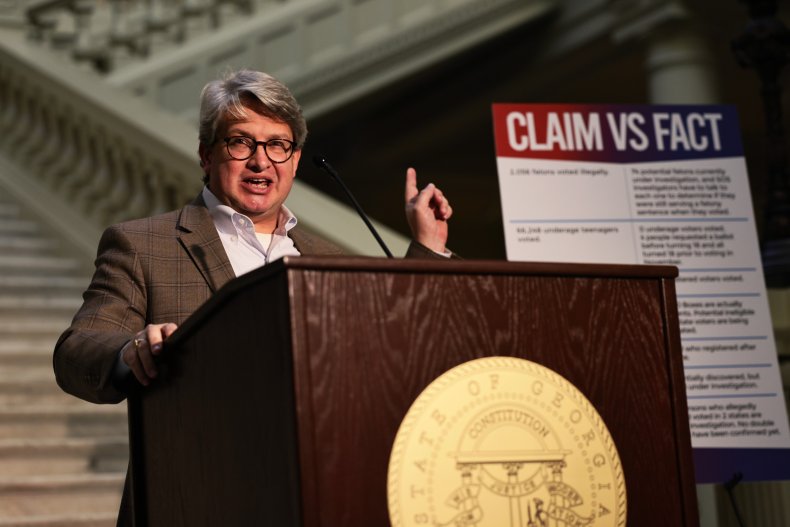 Wandrea ArShaye "Shaye" Moss
Moss, a former Georgia election worker, was one of those who did receive death threats after Trump, his lawyer Rudy Giuliani, and the far-right One America News Network spread misinformation about her in the wake of the election.
Moss, a voter registration officer in Fulton County, was falsely accused of conspiring to produce secret batches of illegal ballots and running them through voting machines in order to help Biden win the state.
In May, OANN settled a defamation lawsuit filed by Moss and fellow Georgia election worker Ruby Freeman after it wrongly accused the pair of committing ballot fraud.
At the time, the network broadcast a segment which admitted that there was no widespread voter fraud by election workers in Georgia in November 2020.
Moss is expected to testify about the death threats and harassment she and her family received to the panel on Tuesday.
Rusty Bowers
The Republican Arizona House Speaker also spoke out against Trump's attempts to overturn the election results.
Bowers is expected to testify about how Trump and his legal team, Giuliani and Jenna Ellis, called him to discuss a plan to disregard the state's 2020 election results and appoint its own electoral officials who could falsely declare that Trump beat Biden.
In a December 2020 news release, Bowers revealed how Trump and his team came forward with the "breathtaking" request to overturn the election results.
"As a conservative Republican, I don't like the results of the presidential election," Bowers said.
"I voted for President Trump and worked hard to reelect him. But I cannot and will not entertain a suggestion that we violate current law to change the outcome of a certified election."
Bowers could also face questions about Ginni Thomas, the wife of Supreme Court Justice Clarence Thomas, and her alleged attempts to get the 2020 Election results overturned.
There have been calls for the panel to give greater focus on Thomas following numerous reports of how she wanted lawmakers and those close to Trump to have the 2020 election results overturned.
Thomas is alleged to have emailed Bowers, as well as a number of other Arizona lawmakers, telling them it was their "Constitutional duty" to install a "clean slate of Electors" who would be willing to falsely declare Trump the winner in 2020.