Ginni Thomas Subpoena Calls Grow Over John Eastman Jan. 6 Emails
There have been calls for the January 6 House Committee to subpoena Virginia "Ginni" Thomas, the wife of Supreme Court Justice Clarence Thomas, following reports she emailed Donald Trump's campaign lawyer John Eastman.
Eastman is alleged to have played a key part in trying to pressure former Vice President Mike Pence to not certify the 2020 election results in Congress on January 6, despite knowing such a tactic would be illegal.
The emails between Thomas and Eastman were obtained by the panel investigating the January 6 attack. Three unnamed people involved in the committee told The Washington Post the emails reveal Thomas' efforts to overturn the 2020 Election results were greater than previously known, but did not expand upon the details.
Ginni Thomas has been contacted for comment.
The New York Times also reported on the existence of the emails between Ginni Thomas and Eastman, although it is not clear when they took place or what they discussed.
Questions are now being raised about why Ginni Thomas hasn't been made to testify to the January 6 Committee in the wake of the reports about her communications with Eastman, especially given her relationship with Justice Thomas.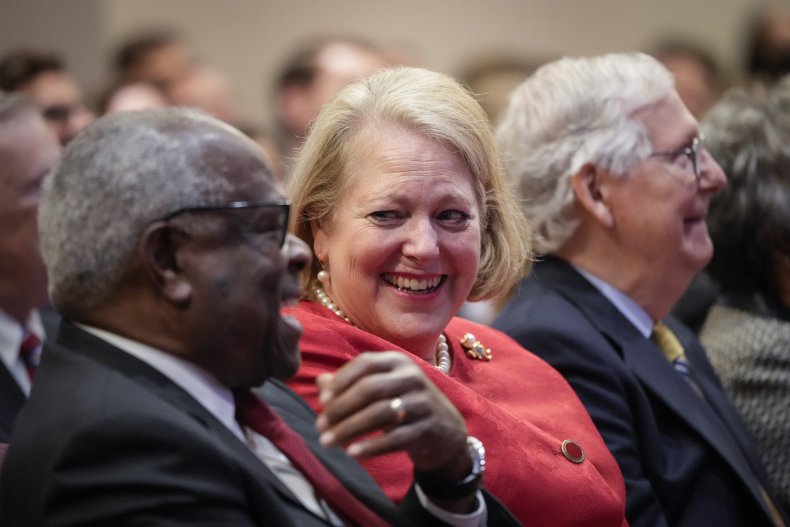 Tristan Snell, a lawyer and former assistant attorney general for New York state, tweeted: "If Ginni Thomas were married to anyone other than a Supreme Court justice, the January 6 committee would have subpoenaed her months ago.
"She should NOT get special treatment. She was involved in January 6 and should get called to testify like everyone else. Subpoena her NOW."
MSNBC host Mehdi Hasan wrote: "Just *days* ago, committee members were going on TV to say they didn't have time to focus on Ginni Thomas.
"This was and is absurd. You can't investigate an attempt to overturn an election while ignoring the alleged role played in it by the wife of a Supreme Court justice!!"
Author Don Winslow added: "Dear January 6 Committee, wow much more has to come out from the Washington Post and New York Times about GINNI THOMAS before you issue her a SUBPOENA?
"Do you require photos of Ginni building the gallows? Read the room. You have to do this."
Ginni Thomas was previously alleged to have texted White House Chief of Staff Mark Meadows urging him to prevent Joe Biden becoming president, falsely describing the 2020 Election as "the greatest Heist of our History."
She is also alleged to have emailed a number of GOP Arizona lawmakers calling for them to try to overturn the election results just days after Biden was declared the winner in the state.
The January 6 panel has already forced Eastman to hand over hundreds of documents. In March, California federal judge David Carter ordered Eastman to hand over a further 159 documents to the panel.
In his ruling, Carter described how Trump and Eastman had attempted to "overturn a democratic election" and their plans were "a coup in search of a legal theory."
The January 6 committee will present its third day of live televised hearings on Thursday.