Why Wednesday's Jan. 6 Committee Hearing Is Postponed
After two public hearings, the House Select Committee investigating the attack that occurred on the U.S. Capitol on January 6, 2021, has postponed the third.
The hearing was meant to occur on Wednesday, June 15, but has been postponed to Thursday, June 16, at 1 p.m. ET.
Former President Donald Trump, who called the House January 6 Committee a "kangaroo court," said that the hearing was postponed due to "very poor television ratings."
"Word out that the reason the Unselects have canceled Wednesday's Kangaroo Court is a total lack of interest leading to very poor television ratings," Trump wrote on Tuesday.
Why Is Wednesday's January 6 Committee Hearing Postponed?
Rep. Zoe Lofgren (D-CA) said the third hearing has been postponed due to "technical issues." She further added that it was "not a big deal."
"It's just technical issues," she said, according to CNN. "You know the staff, putting together all the videos. You know doing, one, two, three, it was overwhelming. So we're trying to give them a little room."
Rep. Pete Aguilar (D-CA) has stated that the hearing schedule is "fluid" and that modifications to the schedule allow the public to have "time and space to digest" all of the information being given throughout the hearings.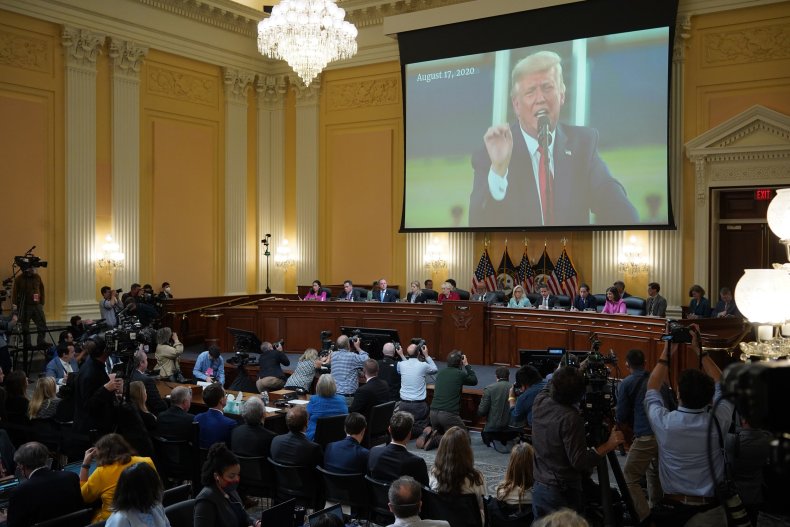 When Is the Next January 6 Committee Hearing?
The third hearing is now set to go ahead on Thursday, June 16, at 1 p.m ET.
After the third hearing goes ahead, there will be two more hearings happening in June:
Tuesday, June, 21 at 1 p.m ET
Thursday, June 23 at 1 p.m. ET.
An official schedule has not yet been announced for the other hearings, but they are expected to be held throughout June and finish in September, right before the November midterm elections.
This third hearing is set to focus on Trump's attempts to use the Justice Department in an effort to overturn the 2020 election results.
Why Are the January 6 Committee Hearings Happening?
These committee hearings aim to determine whether the January 6 attack on the U.S Capitol was a coordinated effort between then President Donald Trump and his inner circle to overturn the legitimate presidential election results.
The panel consists of seven Democrats and two Republicans, who will present speeches, video footage and live testimony as part of its findings.
The nine members of the committee, set up in July 2021, have interviewed over 1,000 witnesses and seen thousands and thousands of pages of documents.
Rep. Liz Cheney, one of only two Republicans on the panel, (the other is Adam Kinzinger) has spoken of an ongoing threat to democracy. She added that there was an "extremely broad" and "extremely well-organized" conspiracy to overturn the 2020 election results.