Ginni Thomas Saw Overturning Biden's Win as a 'Constitutional Duty'
Virginia "Ginni" Thomas reportedly believed that lawmakers had a "Constitutional duty" to choose a "clean slate of Electors" and encouraged state legislators to seek an "audit" of the 2020 presidential vote, according to emails obtained by The Washington Post.
Thomas, a conservative activist and wife of Supreme Court Justice Clarence Thomas, was listed on a November 9, 2020, email sent to two Arizona legislators, the Post reported.
The subject line of the email read: "Please do your Constitutional duty!"
Thomas and her husband have come under scrutiny in recent months after it was revealed that she sent text messages to Mark Meadows, former President Donald Trump's chief of staff, in support of overturning the election vote. The emails obtained by the Post provide a wider picture of her reported advocacy for efforts that took aim at the 2020 results.
The emails were sent to Russell Bowers, speaker of the Arizona House, and Shawnna Bolick, who is also a member of the Arizona House, days after most media outlets called the election in then-candidate Joe Biden's favor on November 7, the Post reported.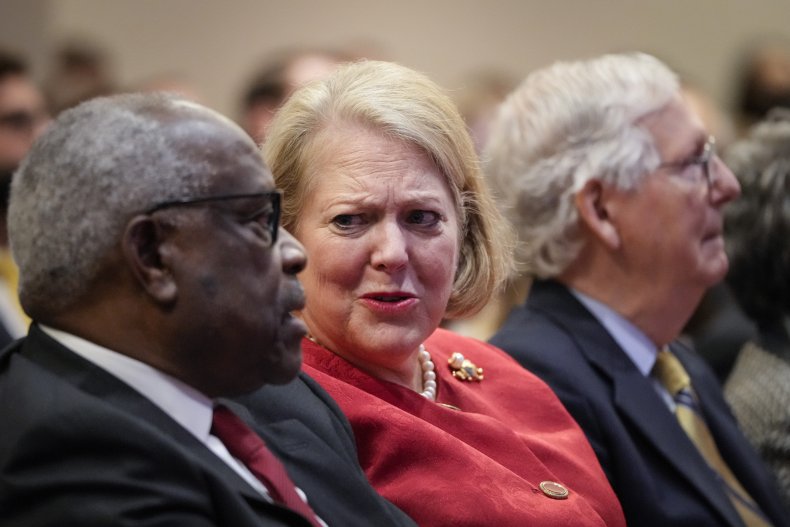 According to a full copy of the email included in the Post's report, Thomas wrote, "Article II of the United States Constitution gives you an awesome responsibility: to choose our state's Electors. This means you have the power to fight back against fraud and ensure our elections are free, fair and honest."
"This responsibility is yours and yours alone—it doesn't rest with any Board of Elections, Secretary of State, Governor or even court. And it certainly doesn't rest with the media," the email added.
Article II of the Constitution states that every state "shall appoint, in such Manner as the Legislature thereof may direct, a Number of Electors, equal to the whole Number of Senators and Representatives to which the State may be entitled in the Congress."
Political parties and voters in each state take on the task, according to the National Archives.
"Choosing each State's electors is a two-part process. First, the political parties in each State choose slates of potential electors sometime before the general election. Second, during the general election, the voters in each State select their State's electors by casting their ballots," the Archives' website states.
Some state legislatures directly chose electors in the past, according to the Post. But nowadays, voters are responsible for that process.
Thomas reiterated her call in the email for the two legislators to "do your constitutional duty."
"Please stand strong in the face of political and media pressure. Please reflect on that awesome authority granted to you by our Constitution. And then please take action to ensure that a clean slate of Electors is chosen for our state," the email read.
She also requested a meeting with the legislators to learn more about "what you are doing to ensure our state's vote count is audited and our certification is clean."
A spokesperson for Bowers said in a statement to Newsweek that the legislator did not view Thomas' email when it was sent.
"The email appears to have been among the hundreds of thousands of messages sent to the Speaker's office during that period. Speaker Bowers did not see, much less read, the vast majority of those messages, including the form email sent by Mrs. Thomas," the statement read.
In response to a request for comment, Bolick referred Newsweek to her Twitter page, where on Friday she shared the Post's records request and copies of her communications with Thomas.
"The dishonest media wants to distract attention from election fraud & our efforts to secure elections. Let's cut through the conjecture & put this to bed. Here is the public records request from @WashingtonPost & my emails, which show me responding as I would to any constituent," Bolick tweeted.
Newsweek reached out to Thomas for comment.
Update 5/20/22, 5:10 p.m. ET: This story was updated with comment from Bowers.