How to Watch Trump Rally in Illinois: Time, Live Stream for GOP Event
Former President Donald Trump is set to headline a rally in central Illinois on Saturday, stumping for his endorsed candidate in a GOP House race where two incumbent Republicans will face-off as a result of redistricting.
Trump has backed freshman Representative Mary Miller against Representative Rodney Davis for Illinois' 15th Congressional District, which was newly created by Democratic state lawmakers this year. The showdown is one of six rare incumbent-versus-incumbent House races this midterm season.
The rally will take place at the Adams County Fairgrounds in Mendon, Illinois. Parking will be available starting at 8 a.m., with doors opening and the entertainment beginning at 2 p.m. Speakers, including Miller and other House Republicans, will begin taking the stage at 4 p.m. before Trump delivers his remarks at 7 p.m.
Tickets are available on Trump's official website, but only two tickets can be reserved per mobile phone number. The event will be live-streamed here on Right Side Broadcasting Network's YouTube channel.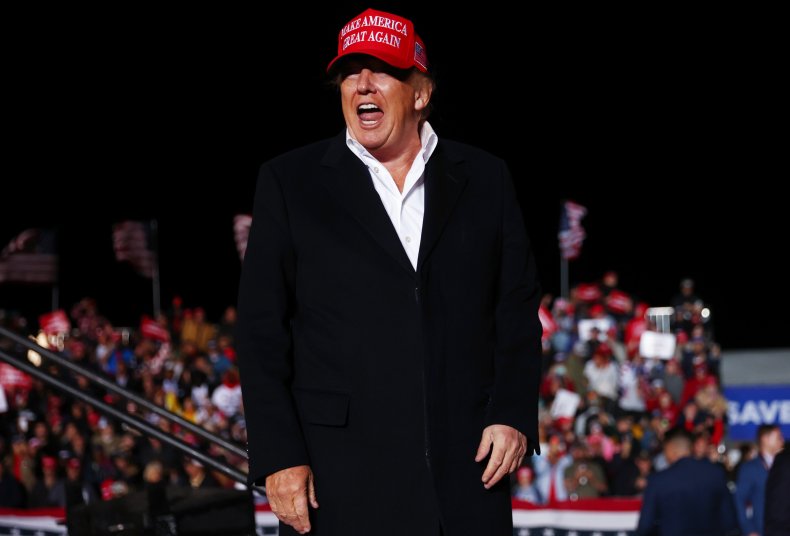 While both Miller and Davis sought a coveted Trump endorsement, the former president ultimately backed Miller, who has centered her campaign on her allegiance to Trump and her objection to the certification of the results of the 2020 presidential election.
"I'm honored President Trump is coming to the Quincy area to hold a rally after endorsing me over RINO Rodney Davis, who stabbed President Trump in the back by voting for the sham January 6th Commission," Miller said in a statement. "Downstate Illinois misses President Trump's strong America First leadership, which delivered secure borders, a booming economy and energy independence."
Although Davis had once been a welcome member of the Trump camp, serving as the co-chair of the former president's reelection campaign in Illinois, he appears to have upset Trump for proposing a bipartisan commission to investigate the January 6, 2021, Capitol attack. His proposal failed to win support in the House.
House Democrats had offered Davis a seat on their own select committee, but the Republican declined and has since been critical of the commission's probe.
On Friday, Miller celebrated the Supreme Court's decision overturning Roe v. Wade by thanking Trump for granting the bench its 6-3 conservative majority.
"We applaud President Trump for doing what he said he was going to do and appoint Supreme Court justices who value life," Miller, a mother of seven, said in a video shared on her social media. "I want to promise you that I will always defend life and promote it and so, today we are rejoicing to the utmost."
Trump also took credit for the reversal of Roe, saying the decision was "only made possible because I delivered everything as promised, including nominating and getting three highly respected and strong Constitutionalists confirmed to the United States Supreme Court."
"These major Victories prove that even though the Radical Left is doing everything in their power to destroy our Country, your Rights are being protected, the Country is being defended, and there is still hope and time to Save America!" Trump said in a Friday statement. "I will never stop fighting for the Great People of our Nation!"