Donald Trump Brags He Delivered 'as Promised' After Abortion Ruling
Donald Trump on Friday praised the Supreme Court for overturning Roe v. Wade while saying the decision was made possible because he "delivered everything as promised" by putting three justices on the bench.
Earlier in the day, the Supreme Court formally released its ruling that overturned its nearly 50-year-old decision in Roe v. Wade, which legalized a woman's right to an abortion. In an email statement from Trump's "Save America" political action committee, the former president called the Court's move "the biggest WIN for LIFE in a generation."
The ruling was not unexpected. In May, Politico published a leaked draft opinion that showed a majority of the justices were poised to strike down Roe after hearing arguments about a Mississippi law that was a direct challenge to the 1973 decision.
Trump nominated Justices Brett Kavanaugh, Amy Coney Barrett and Neil Gorsuch to the Supreme Court. During their confirmation hearings, all three judges were criticized by progressives for their conservative positions. Trump's nominees proved crucial in Friday's decision in the case of Dobbs v. Jackson Women's Health Organization, which upheld a Mississippi law that banned most abortions after 15 weeks of pregnancy. All three justices joined Clarence Thomas, Samuel Alito and Chief Justice John Roberts in the 6-3 ruling. Justices Stephen Breyer, Sonia Sotomayor and Elena Kagan filed a joint dissent. (The vote to overturn Roe was 5-4.)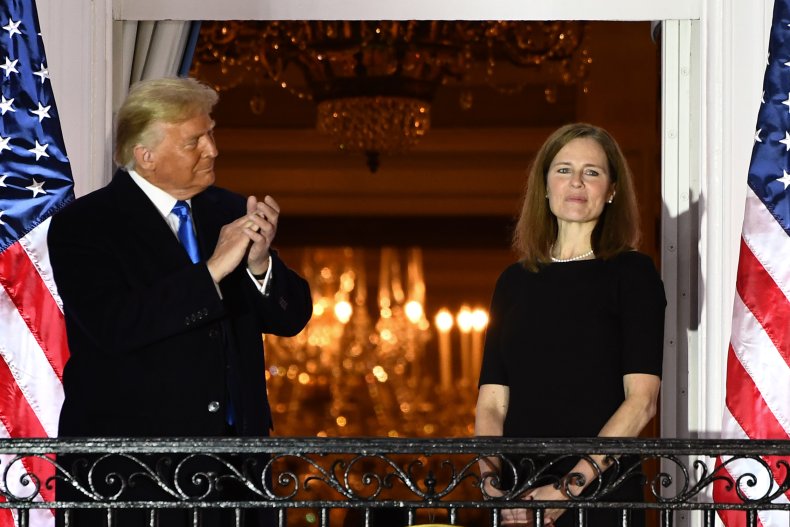 Trump spoke to Fox News before his email was sent out. The network reported that when the former president was asked if he had any remarks for his supporters who may support abortion rights, he said, "I think, in the end, this is something that will work out for everybody."
Trump added, "This brings everything back to the states, where it has always belonged."
The former president had previously discussed the leaked draft opinion with Fox News on May 3. During that interview, he expressed surprise at the leak while also noting that he did not think the matter would have a large effect on the 2022 midterm elections.
"It was so surprising to see coming out of the Supreme Court, because Washington is a city of leaks, and yet the Supreme Court, I've never seen a leak and people haven't seen leaks and that's for decades. So it was so surprising to see," Trump said.
"I don't think it is going to have a tremendous effect. I will say, I have seen more passion on the right, at least up until this point, I can't say what is going to happen now," he said, adding that it's "too early to tell."
Meanwhile, former President Barack Obama condemned the decision to overturn Roe in a Twitter message posted soon after the ruling was released.
"Today, the Supreme Court not only reversed nearly 50 years of precedent, it relegated the most intensely personal decision someone can make to the whims of politicians and ideologues—attacking the essential freedoms of millions of Americans," Obama wrote.
Update 6/24/22, 2:10 p.m. ET: This story and its headline have been updated to include comments from a statement released by Donald Trump.