Darren Barnet Age: How Old Is 'Never Have I Ever' Actor Who Plays Paxton Hall-Yoshida?
Netflix has a big new hit on its hands in Never Have I Ever, the new teen coming-of-age comedy series co-created by the multitalented Mindy Kaling.
The new series stars Maitreyi Ramakrishnan as Devi Vishwakumar, a teenager who navigates her dual cultural Indian-American identities while also trying to get through high school with good grades, attaining popularity and landing a boyfriend. As with any show of this ilk, it's not going well.
Kaling and co-creator Lang Fisher perfectly cast the series with rising stars Ramakrishnan, who was discovered in an open casting call, and Darren Barnet as the object of her affection, Paxton Hall-Yoshida.
Barnet is destined to become the internet's next Netflix boyfriend, like Noah Centineo before him, but Netflix addicts who've already binged all 10 episodes of Never Have I Ever have noticed one thing: Paxton doesn't look like your average awkward high school teenager. That's because he's not.
Darren Barnet is actually 29 and celebrated his birthday on April 27. His character, Paxton, is 16.
Ramakrishnan, meanwhile, is closer in age to her character, Devi. The actress is 18.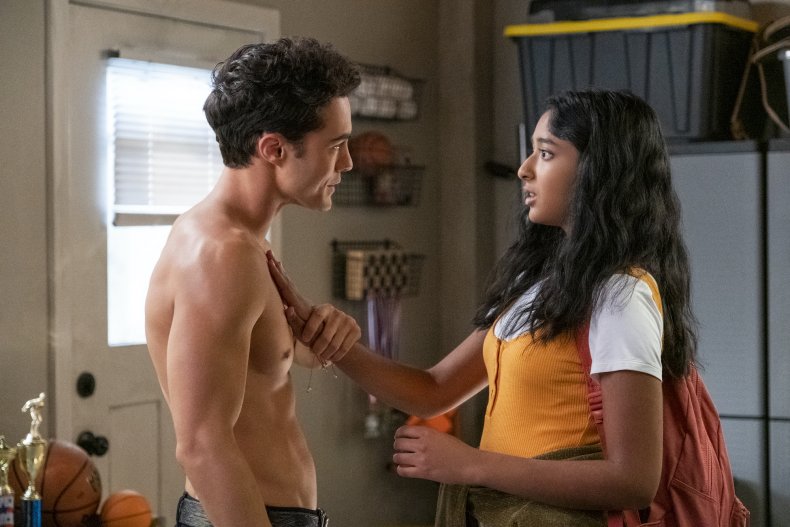 Casting older actors as teens is obviously not new in Hollywood. In fact, Devi even makes a (possibly meta?) joke about this in Never Have I Ever when she remarks that the Riverdale actors are older than her mom.
On Twitter, Paxton's age has raised a few eyebrows.
"When you find out that the guy who plays Paxton Hall-Yoshida is actually 29 years old, so it's not illegal to have a crush on him," joked one person.
See more tweets below:
Never Have I Ever cast ages
Barnet isn't the only Never Have I Ever actor that is no longer a teenager in real life, however.
Lee Rodriguez, who plays one of Devi's best friends, Fabiola, is 20, which is around six years older than her character. Rodriguez turned 20 in November.
Ramona Young, who plays Devi's other best friend Eleanor, is 21. Young, who previously appeared in Netflix's Santa Clarita Diet, turns 22 on May 23.
Jaren Lewison, who plays Devi's high school rival Ben Gross, is 20.
One person who is definitely the same age in real life as they are on the show is John McEnroe. Yes, that John McEnroe, the legendary tennis player. McEnroe serves as narrator to the inner-workings of Devi's life, adding a unique quirk to this rom-com tale. In case you're wondering, McEnroe is 61.
Never Have I Ever is streaming now on Netflix and is highly recommended.