Turkmenistan Bids To Extinguish Darvaza Gas Crater Known As 'Gateway to Hell'
Turkmenistan's president has ordered experts to find a way to extinguish the blazing Darvaza natural gas crater dubbed the "Gateway to Hell."
Also known as the "Gates of Hall," the crater has burned for decades in the middle of the country's vast Karakum desert.
The flaming pit, located about 160 miles north of the capital Ashgabat, is a popular attraction for the few tourists allowed to visit Turkmenistan, and President Gurbanguly Berdymukhamedov was even seen driving an SUV around the crater in 2019.
But the country's leader has now ordered officials to find a way to put out the flames, citing environmental and economic concerns as well as the negative impacts the burning crater is having on the health of the people living in its vicinity.
Berdymukhamedov appeared on state television on Saturday, instructing government officials to "find a solution to extinguish the fire."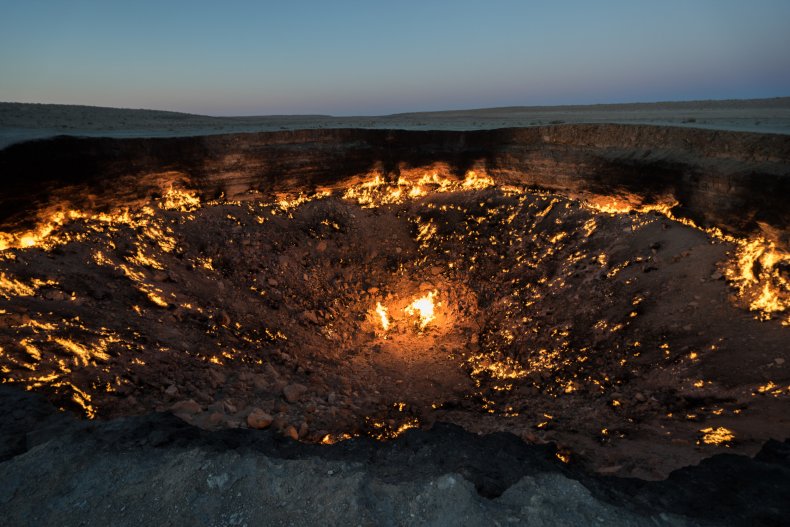 The crater "negatively affects both the environment and the health of the people living nearby," he said, according to Agence France-Presse.
"We are losing valuable natural resources for which we could get significant profits and use them for improving the well-being of our people."
Berdymukhamedov had also ordered experts to find a way to put out the flames in 2010.
Many believe the crater, which is about 60 meters in diameter and 20 meters deep, was formed when a Soviet drilling operation went awry in 1971.
Geologists reportedly set a fire to prevent the spread of gas, expecting it to burn off in a few weeks. But the crater has been on fire ever since, and earlier attempts to extinguish it have not been successful.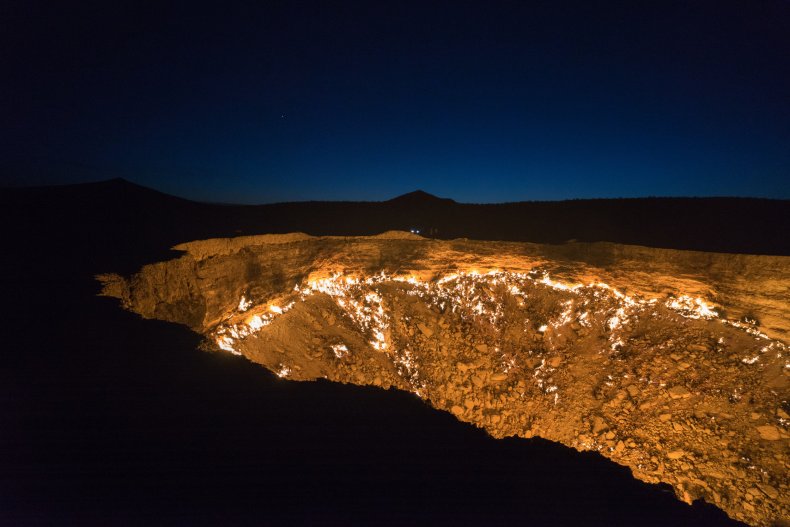 George Kourounis, a Canadian explorer who became the first man to descend to the bottom of the crater in 2013, says there is still a mystery about how it came to be.
"Essentially there was a sinkhole that formed and caused a drilling rig basically harvesting this methane gas to collapse," he told the BBC.
"Most seem to believe that it happened in 1971. But there's evidence to suggest that it actually happened in the 1960s and wasn't actually lit on fire until the 1980s."
Kourounis said his expedition into the crater had taken two years of planning and preparation.
"It was very difficult to get there," he said. "I had a special heat resistant suit and self-contained air. I was able to drop down in the center and spend 17 minutes at the bottom in what felt like another planet. It really was otherworldly."